Happy Friday! I'm linking up with Courtney at Eat Pray Run DC, Mar at Mar On The Run, and Cynthia at You Signed Up For What for this week's theme: Friday Favorites.
I've joked that the only reason I run is to buy new clothes. Seriously though, I live in my workout clothes. On some days I do three different workouts and need different clothes for the different activities. When I'm not working out or at work, I'm usually doing active things like walking the dog or walking around the city doing errands. So I like my workout clothes to do double duty and function for both fitness and casual wear. Here are my my five favorite brands for these types of clothes.
1. Oiselle
Love:
A company started by women that makes women's running clothes–gotta love that!
Cute bird logo with a bird theme on many products.
Many products made in the USA.
Order comes nicely wrapped with a free button and sticker.
Occasionally have sales.
Favorite Products: Running tops (the only thing I have tried from them)–I will post a review of new running tops next week!
Oiselle Flyte Tank
I Wish That:
Shipping was free (there is a flat $5 shipping fee).
Running capris and tights had side pockets (the reason I haven't tried them yet).
Bras were designed for well-endowed ladies (more on this in my upcoming review).
They made skorts.
2. Yogasmoga
Love:
Products made in the USA.
Eco-friendly color dye process.
Customer rewards program in the form of Smogi bucks.
$25 discount on your first order.
Free shipping and returns.
Order comes nicely wrapped with a product care card.
Favorite products: Tippy Toe Leggings (my review) and Jump and Play Crops are very comfortable and flattering and stay put. Have two waistband pockets. Have a range of beautiful, opaque colors. Great for yoga and casual wear; have not tried for running. (I will post a review of new crops next week!)
Yogasmogo Run Jump 'n Play Crops

I Wish That:
Aurum technical fabric didn't attract pet hair so much.
The logo on the Tippy Toe Leggings was not on the bottom of leg.
3. Athleta
Love:
Customer rewards program with a Gap-related credit card.
Frequent sales and markdowns (new markdowns just added!).
Free shipping over $50.
Free and easy returns–can return at any time for any reason, even after wearing.
Favorite Products:
Running skorts–Some styles come in different lengths. Some have mesh under-shorts, perfect for hot and humid days. Shorts have a gummy band so that they stay put and do not ride up. All are very comfortable and cute and can be worn for casual wear.
Chi Tanks–Come in regular and extra long length. Very soft, brushed fabric. Great for both running and casual wear. Come in a wide variety of colors.
Chaturanga Capris and Tights–Solid-color capris (prints are made with a different fabric) are flattering, opaque, and stay put during workouts and yoga.
Casual Wear–There are a number of products that are made with technical fabrics but designed for street wear (like Breathe series of tops and Shiva tops), which makes them great for wearing out and about.
Athleta Stripe Fly By Skort
I Wish That:
Products were made in the USA.
4. Lorna Jane
Love:
Unique, stylish designs.
Quality materials and details.
Lightweight mesh fabrics ideal for hot and sweaty workouts.
Frequent sales.
Free Shipping.
Favorite Products: Tanks for running; sports bras for yoga and other workouts (but not for running)
Lorna Jane Feline Excel Tank
I Wish That:
Products were made in the USA.
Bras were more supportive for running.
Tights and capris had side pockets.
They made skorts.
5. Lululemon
Why:
High-quality materials (I have not had any problems with pilling that other customers have).
Long-lasting products (I still wear items I bought four years ago that I regularly wear and wash).
Stylish designs in a wide range of colors released weekly.
Majority of products can be worn for both workouts and casual wear.
Free shipping.
Favorite Products:
Running tights and capris with side pockets plus waistband pockets (usually 5 pockets)–perfect for stuffing energy gels, tissue, etc. for long distance runs
Cool Racerback Tanks–Come in a wide variety of colors with new colors introduced nearly weekly; soft material; can be worn for running (just not on very hot days), all workouts, and casual wear
Long-sleeve tops made with rulu–Rulu is Lululemon's running version of it's signature Luon technical fabric. It is thick and soft but great for wicking and perfect for cold-weather runs.
Lightweight tops and tanks, usually with Seriously Light Luon and stinkproof Silverescent–I have a mix of longsleeve tops, tanks, and singlets made with lightweight fabric that is stinkproof and very breathable, making them perfect for hot and humid workouts.
Energy Bras–These are the only shelf-type bra I find supportive enough for running. I also wear them for other workouts and casual wear since they come in a range of colors and look cute under tanks.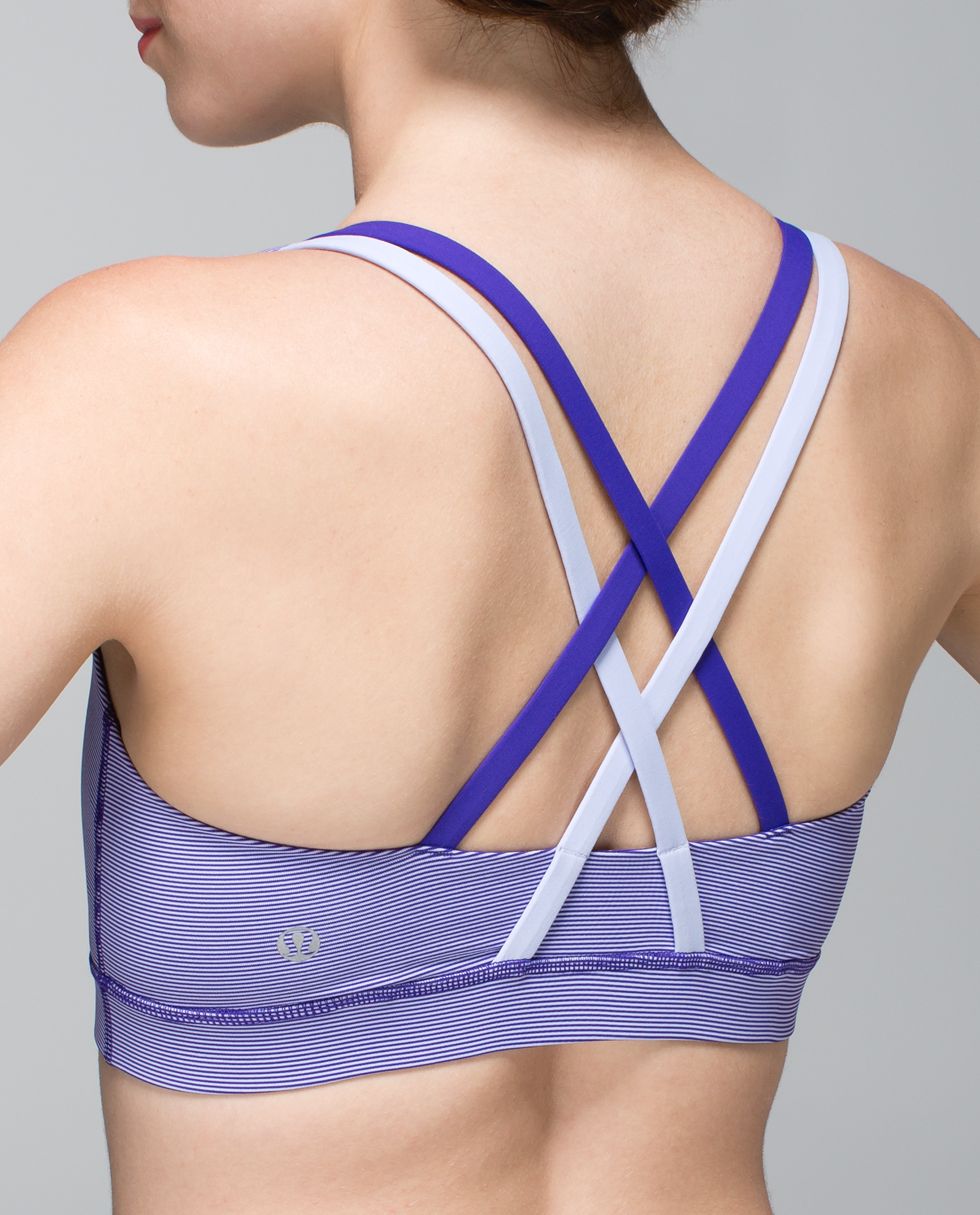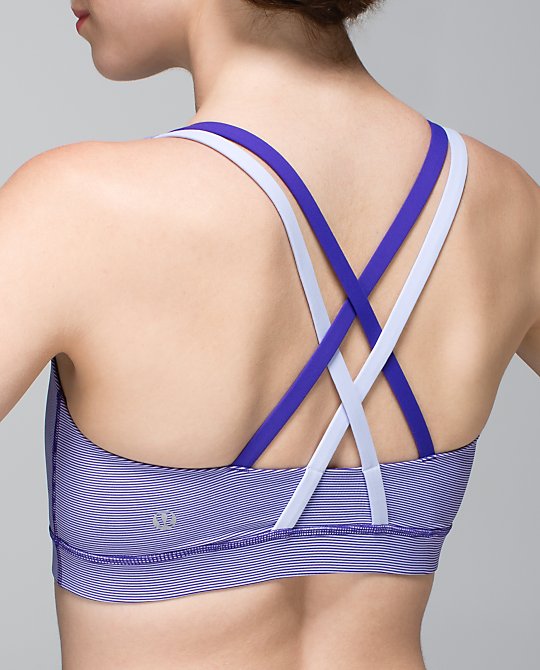 Lululemon Energy Bra
I Wish That:
There was a customer reward program.
There were sales beyond the items marked down, when there are usually not popular sizes left.
You didn't have only two weeks to return something.
They didn't make dumb PR moves like saying women's fat thighs are ruining their pants and you shouldn't wear sunscreen.
I love trying new brands and have a number of new ones on my list to try like Splits 59, Beyond Yoga, Zobha, Fabletics, and Sweaty Betty. What are your favorite brands?
Can't wait to read other bloggers' favorites! Check them out too through the linkup!