Unless it's pouring, I prefer to wear a rain jacket with the hood up rather than carry an umbrella for everyday walking around and walking the dog. Because there's no shortage of rain in Pittsburgh, I wear a rain jacket a lot.
And yet, I am currently wearing this: a size XL LL Bean jacket I bought in my heavy days.
So when Lululemon released the Right As Rain Jacket in the gorgeous Bordeaux Drama color, I didn't feel guilty snatching it up.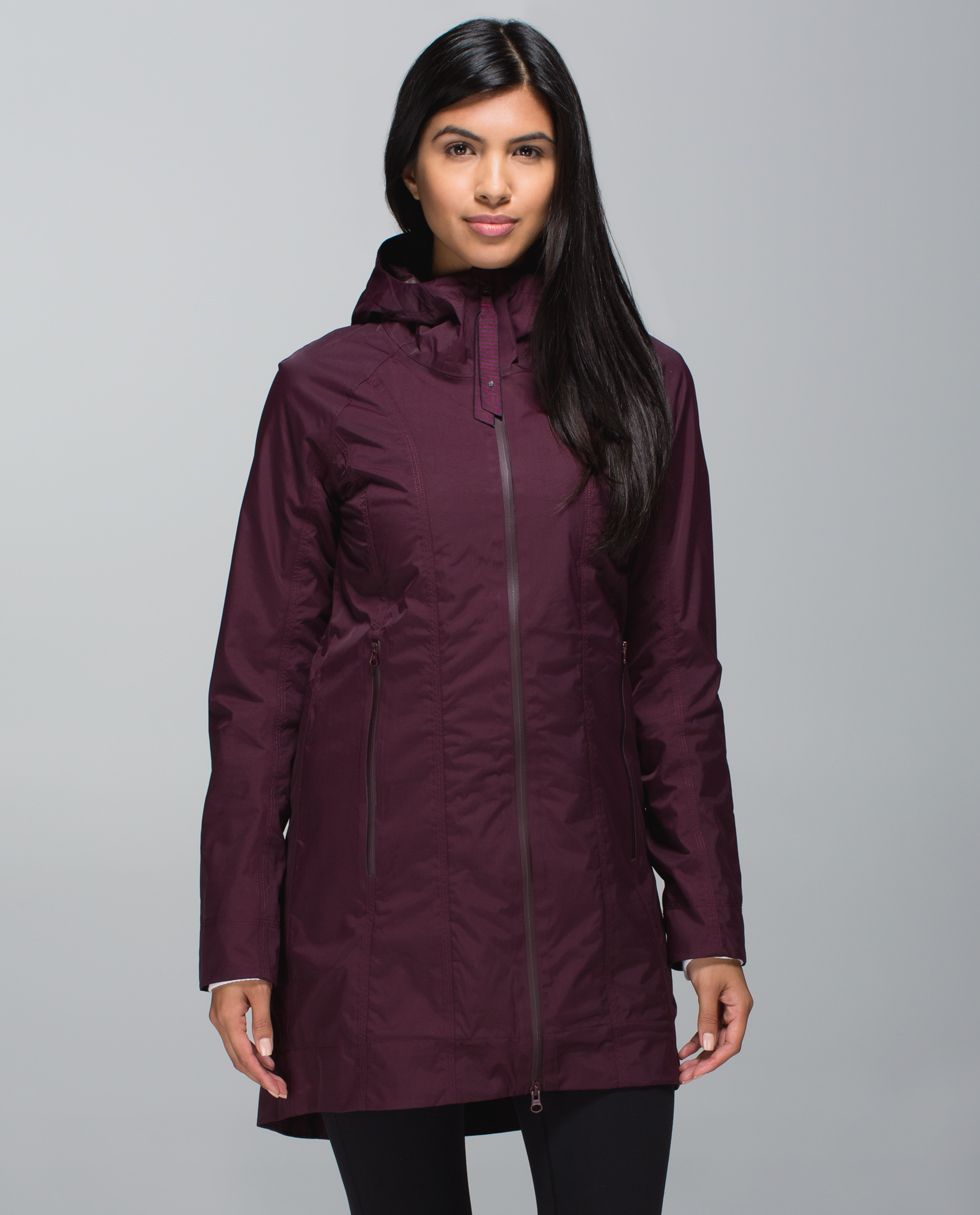 It rained last week, but the jacket has hung in my closet with the tags on because of late-onset guilt…it cost $198. So when I got the new Athleta catalog and saw their new rain jacket, the Drippity Jacket for $128, I wanted to try it.
I got it last wek in black instead of the taupe that's in this photo. Here's how the jackets compare.
Lululemon
Pros
Gorgeous color
Flattering back detail
Slight a-line shape
Deep pockets that zip
Interior pocket
Cinchable hood
Soft fabric at the top where it comes to the chin
Chic style that would look good with everything, from dressy work clothes to tights
Sleeves are long and come past my hands (a pro in heavy rain); can roll them when it's not raining hard
Quality zipper
Cons
Fabric is a bit heavy and would be good mostly for cool and cold weather.
Fabric is a bit stiff and doesn't drape when you sit down.
The front doesn't cinch at the waist like the back does (a con for me since silhouettes with a cinched waist are more flattering on me),
Hood is attached and can't be stashed.
(Note: Sorry for the bad photos. Lighting wasn't great so I had to use flash.)
Lululemon Right As Rain Jacket front view. It has a subtle a-line shape.
Back view. Cinched waist adds shape. Back hem is longer.
Side view. Looks a little odd with the waist cinched in back and not in front.
Inside lining and cinch for the waist
Interior pocket for MP3 player and hole for the cord (I probably will never use it).
Nice deep side pockets. Quality zippers with sealed seams.
Drawstring at the back of the hood to adjust the fit.
Drawstring at the sides of the hood to adjust the fit.
Athleta
Pros
Entire waist cinches, creating a silhouette that flatters my shape more.
Hood can be stashed away in a zippered compartment.
Material is softer and flowing, not stiff.
Can wear it in all weather, not just cold weather.
Cons
Pockets zip but aren't as deep.
Hood doesn't cinch, and the part that comes to the bottom of my chin is loose, which could allow water to get inside.
Don't love any of the colors, though black is a good basic.
Style is a little more pedestrian and not chic and wouldn't look good with dressy clothes.

Zippers are not quality. I tried on four jackets in the store and had a problem with all the zippers. I bought the one I had the least problem with, but I still worry about the durability of the zipper.
Athleta Drippity Jacket: front view. Much shorter than the Lulu jacket.
Back view. Back hem is much longer than front. Don't like the drawstring in the back.
Side view. The cinched waist creates a little poof that makes me look pregnant!
Small zippered pocket. Not sealed but covered with a flap.
Vent at the upper back.
The zipper–a big problem I had with this jacket. Had a hard time with it on
all four jackets I tried on the store. Seems flimsy.
The Winner: Lululemon
When I bought the Athleta jacket, I was sure I'd keep it and return the Lululemon jacket. I didn't think the Lululemon jacket warranted paying $70 more. But after trying both on one after the other, the Lululemon jacket is without question a much better jacket. All the materials, including the zipper, are better quality and I think will be more durable. Having a cinchable hood is really important to me so my head can be protected in the rain, and only the Lululemon jacket has that option. I think it's overpriced at $198, but it is a quality jacket. The Athleta jacket in comparison seems flimsy and not quality at all, and I question the durability. It is certainly overpriced at $128.
So while I think both are overpriced, I'm willing to pay more for the Lululemon jacket since I wear rain jackets a lot, and it should last a long time.