Another thing to love about fall? New workout clothes! I'm linking up with Courtney at Eat Pray Run DC, Mar at Mar On The Run, and Cynthia at You Signed Up For What, and the theme is Favorite Fall Activities. I said in a previous Friday Five post that my favorite fall activities are running and hiking, so here are my top picks for working out and enjoying the outdoors in style.
Five Favorite Activewear Pieces for Fall Running and Hiking
1. Lululemon Speed Tights
With cooler weather comes more things to bring on runs–tissue since my eyes water and nose runs (though I don't have allergies and am not sick) and lip balm since my lips dry out–in addition to sunglasses on daylight runs and gels on longer runs. Lululemon's Speed Tights have five pockets–two in the front waistband, one in the back that's zippered, and two on the side. I've come to rely on the side pockets because it's so much easier to reach into a side pocket than lift up my top and dig into the waistband or back pocket. I usually reserve one of the side pockets to stash used tissue and gels until I come across a trash can. On rare occasions I bring my phone with me to take pictures, and my very large Samsung Galaxy phone fits into the side pockets. The tights come in a variety of colors, prints, and fabrics that are released throughout the season The lightest fabric is a thin Luxtreme fabric, which is wicking and compressive, with mesh in the back of the calves for venting. I wear those on cool but not cold days (40-50 degrees). The warmest fabric is a Luxtreme that has technnical brushed fabric inside without mesh. I wear them on below-freezing days. I wore them through last winter's polar vortex, and they kept me warm and toasty. There is also an in-between weight fabric that is good for days between 32-40 degrees. There is a reflective stripe in the hem, so you can wear them rolled up for running or down for casual wear.These tights are stylish and functional, but they'll set you back $98. Yes, that's a lot, but I wore my three pair from October through April last winter, so I wear and wash them a lot and they're still in great shape. In my opinion, they're worth the price.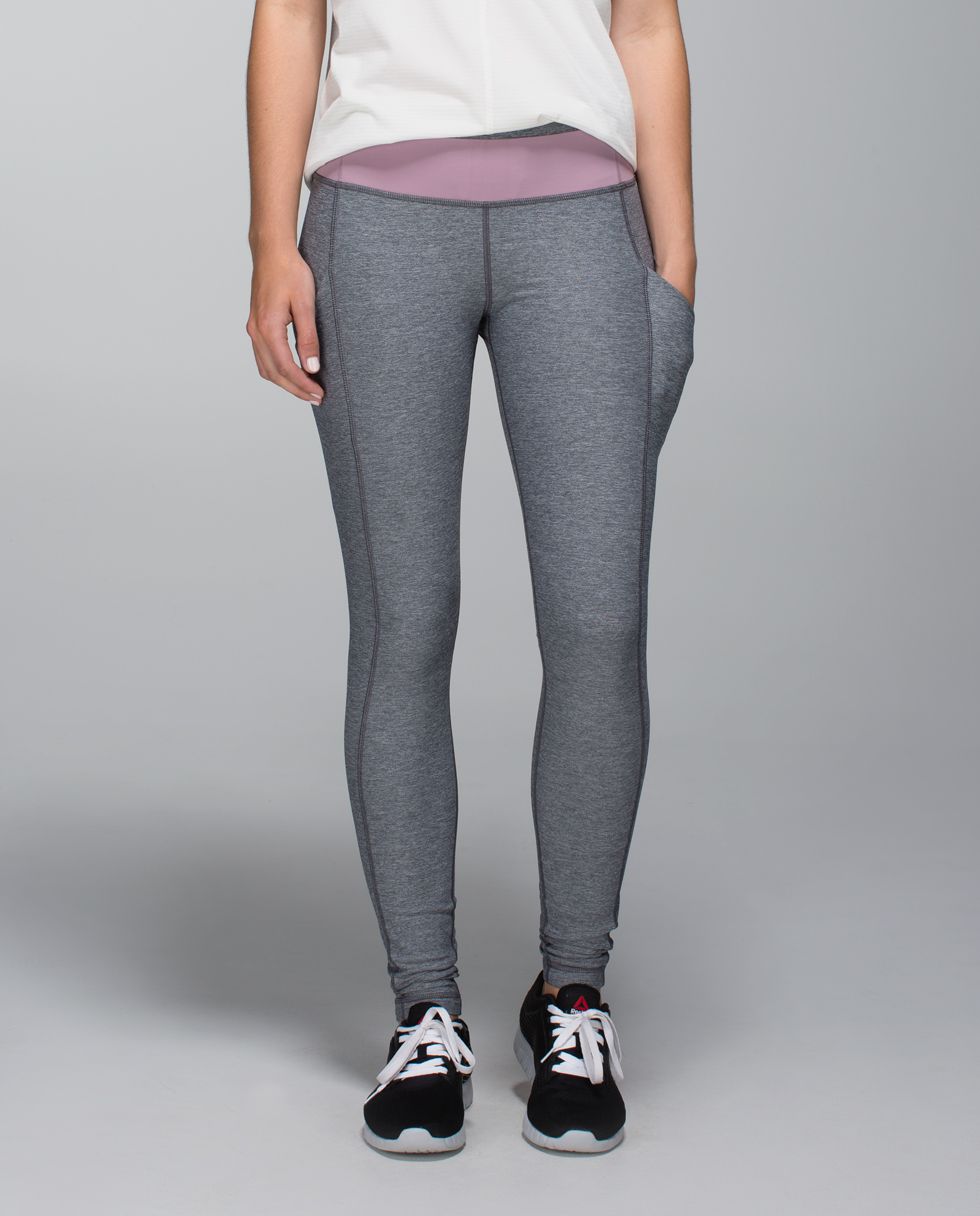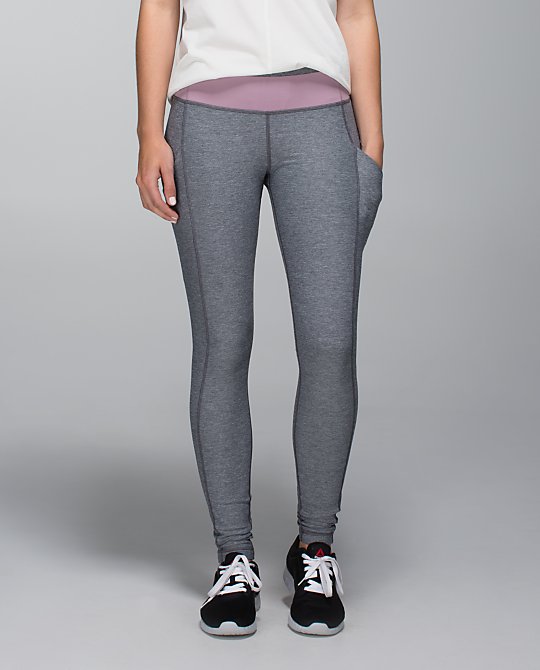 Lululemon Speed Tight
If you can't justify the price, though, Athleta just came out with their version, the Be Free Tights, for $74. They have a back pocket and two side pockets but are missing the front waistband pockets. I have the Be Free Knickers, a knee-length version, and really like them. The full-length tights, unfortunately, come in only loud (for me) prints. I don't get as much wear from printed bottoms because it's harder to pair tops with them, but if you're up for prints and want side pockets, you might want to check them out.
Athleta Triangular Be Free Tight
I also like wearing these hiking because of the pockets and comfort. We take our dog hiking with us, and I always carry treats and Halt!, a spray to stop dogs attacking since he was previously attacked by an off-leash dog. These and similar items are easy to stash in side pockets of tights.
2. Oiselle Lesley Tights
Because of a mix-up with items I was returning and exchanging, Oiselle kindly sent me a complimentary pair of their Lesley Tights ($79). Talk about great customer service! But, we all know Oiselle is a great company! The medium fits great (I wear a size 6 in the Speed Tights) and is so comfortable. I love the fabric, which is more of a knitted matte than Lululemon's silky Luxtreme (which can cause some tops to ride up when you're running). It has a very light fleece interior, making it ideal for cold runs, and mesh behind the knees and at the side hips. I'll be able to wear these not only this fall but through most of the winter on shorter runs when I don't need to carry a bunch of stuff. The contrast stitching is very flattering.
Oiselle New Lesley Tight
I also have my eye on Oiselle's new Portman Pants ($86). What a beautiful color!
Oiselle Portman Pants
I buy more full-length tights than crops for fall running because I get more use out of tights, which I can wear through the winter. I don't tend to overheat in my lower calves, but when it's really cold out I do not want that skin exposed!
I also tend to wear full-length tights rather than crops for hiking to protect myself from ticks, which are abundant in Western Pennsylvania. I love tights for hiking because they have so much flexibility and are very comfortable.
3. Lululemon Rulu Long Sleeve Tops
Lululemon makes a special fabric for running called Rulu (Running Luon), which feels soft and thick like a sweatshirt and is also wicking. I wear these tops all fall and winter. They come in different styles and colors throughout the season, in both half-zip and crew versions. They usually all have thumbholes and some have cuffins (fabric that comes over your hand like a mitten so you don't need to wear gloves separately). They also usually have a pocket. The version that's out now is the Race Your Pace Long Sleeve ($88) and Half Zip ($98). I steer clear of their half-zips because I've found the seams to be scratchy, but I love the long sleeve version. It has thumbholes and a zippered pocket in the back waistband. I love that this top looks pretty much like a casual-wear top, so I can also wear it for hiking and daily activewear. (Note: my true size in the Race Your Pace Long Sleeve was extremely fitted, so I sized up.) I wear these tops on their own when it's not too cold, but for very cold days I add a wicking tank as a base layer. I find that these work so well on very cold runs that I rarely wear a running jacket.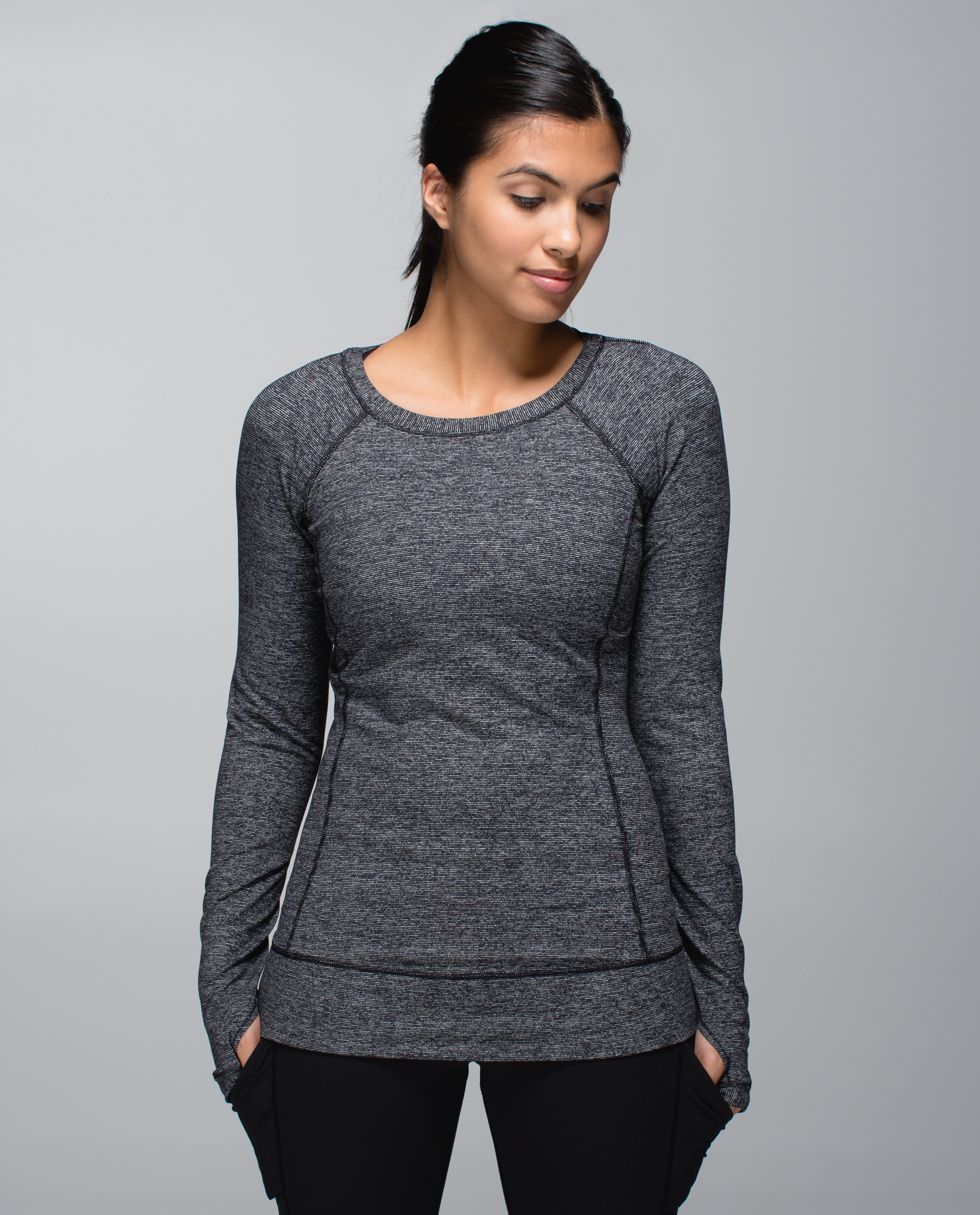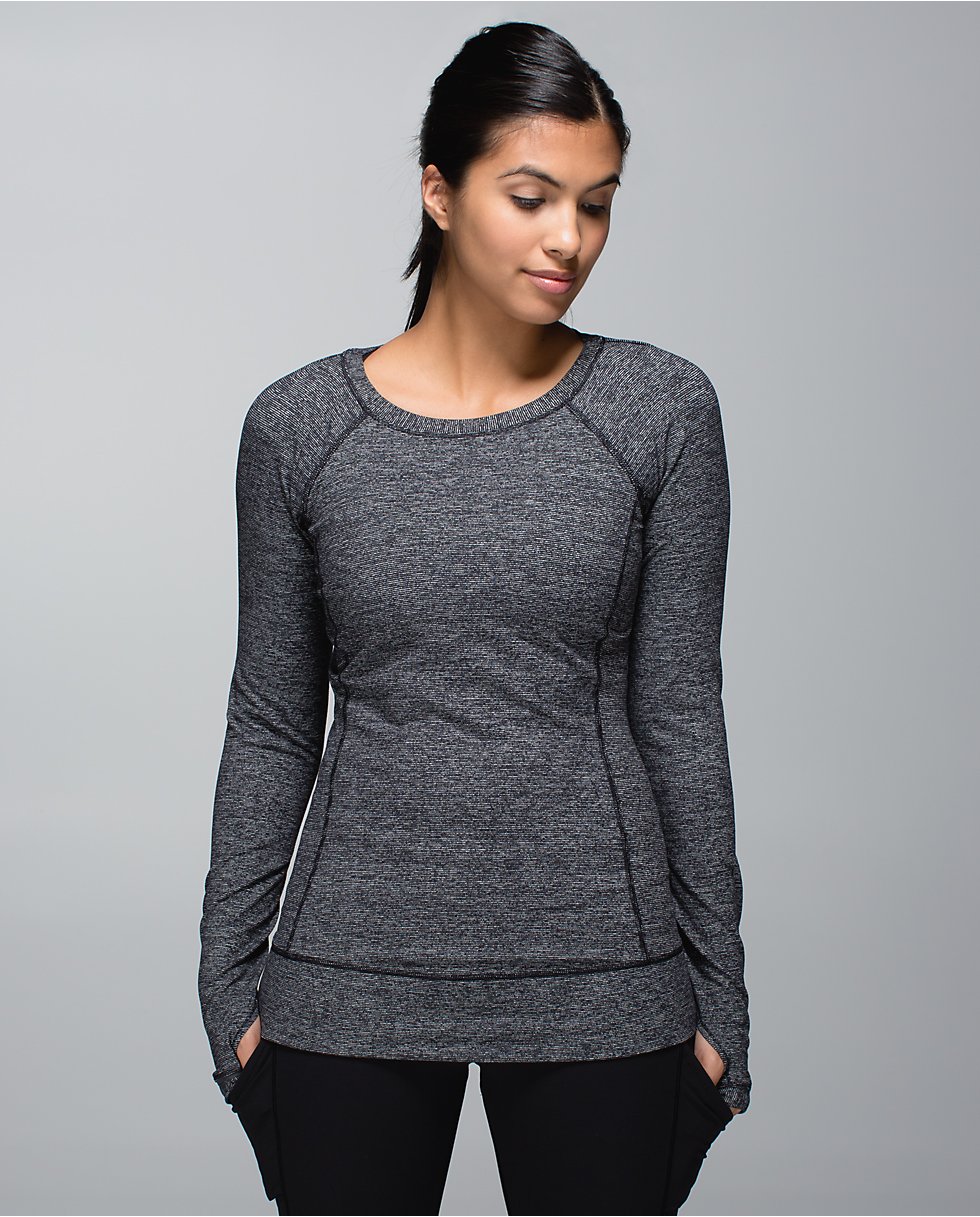 Lululemon Race Your Pace Long Sleeve
4. Athleta Chi Long Sleeve Tops
Made with a very soft, brushed, anti-stink fabric, the Chi Tops are great for days when it's cool but not too cold. The fabric is lighter weight, but not so light that cold air will blow right through it. I size up for a looser fit and more length, and it's easy to push the sleeves up when I get hot. There is now an extra-long version, and there are many colors available, including a stripe option. They are reasonably priced at $54-$59, but I have gotten all three of mine on sale for as little as $20. There are no reflective details, so it also makes a good lightweight top to wear hiking or for casual wear.
Athleta Chi Top
This color is currently on sale for $21.
5. Athleta Half Zips
I love half zips in the fall because I zip them all the way up when I'm warming up and cooling down and unzip them when I heat up during my run. Athleta offers many different styles, fabrics, and weights. I have never had a problem with their seams chafing. I have a very light fabric version, similar to the Chi Top fabric, that I wear on cool days. I have one made with their Plush Tech fabric that I wear on the coldest days. And I have some that are medium-weight with buttery soft fabric that I wear on moderately cold days. I wear a tank as a base layer if it's colder. They usually have thumbholes, a pocket, and reflective details. The price varies but, again, you can get good deals on them when they go on sale. Here are two current options.
What I Wore Running in Colorado (39 degrees)
Full-length tights (Lululemon Speed Tights with Mesh)
Half Zip (Athleta Striped Elite Half Zip)
Five Favorite To-and-Fro Pieces
Immediately when I return from running in the early mornings, I take my dog for a walk. I am very sweaty from my run, and the mornings are usually very cool, so I need breathable layers that will keep me warm. And when I go hiking, I always bring layers. When I hiked in Rocky Mountain National Park earlier this month, temps would range from 70 degrees at the start to 50 degrees higher in the mountains, the sun would sometimes be hot and intense, and it would sometimes by very windy. I was constantly taking layers off and putting them on. These are my top picks for hiking and for keeping warm when you need to be out and about in your sweaty running clothes.
1. Lululemon Jackets
Lululemon has awesome performance jackets. The Forme Jacket ($108-$118) is a big favorite. It's warm, has cuffins to keep hands warm, zips up high on the neck, is made of wicking material, and comes in a wide variety of colors and patterns that vary by the season. It also has two zippered pockets.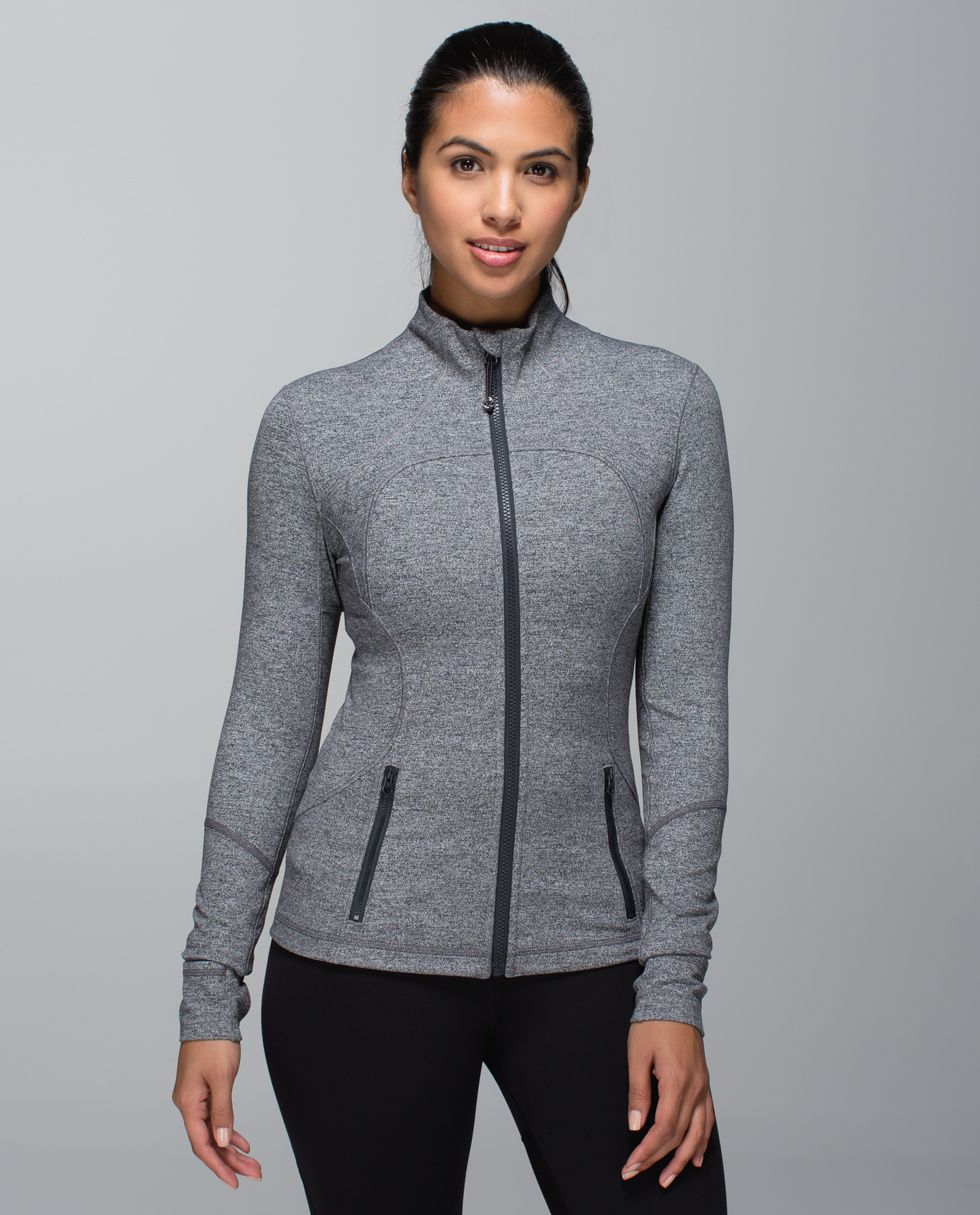 Lululemon Forme Jacket
I also love the Dance Studio Jacket ($128). It has a hood, deep pockets (unzippered), and is reversible. One side is make with a water-resistant material, which is ideal for wet days. The styling is very cute, and the form-flattering design really flatters curvy figures. I wore this jacket pretty much every day of my Colorado trip. It kept me warm when we hiked into cooler temps in the mountains, and the hood came in handy when the wind near the lakes became fierce. In Denver, when a cold front came in, I wore it as a base layer with a wind-resistant jacket over top, and I was warm and toasty.
Wearing the hood up on the Lululemon Dance Studio Jacket because of the wind.
Note the deep pocket fits my camera.
2. Athleta Tops
For the quality and price, Athleta's tops are a big winner. I usually stock up when things go on sale, and they make a lot of "street style" tops that can be used for casual wear. In the summer, I usually wear Shiva Tops, made with an extremely lightweight fabric. I recently bought two of the Sugar Rush Hoodies on sale. The fabric is buttery soft and is heavier than the Shiva Top, but not too heavy. They have a boxy, cropped shape and pair beautifully with tanks underneath. I think I wear these every day! They are great for putting on over yoga clothes when I plan to do yoga in the evenings but don't want to walk around the house in just a tank. Athleta makes a ton of different styles at different price points, but I've found all of them to be very functional and high quality.
Athleta Sugar Rush Hoodie (on sale for $39.99)
3. Athleta Slouchy Beanie
The
Slouchy Beanie
($32) is a lighter weight knit hat than the typical winter hat. My hair is always soaked with sweat after runs, and I always wear my beanie when walking the dog to keep my head warm. I also carried it on Colorado hikes and put it on when it became windy or cold.
Athleta Slouchy Beanie
4. Warm Scarf
I'm a scarf girl. I wear scarves year-round, for both fashion and to keep warm. Even on the hottest summer days, it can be freezing in restaurants or at the office, and scarves always come in handy. This week the mornings were very cold when I ran (one day it was 44 degrees), and after my run I was freezing in my sweaty clothes. A heavier scarf really helps keep me warm. Lululemon's Vinyasa Scarf is well-known for it's soft, warm fabric and its snaps that enable you to adjust it into many different styles (including a shawl and top). They are released in various colors throughout the season and sell out quickly. The $48 price tag may seem steep, but I wear the two I have all the time–nearly every day. I always take it hiking to add warmth or, in as I did in Colorado, to use as a blanket to sit on we ate lunch on rocks.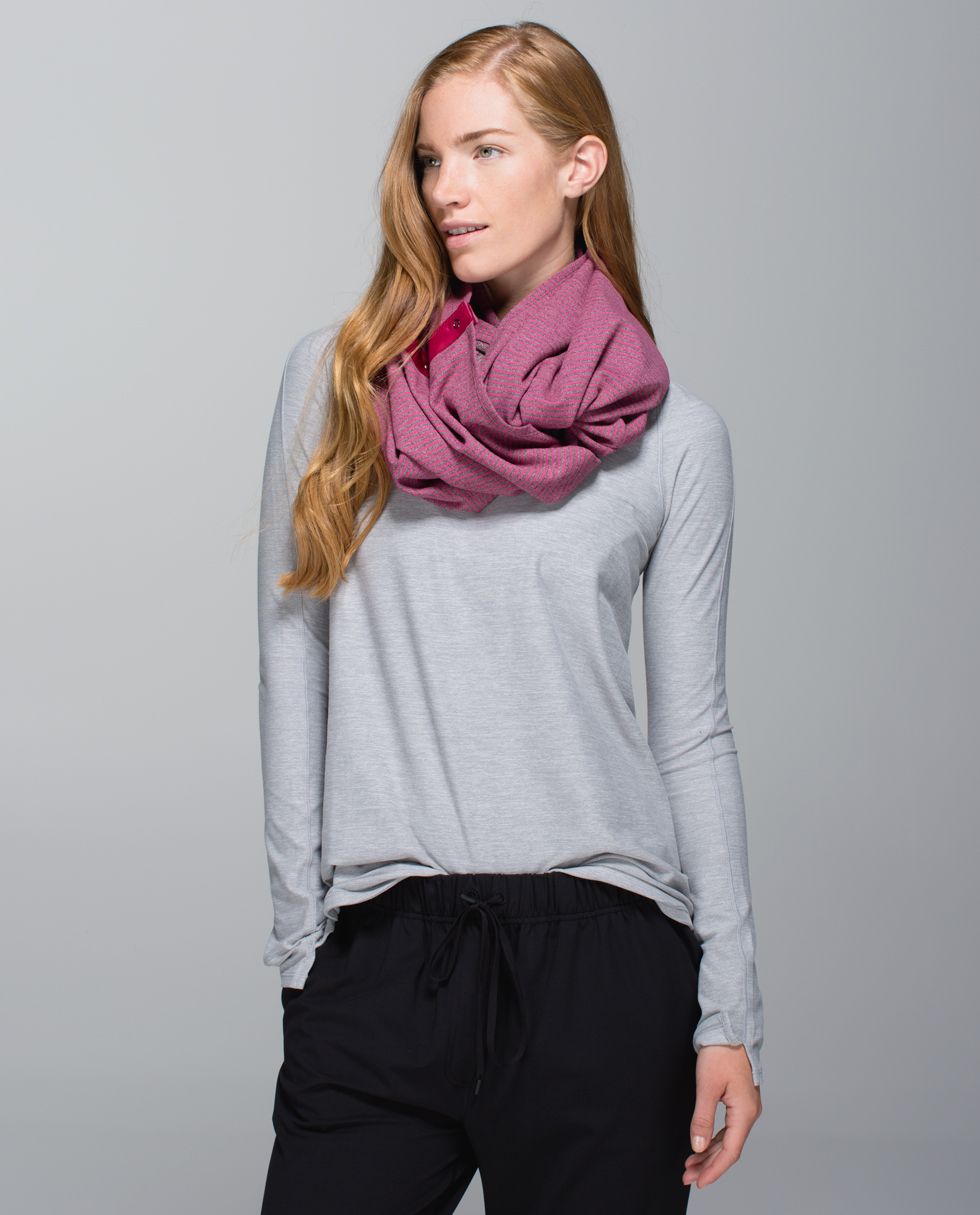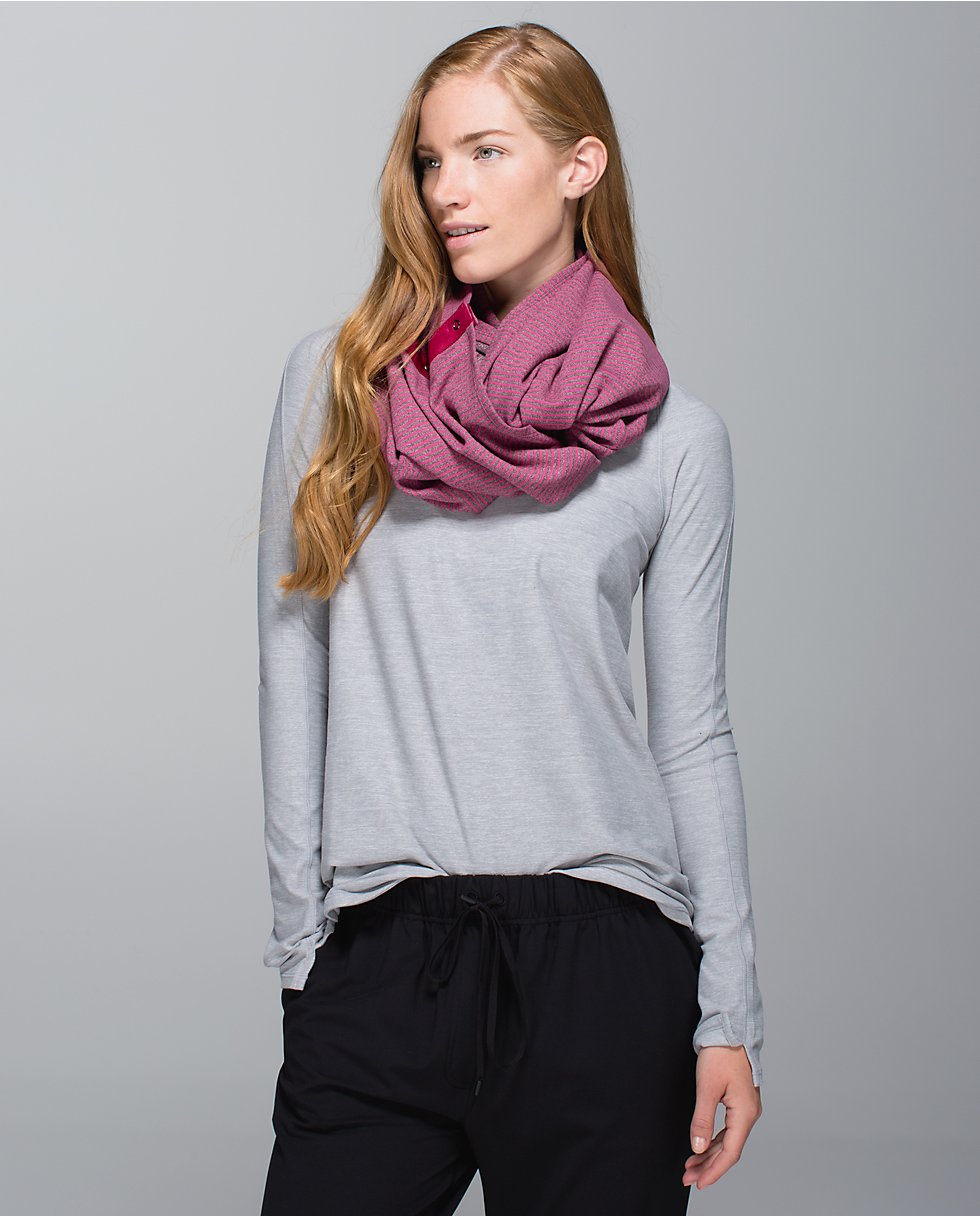 Lululemon Vinyasa Scarf
I also have Oiselle's Runfinity Scarf ($24). I have a version lined with fleece, which may be different than the one currently on their site. I have not run in mine since I don't like things flopping around and have a slim-fitting neck-warmer that I wear instead of a scarf. But I wear the Oiselle scarf a lot too when I want a warm scarf.
Oiselle Runfinity Scarf
5. Lightweight Scarf
If it's not that cold, I still like to wear a lighter weight scarf because, again, I'm a scarf girl! A very inexpensive version is the Infinity Scarf from Fabletics ($11.95-$14.95 depending on whether you're a member; see my Fabletics review for info on membership), which has a thin fabric and a mesh fabric. It's perfect when I just want to keep my neck, shoulders, and arms covered.
Fabletics Infinity Scarf
Here's an example of how I adjusted the layers based on changing conditions on my Colorado vacation.
Base Layer (70 degrees)
Full-length tights (Athleta Chat Tights)
Wicking tank (Lululemon Cool Racerback)
Light layer (Athleta Sugar Rush Hoodie)
What I Wore Hiking in Colorado (50 degrees):
Full-length tights (Athleta Chat Tights)
Wicking tank (Lululemon Cool Racerback)
Light layer (Athleta Sugar Rush Hoodie)
Warm, water-resistant jacket (Lululemon Dance Studio Jacket)
Heavyweight scarf (Lululemon Vinyasa Scarf)
Lightweight Hat (Athleta Slouchy Beanie)
What are your top picks for fall running or hiking clothes?
Check out the linkup!