Happy Friday! If you've been following my blog, you know I have a love-hate relationship with Lululemon. I hate their return policy, their lack of customer rewards and sales, and their high prices and recent price increases. I love the quality and details of their technical gear, their weekly releases of new products and colors, and their stylish designs that take clothes easily from workout to everyday wear. Because I know the quality and durability of their products, I will pay more for technical gear, jackets, and bags, all of which are worth the price to me (I don't pay the high price for their lounge and everyday wear, even though it's really cute). They have a lot of really cute winter running gear out now, so today I'm going to list my five favorite things.
And since it's Friday, I'm linking up with Courtney at Eat Pray Run DC, Mar at Mar On The Run, and Cynthia at You Signed Up For What. Check out the linkup for tips on cold weather running!
1. Think Fast Pullover
Made of Rulu fabric, a technical, wicking fabric that's also buttery soft, warm and cozy, this pullover has lots of great features. With the zipper up, the color can either be worn up or down.
Unzipped, there's even more venting.
There is a huge hidden side pocket with an additional small mesh interior pocket. The pocket is large enough to fit my Samsung Galaxy phone plus many gels. I can fit my whole hand in with room to spare. It's huge!
There are discreet reflective details on the front and back. I like reflectivity to be discreet so that I can wear things casually. Plus, while I run in the dark early mornings, I rarely run on streets since I can run on a trail–which I access via a pedestrian bridge–so don't need a lot of reflectivity.
It has discreet mesh vents under the arms.
It not only has thumbholes…
…but also cuffins, which is fabric that you can pull completely over your hands to form a mitten. Cuffins are my favorite Lululemon feature. It's like a running mitten attached to your top so that you can keep your hands warm when you're starting your run and cooling down, and then uncover them easily when you get hot.
This pullover was just released and is available in three colors: Heathered Slate, as shown in the first few pictures, Cranberry, as shown in the last pictures, and a dark blue Inkwell color (though sizes are limited in that color). The price is–sit down for this–$98. BUT, you will not find a comparable running pullover with all these details for less money. Believe me, I've looked! And because the fabric is luxuriously soft and cozy and it's so cute, I'll definitely wear it for general wear this winter. I have this pullover in the Cranberry color and love it so much I may order a second. I ordered a size up (size 8) from what I wear in Lulu Cool Racerback tanks, and it's a pretty roomy fit. I like the roominess so that I can layer a tank underneath, but size down if you want a next-to-skin fit.
Here I am in mine, showing off the cuffins, before a very cold run yesterday. The temperature was 32 degrees (felt like 27). I wore it without a tank underneath and was cozy the whole run. I only felt a little cold when the wind picked up, but it actually provides decent wind resistance, so it wasn't bad. (I'm also wearing the ear warmer mentioned below and Oiselle Lesley Tights.)
There is also a long sleeve version (below) which does not have cuffins but does have a little pouch to keep tissue right by the hands (genius). I haven't tried the longsleeve on, but it's $10 cheaper for $88. I personally think the cuffins, large pocket, and fabric at the neck are definitely worth the extra $10.


2. Race Your Pace Long Sleeve
This is another top made with soft and warm Rulu fabric. This was released about a month ago, but many colors and sizes are still available. When it's not super cold, I prefer long sleeve tops to half-zips. I have two of these tops and have been wearing them pretty much constantly since the weather has turned colder. They are warm enough to wear by themselves, but when it gets colder, I add a tank as a base layer and a neck warmer.
There is a hidden zipper in the bottom hem. It is large enough for a few gels, but not big enough for my large phone with case (a smaller phone would fit).
There are subtle reflective details on the hem of the sleeves.
It has thumbholes but no cuffins.
There are no mesh vents, which make this even more ideal to wear for casual wear. I have two of these and brought one with me to Minneapolis last weekend, and it really helped to keep me warm on a very cold day. This top is probably my favorite Rulu top because it's versatile enough for both running and casual wear, and it's warm enough for cold weather running.
It comes in a lot of colors!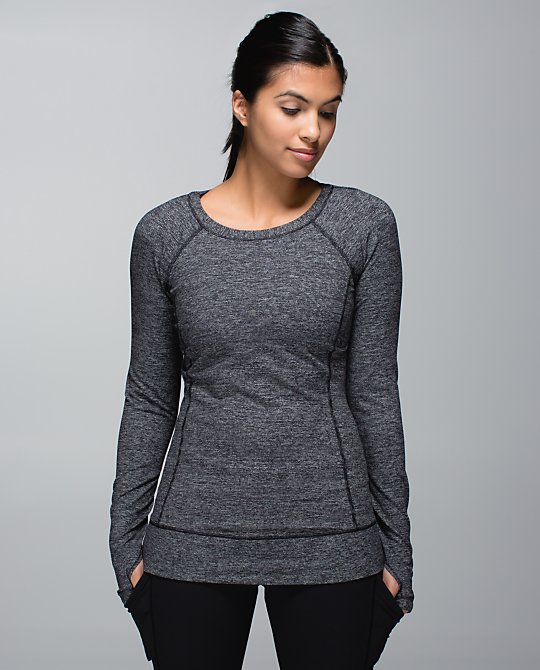 Wee Stripe Black (I have this one.)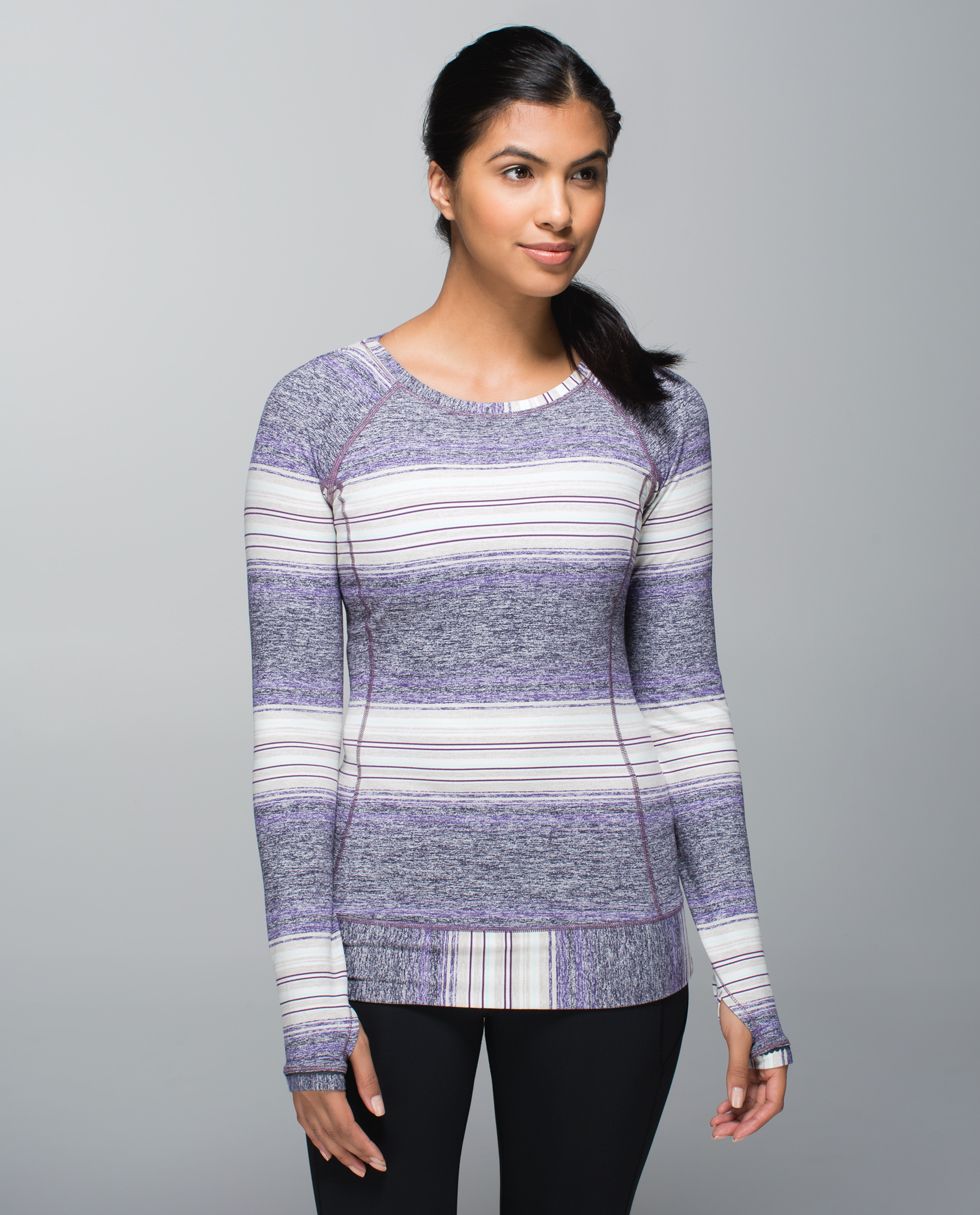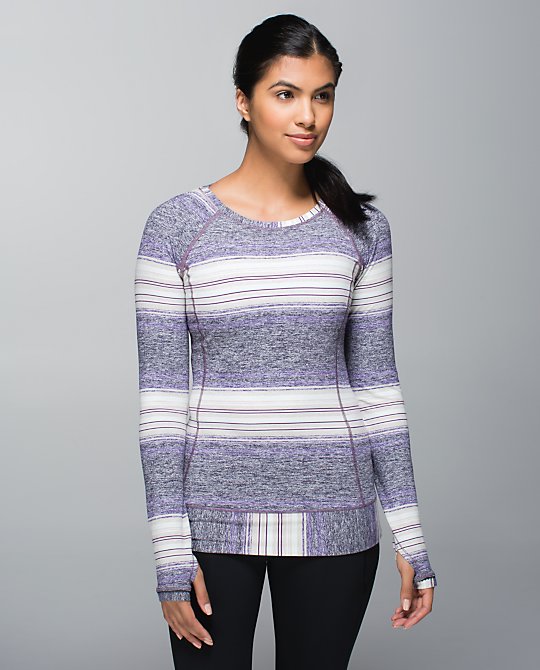 Osaka Stripe Heathered Black Grape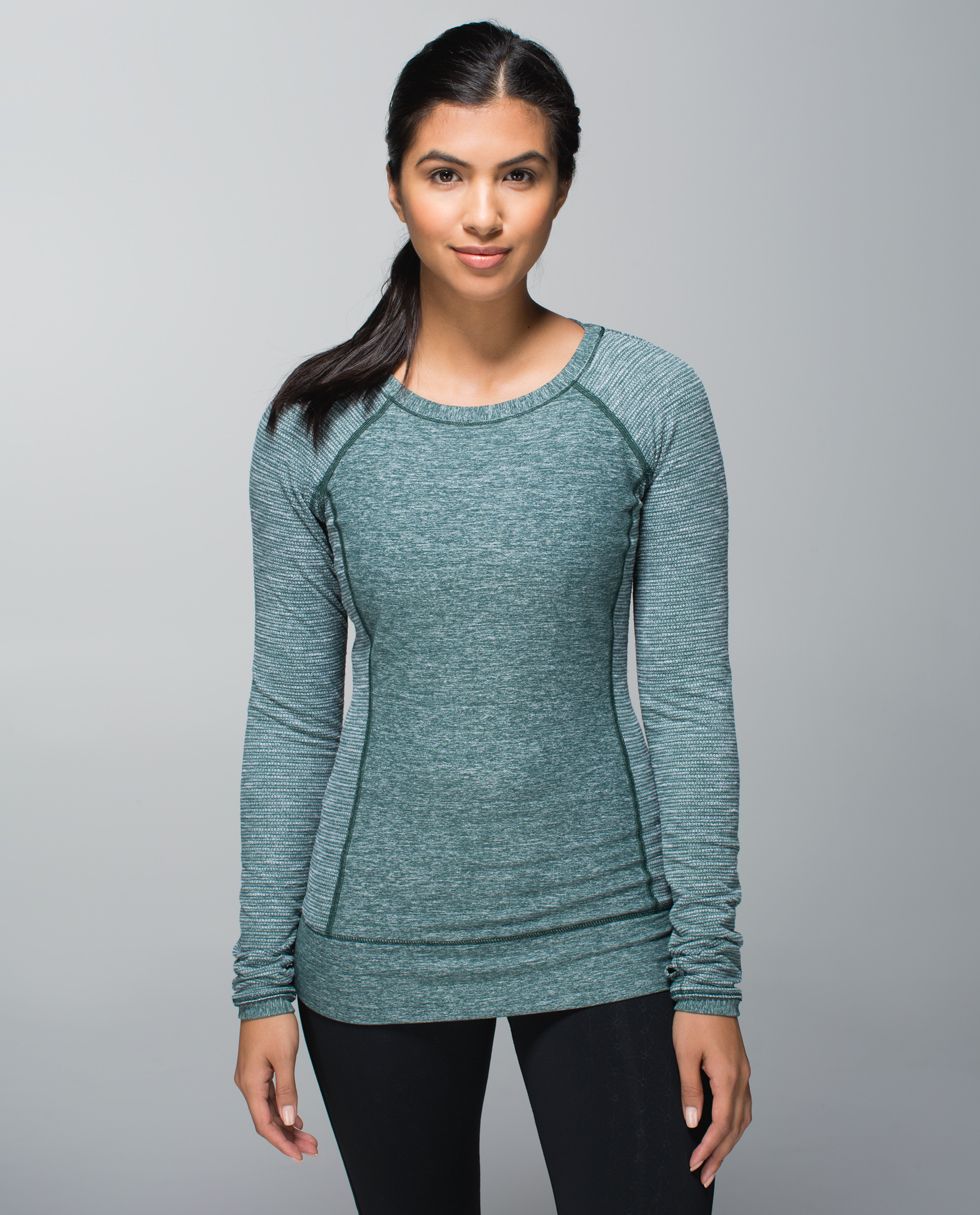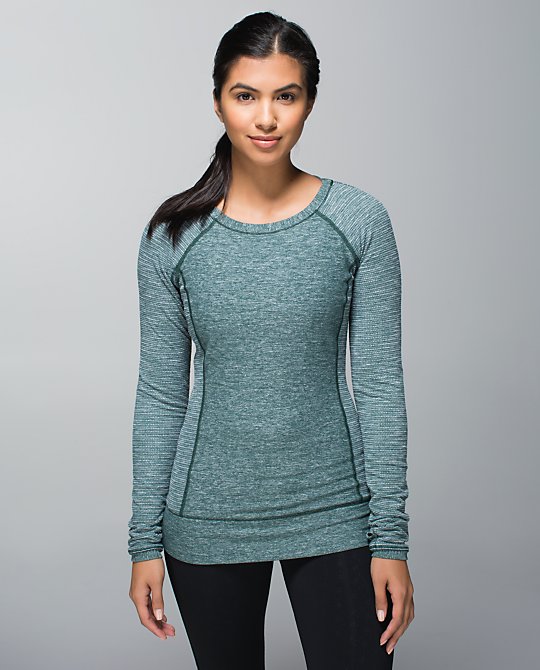 Fuel Green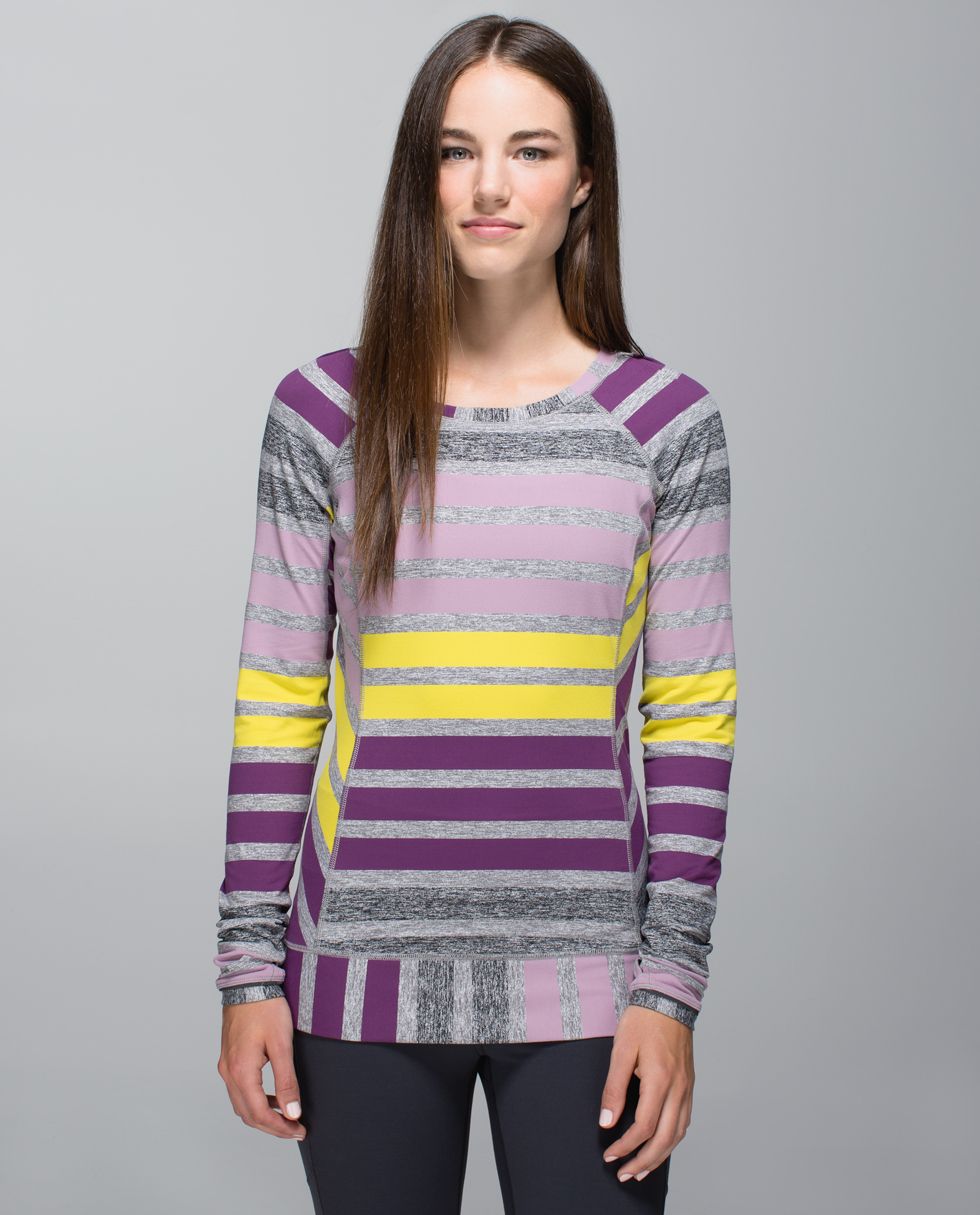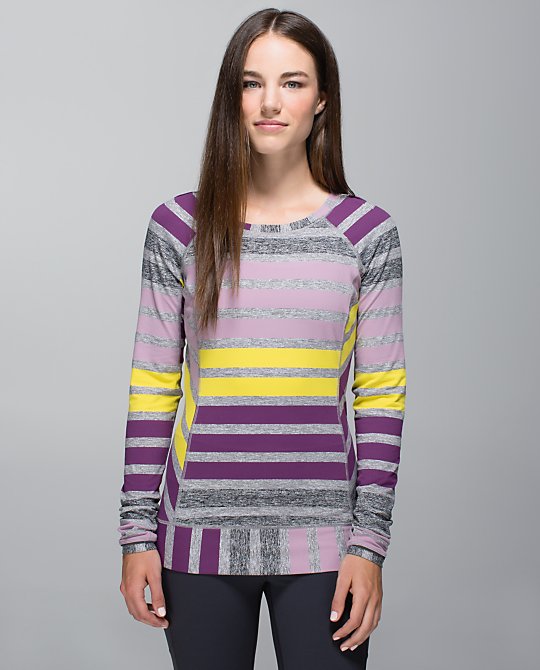 Triplet Stripe Berry Yum Yum (I have this one too.)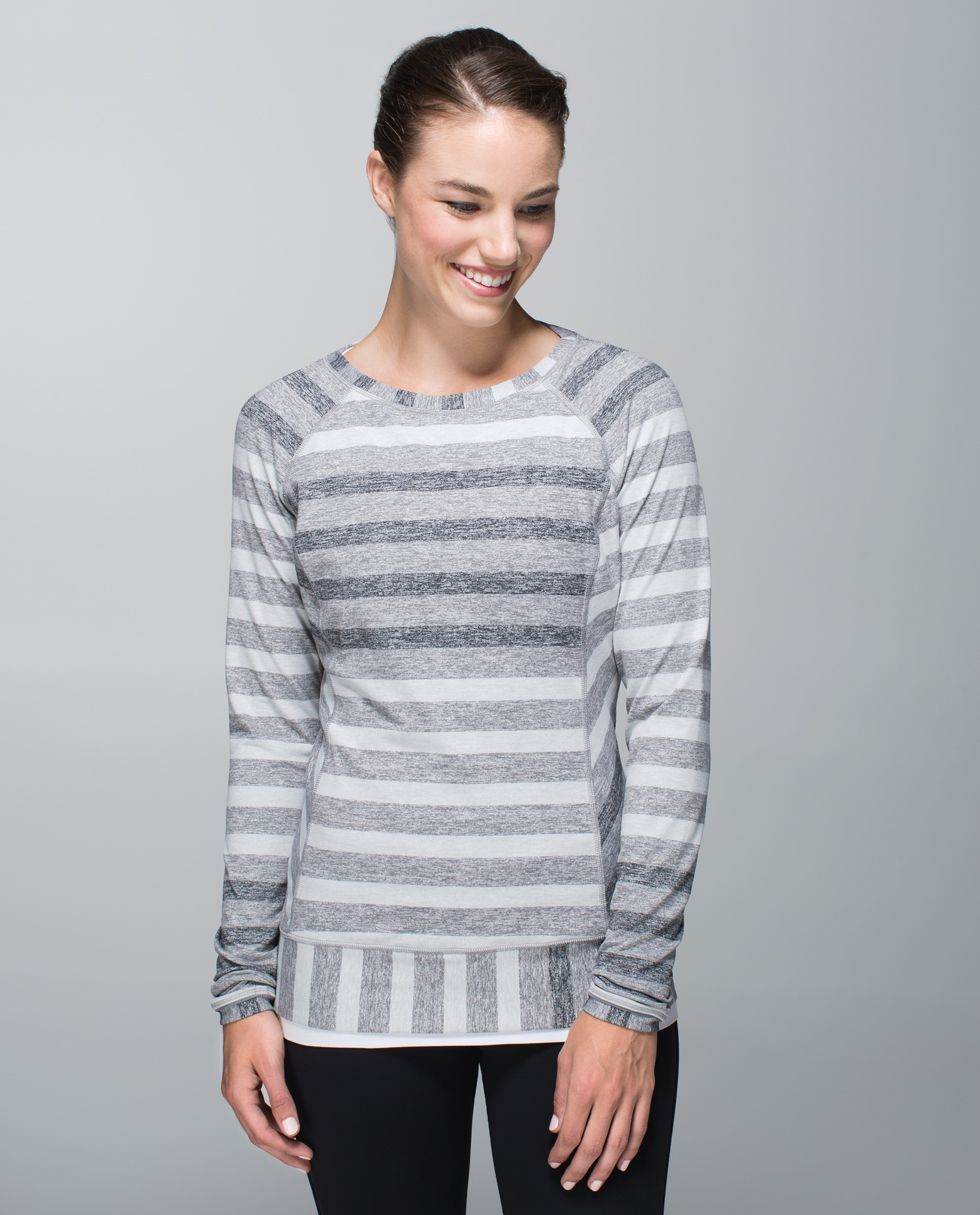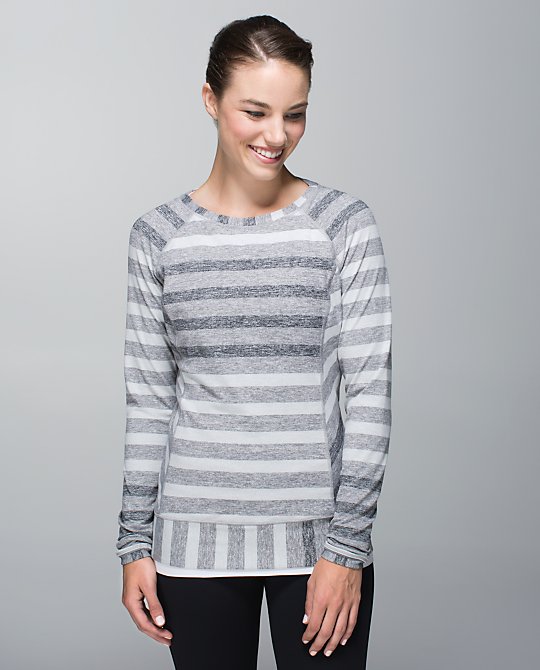 Marshmallow Stripe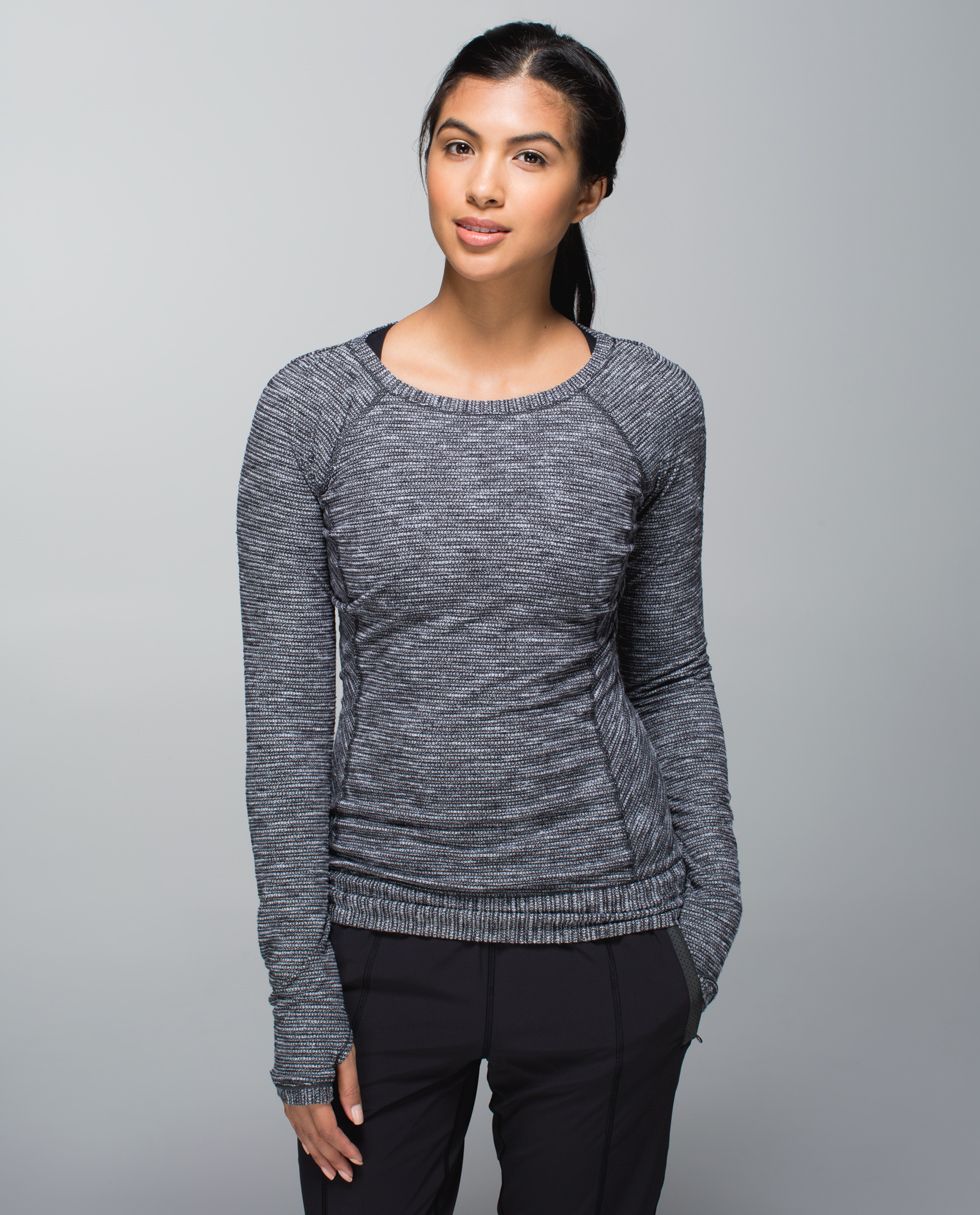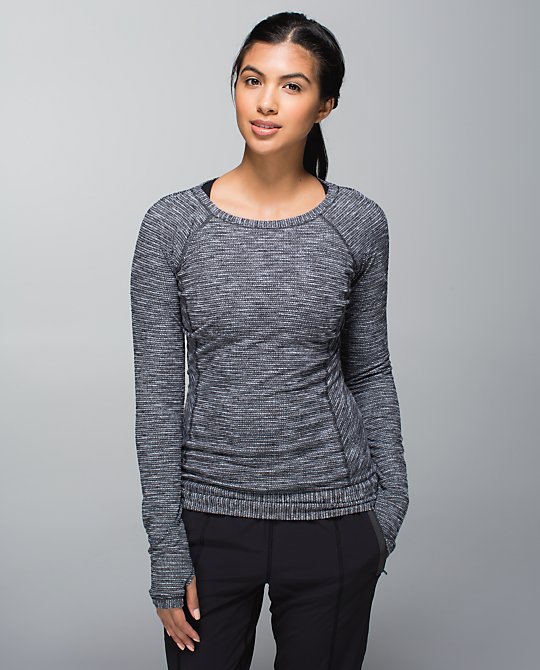 Coco Pique Black
These tops are $88. I ordered a size 8. It's not as roomy a fit as the same size in the Think Fast Pullover, but it's definitely roomy enough to layer a tank underneath.
Here I am wearing it with a tank underneath for an early morning run in 34 degrees this week. Was very cozy! (I'm also wearing the ear warmer mentioned below, Speed Tights mentioned below, and an Athleta Chi Tank.)


3. First Base Tank
I usually wear Lululemon Cool Racerback tanks or Athleta Chi Tanks as a base layer, but I recently bought the First Base Tank on markdown. I love it! It is made of Rulu so is very soft and warm, without being really thick and heavy. I think it will make a better base layer for winter running than my other tanks. There is currently one color available on markdown for $39. Four other colors are available for full price at $58, but I bet they will also eventually be marked down (though you have to try your luck at waiting if you're a popular size since those sell out quickly). I know Lululemon will soon be releasing another Rulu tank as a base layer too.
4. Run with Me Ear Warmer
While Lululemon's hats are really cute, I only wear hats on the most frigid days. Plus, all their hats have ponytail holes, which is great if you have a ponytail but not good for someone like me who has short hair and doesn't want a hole in her hat! I recently bought my first Lulu Ear Warmer and really like it. I always wear wide headbands when I run, and this is a combination of a wide headband that warms your ears. It's made of soft Rulu and can be worn two ways, with the decoration in front or back. It is also reversible, so it's like you get two styles in one. In the two photos of me above, I'm wearing different sides of mine. I bet I'll wear this all winter.
The ear warmer will run you $26 and is currently available in five colors.
5. Neck Warmer
I mentioned earlier that when it gets colder, I wear long sleeve tops with a neck warmer. I love Lululemon's version because it cinches at both ends, and it's long enough that you can wear it over your mouth and nose or even wear as a hood. And when I warm up, it's easy to scrunch it down. I wore this all winter last year for both running and when I needed more warmth on my neck for the bitter polar vortex days (that we surely won't have again this winter, right?!) The neck warmer is currently available in stores but not online yet. It should be arriving online soon though, and, if I remember correctly, it's not super expensive (I would guess under $30).
Honorable Mention: I haven't listed the Speed Tights because I raved about them in a recent Friday Five post. They are my absolute favorite fall and winter running tight, with a whopping five pockets! I wear them all fall and winter long and can vouch for their quality and durability. I have them in different weights so that I can wear them from cool fall days to the most frigid winter days. Check out my previous review of them.
I am probably in the minority, but I love winter running–that is, when it is in the double digits. When it was in the single digits last winter…not so much. If you don't love winter running, new running clothes may be just the thing to get you motivated to get out there!
I can't wait to read more about winter running from everyone linking up!