I typically do not run in jackets and hats in winter because I overheat easily. Last year, I ran in a jacket and hat only a few times during the frigid polar vortex, single-digit-degree days. But it seems that every runner I pass has on a jacket and hat. Have I been missing something? I will say that on my warm-up and cool-down walks I'm a popsicle, and during runs cold wind can be brutal. So I started wondering if I should buy a lightweight shell.
Lululemon releases new products weekly, and for the past month they've been releasing new winter running jackets. The newest ones are insulated or softshell or both, and it makes me sweat just looking at the pictures. Several weeks ago I found an older jacket that I thought might be better for me and ordered it. It's the Spring Forward Jacket ($148) released this past spring and billed as lightweight. I figured that I could wear it both for cold weather running and as a casual jacket, since the beauty of Lululemon is that their clothes are cute enough that they can be worn both working out and for casual wear.
I didn't take the tags off because I was still debating keeping it, but when my weather app said the temp was 26 and felt like 21 degrees Tuesday morning, I decided to try it out for my run. Underneath I had on a Race Your Pace Long Sleeve Top (a Lulu winter running top), Lulu tech fleece Speed Tights, and a Lulu neck warmer. I also wore the Run With Me Toque reviewed below, which I got on markdown for $24 (original price is $32).
Note: Sorry for the poor photo quality of those not from the Lululemon site. I left my camera at my mom's house on Thanksgiving, and my phone apparently takes awful photos without the flash in dim lighting.
Layered in up in Lulu for a 26-degree morning run. Would I be too hot?
Details
The exterior of the jacket is made with Lululemon's Swift material, which is lightweight and breathable. It is lined on the inside with fabric so isn't just a shell. I wouldn't call it lightweight since it's lined, but it's definitely not heavy weight either. I have the color shown in these pictures, Purple Fog. It also comes in solid black and two prints.
The interior lining
There is an interior drawstring in the back so that you can cinch the back for a more figure-flattering fit.
Shown with the back slightly cinched
There are two exterior pockets that are very deep and fit my gloved hands, as well as a small interior pocket inside the bigger pocket.
Small interior pocket inside the main pocket
The hood zips into the collar and is cinchable to be very tight around your face.
There are reflective details, but they are subtle enough to make it a casual-wear jacket too.
I don't listen to music when I run, but there's a hole for a cord so that you can have a device in your pocket and feed the cord underneath the jacket and up through the neck (most Lulu jackets have this feature.)
It has Cuffins, extra material built into the sleeves that go over your hands like mittens.
There is subtle venting under the arms and in the back.
Performance
I was able to keep my hands in the pockets on my warm-up walk to the trail, and that really helped to keep me warm since my hands get coldest the quickest.
When I started the run, I pulled the cuffins over my gloved hands. Between my gloves and the cuffins, my hands were very warm. They got a little too warm when I was doing speedwork, so I just took them out of the cuffins and put them back in on my easy cool-down mile.
When I first started out at a slow, easy pace, I immediately started feeling hot. Of course, I was also wearing the toque and a neck warmer, so maybe that was too much. I planned to shed some layers after my warm-up mile. But after that mile, I stopped to adjust my watch for a different auto lap alert to run intervals, and I got cold again when I stopped. At that point I was right beside the river, and it was very windy. I was grateful then that I had on all the layers, so I left them all on.
I ran fast intervals near the river where it was very windy, and while I was sweating a lot, the jacket really helped block the wind and cold so that I didn't get cold from the sweat.
On my cool-down walk back to my house, when I'm usually freezing from having sweaty clothes on in the cold, I wasn't cold at all.
The jacket didn't feel heavy or bulky and didn't get in the way of my running.
When I got home and took off the jacket, I saw that the interior lining had gotten nearly completely wet with sweat, which it had wicked from my top. As I result, I had less sweat next to my skin and stayed warm in the cold.
The Verdict
I declare this jacket a winner! While I did get hot at first, it may have been because I had too many layers in general. It really kept me warm on my warm-up and cool-down walks and was a great barrier overall for cold and wind.
I personally would not wear this (or any) jacket above 32 degrees. Between 20-30 degrees, I would probably switch to a lighter top or even a tank. I'd only wear a warmer top below 20 degrees.
Winter running jackets in general are expensive, so I don't think the $148 is too much for this jacket, maybe because it's not actually designed for winter but spring running. Because of the cute style and color, I will also wear this casually as a light layer.
Because these are older jackets, some have shown up in my local store for a reduced price, so check your local store if you're interested. They will probably also go on sale on Lululemon's website soon. New items are uploaded to the We Made Too Much section every Thursday, so be sure to check.
Details
It's available in several different colors.
Check the We Made Too Much section of the website for the colors that go on markdown. I got mine on markdown.
The hat is reversible, giving you two styles for the price of one.
You can wear the hat either unrolled, for a slouchy look, or rolled at the bottom so that it fits close to your head.
There is a slit in the back for ponytails, but it completely closes when not in use.
It is made of soft, warm, Rulu fabric.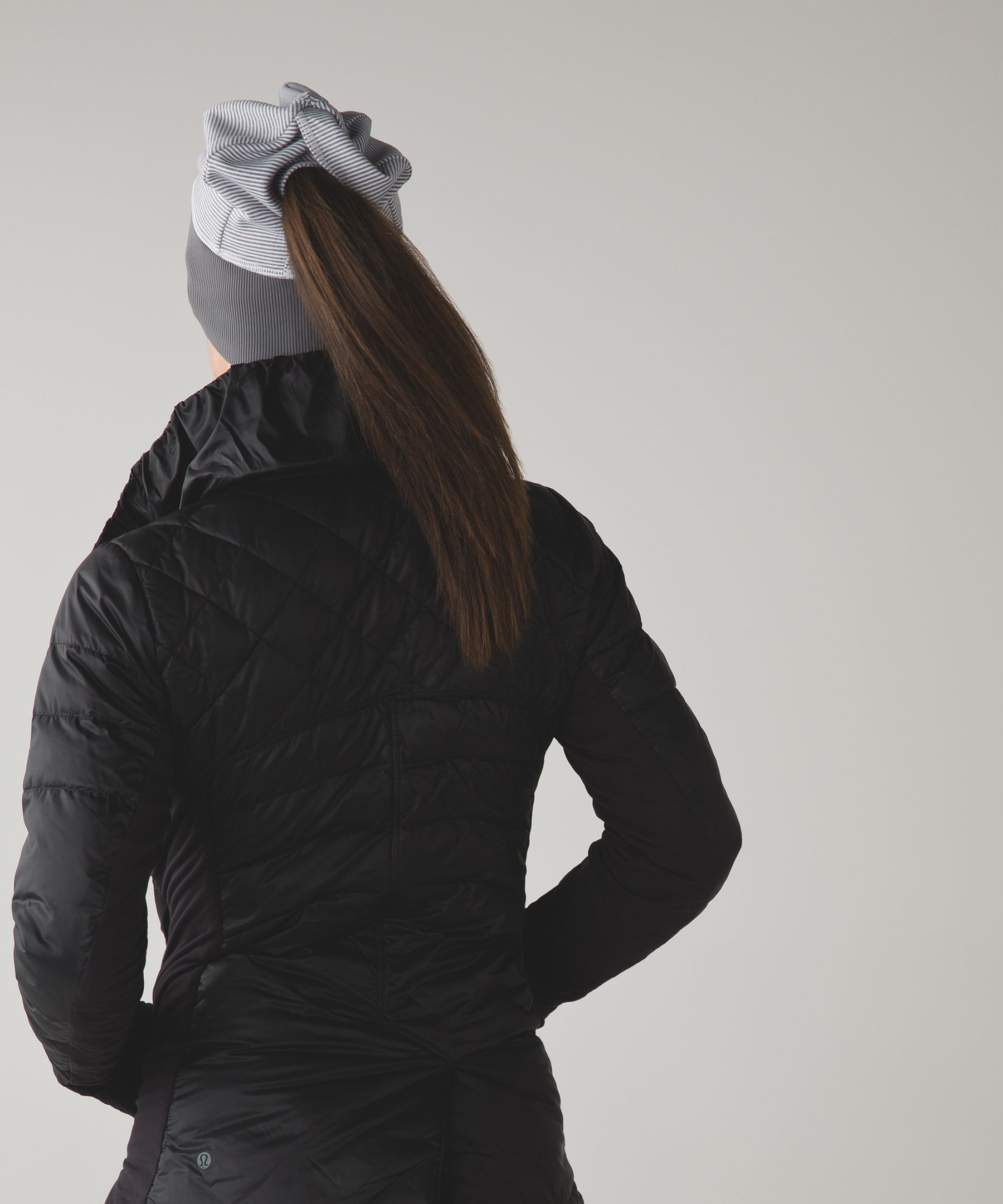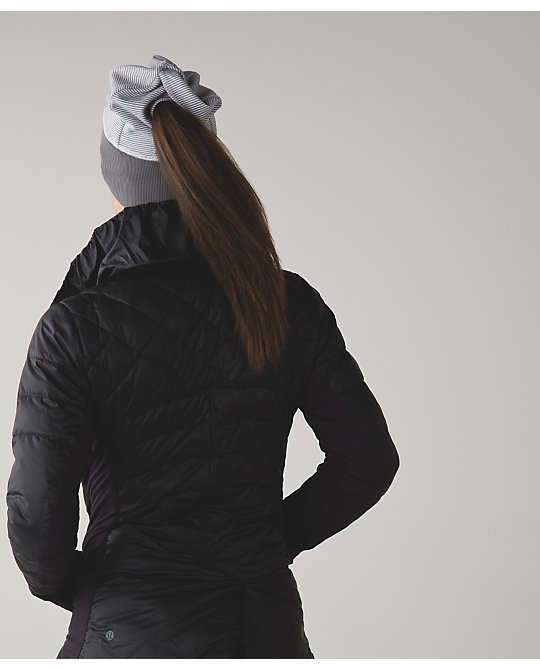 Shown unrolled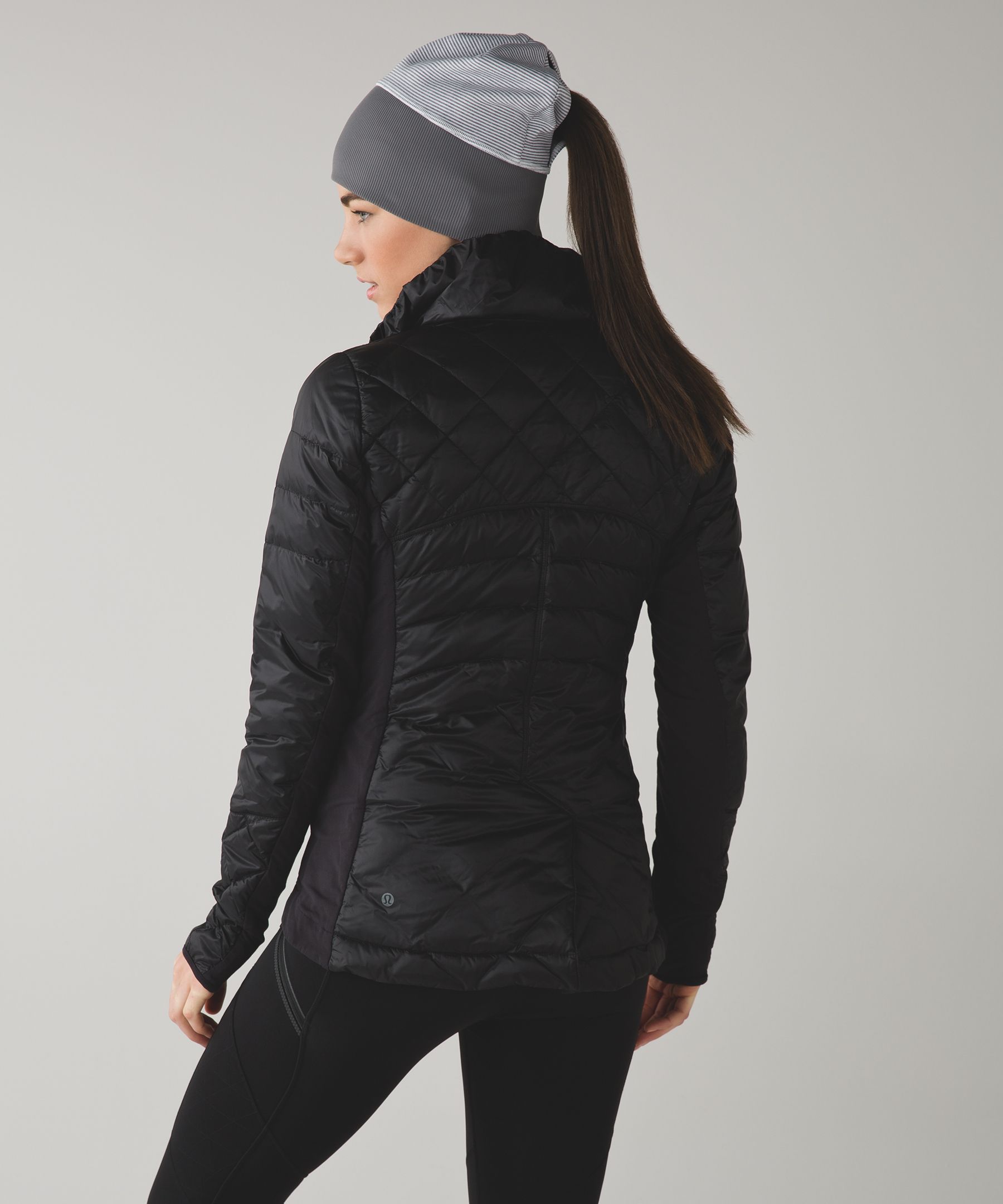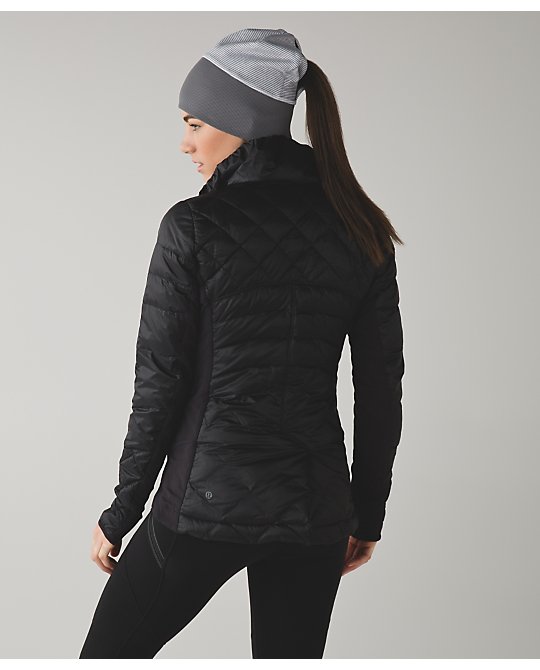 Shown rolled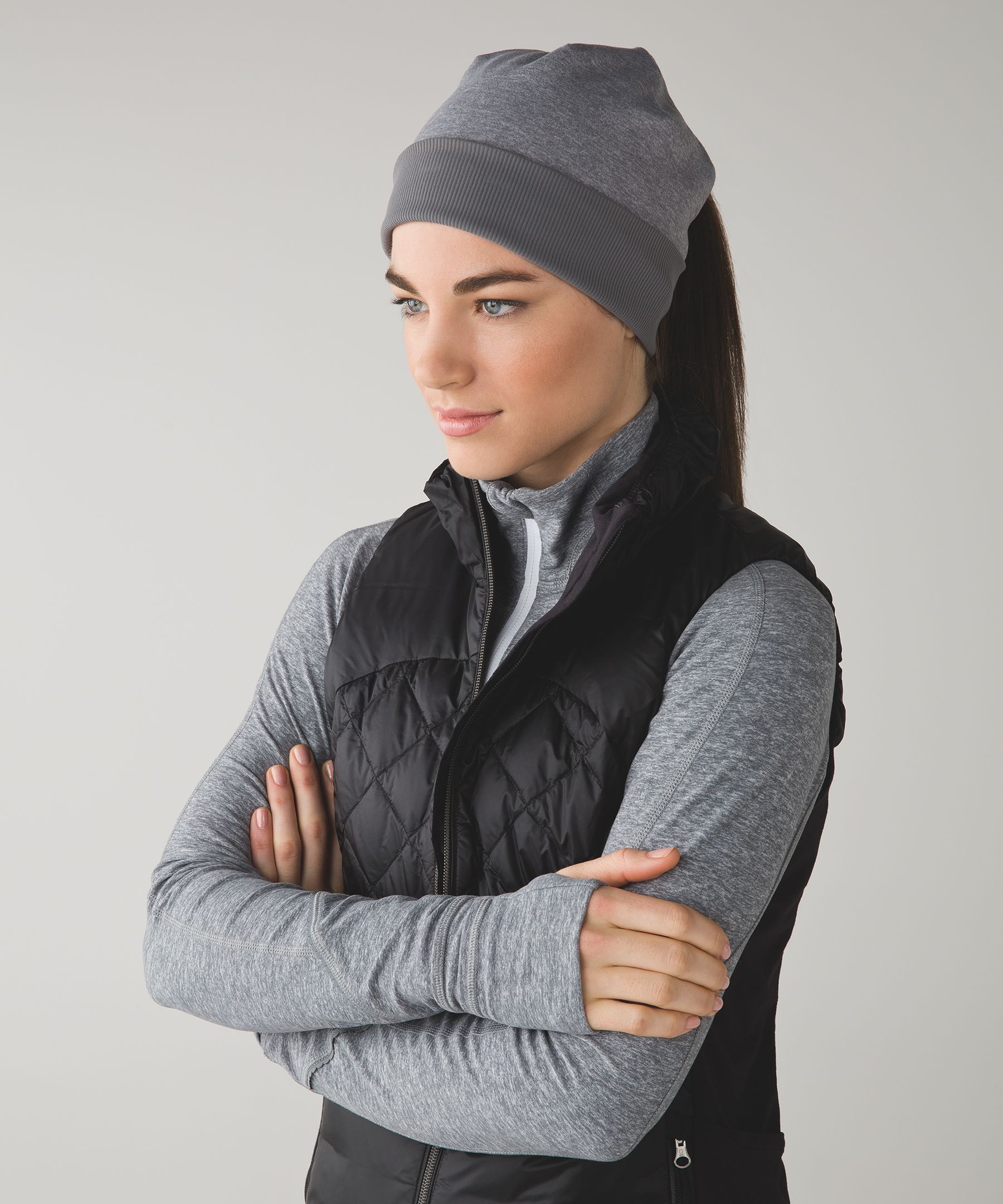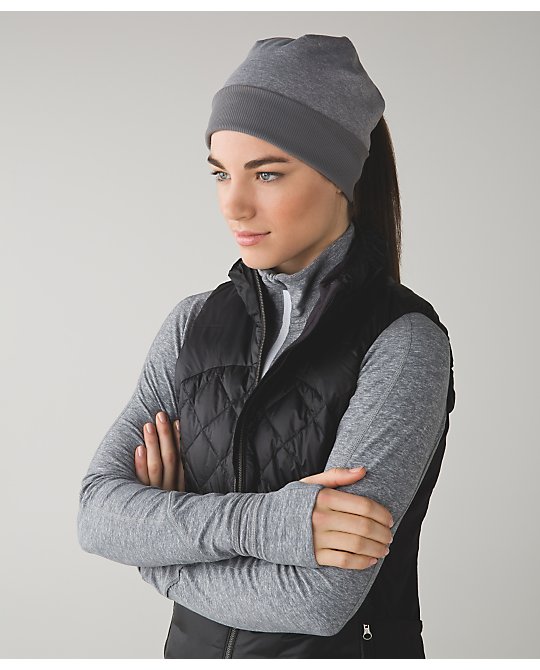 Shown with the ponytail hole used
Performance
I wore this with the bottom rolled so that it fit close to my head. It was so thick against my ears that it actually muffled noise, and I could barely hear the alerts from my Garmin. It definitely kept my ears warm.
This hat was actually a little too hot for me, but again, I don't typically wear hats. When I got home and took it off, the entire hat was soaked in sweat.
It wasn't too tight against my ears and was very comfortable.
The Verdict
Another winner! I think this is my favorite hat. It's extremely warm, so I would probably only wear it below 20 degrees, or would wear it slouchy so it's not so fitted and warm.
The bottom stayed tight against my head, which was great in the wind, but wasn't tight and uncomfortable like other hats I have. I think this is my most comfortable hat.
I love that it's reversible for two different styles. I got the one shown in the picture, which is grey on one side and grey with white stripes on the other side.
Final Thoughts
While I love both the jacket and toque, I will only wear them for cold days below 20 degrees or with the adjustments I noted between 20 and 32 degrees. Granted, I was doing speedwork, but when I got home I saw that my clothes and hair was as soaked in sweat as I'd be on an 80 degree, humid day. This was a good reminder why I don't usually wear jackets and hat for winter running!
Am I the odd one out? For those in cold climates, do you generally wear jackets and hats in winter?