I'm an outdoors-only runner. I've logged every one of my 1,164 miles this year outside, including during the brutally cold winter we had last year in Pittsburgh, when I ran through -20 degree wind chill mornings and never missed a training run. I was able to stay warm and comfortable all winter and credit my running gear to that. In this guide I share my tips on what to wear in what temperatures and when to splurge and when to scrimp. Because this post was getting so long, I'm breaking it up into a series based on temperatures and will start with the warmest temperature range (I don't really consider anything above 40 degrees to be cold!).
The disclaimer is, of course, that each of us have different body temperatures and like to feel different when we run. On a 32-degree day, I'll see one runner wearing shorts and a longsleeve top and another runner bundled up in long tights, a fleece top, a jacket, and a hat. I seem to fall somewhere in the middle. In summer, I get overheated quickly and want to wear as little as possible. But as soon as it cools down I don't want to feel cold at all, even during my 10-minute warm-up and cool-down walks before and after each run. I don't like to have any skin exposed, which is why I always wear full-length tights instead of crops when it gets cold. But I do overheat quickly, so I need gear that keeps me warm on my walk to the trail where I run but doesn't make me overheated while I run. The temperatures noted are in Fahrenheit.
Running Gear for 32-40 Degrees
If it's above freezing, I know I'll be pretty warm once I start running and really just need light layers to keep me covered before I start running.
A typical outfit when it's close to 40 degrees:
Lululemon Speed Tights with mesh in the back calves,
Run for Gold Half Zip made of light luxtreme,
Bang Buster pulled over my ears
Tights
I've said this a million times, but I wear Lululemon Speed Tights about 99% of the time in the winter. With five pockets, including two easily accessible on the side of the thighs, I'm always able to carry tissue and lip balm, which are musts for even short winter runs. The pockets are obviously very handy for long runs when I need to also carry gels, salt sticks, and maybe a media player. Plus, they're very flattering and slimming, comfortable, and are available in a range of colors and patterns. There are different versions and weights of the Speed Tights. For these temperatures, I wear the regular Speed Tights or those with mesh on the back leg.
Splurge: These tights are not inexpensive, but neither are tights from most brands these days, like Nike, Oiselle, and Athleta. I have worn my Speed Tights weekly for years between October and April and can vouch that they are very durable. If something works well and is durable, I have no problem paying more for it. But if you just can't stomach the price, these tights will go on sale. You may not get the color or pattern you want, but you can get them discounted. My suggestion is to visit a store if there's one near you and try on a few different sizes. Then, wait for new sale items to be posted on the Lulu website every Thursday or check in at the store regularly. You will eventually find one in your size for a discount.
OR Scrimp: While Lulu's Speed Tights are by far my favorite running tight, if you just can't invest in a lot of cold weather gear all at once, save your money for tights geared toward colder weather. Because you don't need a lot of warmth for temps above freezing, almost any old tight should be fine. I know that many budget-conscious runners like tights from Target and Old Navy. I have a very old pair of Athleta's Revelation Tights that work for these temps. While they're not geared for running, they're a heavier weight and very compressive, and they are on sale pretty much constantly. Athleta's Relay Tights are another good option and come in tall and petite lengths. I have the Relay Capris and really like the compressive, matte, knit fabric.
Tops
If it's closer to 40, all I wear is a lightweight, longsleeve running top or half-zip. Longsleeve race shirts are perfect for temps around 40, and they're free. Athleta has a nice variety of tops that fit this category. I wear their soft Chi Tops in these temps, and they frequently release new designs like the Exhilaration Top this past winter. I also have a few Lulu tops that are made with either their silverescent, light luon, mesh, light rulu, and light luxtreme fabrics that work well. A half-zip is a nice option because you can keep it zipped until you warm up and then unzip it when you get warm. I only run in the dark early mornings, so I usually look for tops that are light or bright colored and/or with some reflectivity (I wear a headlamp and don't run where there is car traffic, so reflectivity isn't as much an issue for me.)
Scrimp: Break out your longsleeve race tops for these temps. Also, both Athleta and Lulu will have tops like these on sale. I will buy a top at full price if it's has a unique design and/or color, like I recently did with the Lulu Mesh With Me longsleeve.
Athleta Chi Top, $54 or $21.99 on sale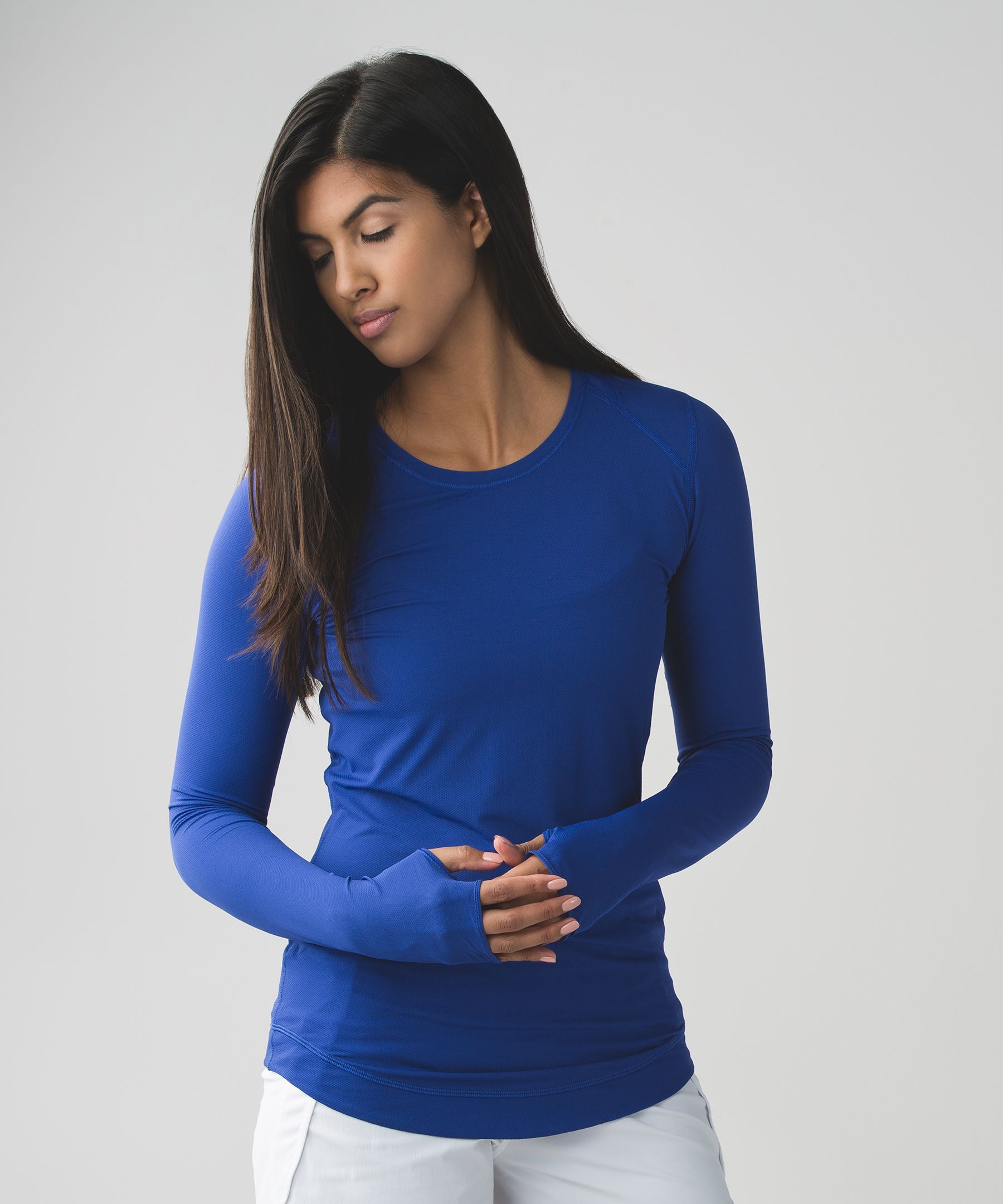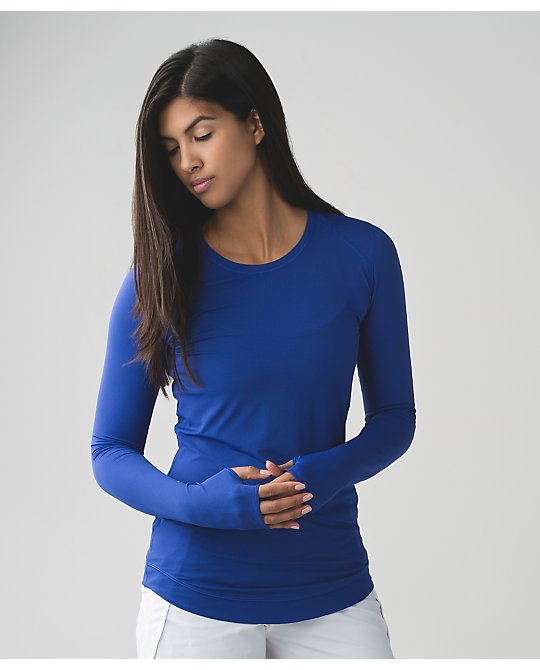 Lululemon Mesh With Me Longsleeve, $78
If it's closer to 32 degrees, I do one of two things. The first is to add a tank top under the lightsleeve top or half-zip. Lululemon's Cool Racerback tanks are a heavier weight and good to wear as a base in the winter. I also like Lulu's tanks made of light rulu as a first base; I think the ones I got on sale last year were the First Base tank. The second option is to wear a heavier weight longsleeve top. Lulu's rulu longsleeve tops are my favorite, but I have some from Athleta too.
Splurge: I consider midweight longsleeve tops a good investment because I
continue wearing them in colder weather with other layers and I also
wear them as casual tops. If there's one that's really calling my name, I
pay full-price for it. However, I've gotten the majority of these tops
on sale. If you can wait until the end of the season, you can get good
deals.
If it's raining, I wear a lightweight rain-resistant windbreaker and either just a tank top or a short sleeve top underneath. I boil in jackets if it's above freezing and I have too many layers. A windbreaker is really great for keeping the cold and rain out, so I don't need to wear much under it. Note that the more rain-proof the jacket is, the less breathable it will be and thus the more warm you will be. I wear the Lulu Miss Misty Jacket that I got on sale last year. It has a high collar that keeps my neck warm and the rain out, a hood that zips into the neck, and two zippered pockets. This jacket is only rain-resistant, so it's not good for very heavy rain.


Splurge: It's tempting to want to scrimp since it's such a lightweight jacket, but I learned my lesson the hard way. I researched for months the best lightweight rain jacket two years ago, and everyone seemed to agree that the Brooks LSD jacket was great. It doesn't protect from even light rain or wind! So that experiment left me $80 poorer. Lulu's rain-resistant fabric really does guard against light rain and wind and has nice features, plus they are always on sale, though again you may not get your preferred color or pattern.
Accessories
Gloves: My hands are always the coldest, so I either wear gloves or a Lulu longsleeve top that has built-in cuffins that I can pull like mittens over my hands. For these temps I like lightweight gloves, and Lulu's rulu gloves are my favorite. I don't usually listen to music, but one of my two Lulu gloves have the fingertips that allow you to use your phone without taking off your gloves. I also wear my Lulu gloves for casual wear on cool mornings when I don't need heavy gloves. I also have a pair of gloves from Target, and they're okay. They don't come as long on my wrist as the Lulu gloves and aren't as soft, but I wear them if my other pairs are in the wash.
Scrimp: Don't buy Lulu's gloves at full price! They will absolutely go on sale, usually right after Christmas because they're promoted as a stocking stuffer. Also, unless you have giant hands, do not buy the larger of the two sizes. I have larger hands, and the larger size are huge on me. If you wait for the Lulu gloves to go on sale, you can get them for about the price of gloves from Target.
Ear Warmer: I usually don't wear a hat unless it's below freezing, or if it's close to freezing and I know I'll be out for a while. Instead, I like ear warmers. If it's closer to 40, I just wear my wide Lulu Bang Buster pulled over my ears a bit. I also have Lulu ear warmers. One is a bit too tight and hurts my ears so I don't love it. But I have another that is lined with fleece, and it is wonderful.
Scrimp: You'll also be able to find these on sale after the holidays. I highly recommend the Lulu ear warmer lined with fleece, which isn't out yet. The style below is a new design and looks interesting because it has two layers so you can adjust how much coverage you want on your ears. If you're trying other brands, be sure to get one that's not too tight.
Socks: Just a note that I don't wear special socks for these temps since my tootsies stay warm until it gets colder.
Next up will be gear to wear in the 20-32 degree range.