In Part 1, I gave tips on running gear for temps from 32-40 degrees Fahrenheit (0-4 degrees Celsius). This part is devoted to temps below freezing (32F, 0C). With Black Friday coming up, it's a great time to add to your running wardrobe! If you haven't already joined the email lists of the companies you want to buy from, be sure to do that so you don't miss out on sales.
Off topic: Did you hear that for Black Friday Zappos is funding adoptions from animal shelters? Love that!
Running Gear for 20-32 Degrees
Once it drops below freezing, things get serious!
Tights
Tights designed for cold weather are a must. I wear Lululemon Speed Tights in the tech fleece fabric if it's colder or the brushed fabric if it's warmer. I just bought the Toasty Tech Tights (my review), which have the tech fabric, and will be wearing those in these temps.
Another good option, and one that's much cheaper, is Athleta's Polartec Power Stretch tights ($79). These are also very warm and very comfortable. They feel like sweatpants but fit like tights. Because these have only one pocket, I wear these for only short runs or layered under wind/water proof pants.
Athleta Polartec Power Stretch 2 Tight in Chianti

Splurge: The Lulu tights in the tech fabric are definitely worth it. I wore my one pair for the majority of runs all last winter, and they stood up to repeated washing and had no pilling. If you don't need all the pockets, Athleta's tights will keep you warm. Plus, I expect Athleta will have a 20% off sale this weekend. Note: I got a pair of Oiselle tights last winter that were fleece-lined, and they were not warm. I can't remember what they were, and they're not currently available on the website.
Tops
In these temps I mainly wear tops with rulu fabric from Lululemon. Rulu is usually soft and warm, and many of their tops have nice details like zippered pockets and reflectivity. I say usually because many people have noted that the rulu this year is not as soft and thick as it usually is, and I haven't seen any rulu tops I really like. I got most of mine on sale at the end of the season last spring. The only downside is that it will pill if I wear a water belt. I buy a size up so that I can layer and also for the length because I like my tops to cover my bum in winter. I usually layer a tank (anything will work, but I like Lulu's tanks made of rulu light because they're warmer) or light long sleeve layer under the rulu top. Lulu's Swiftly long sleeve tops are a really good base layer since they're soft, seamless, and don't add a lot of bulk. I do have to tuck them into my tights or they ride up, though.
Scrimp: While I love my rulu tops from Lululemon and also wear most of them casually, if you're on a budget go for the pricey tights instead of tops. I feel like you really just need to layer to be warm enough. Also, I picked up most of my Swiftly tops on sale. Remember, Lulu uploads new sale items to its website every Thursday around Noon Eastern Time.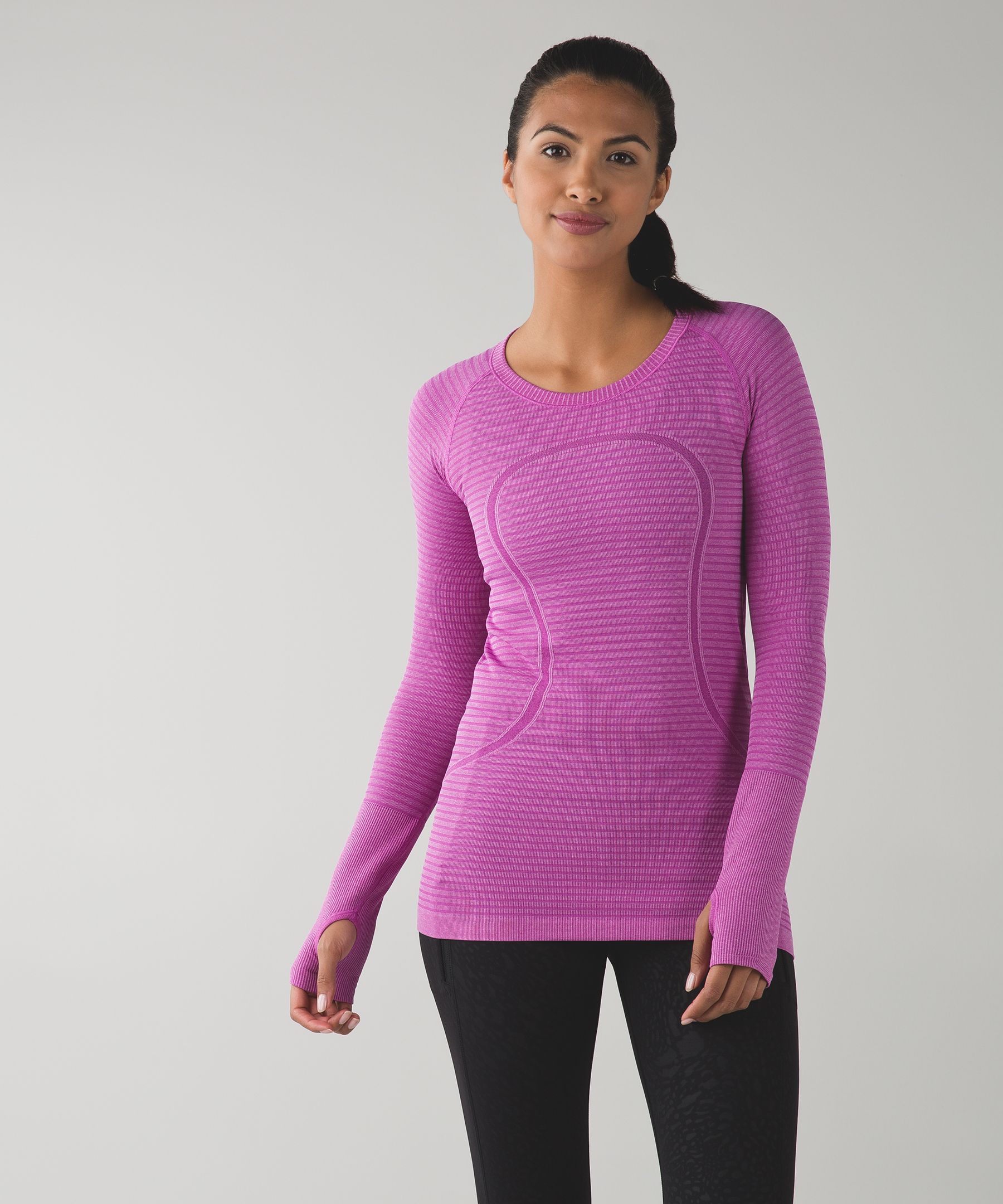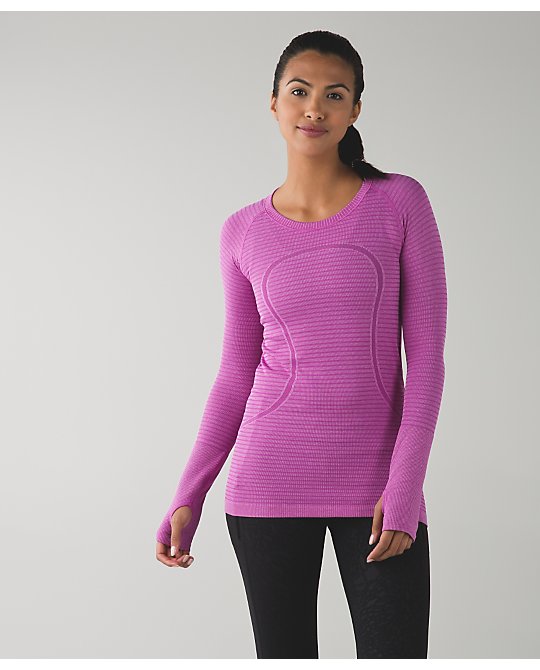 Lululemon Swiftly Tech Long Sleeve tops make a great base layer, but wait for them to go on sale.
What I wear when it's below freezing but not frigid:
Lightweight longsleeve base layer or warm tank,
midweight top, warm tights, hat, gloves
Jacket
If it's really windy, I'll add a lightweight windbreaker. I wear
the Lulu Miss Misty Jacket that I got on sale last year.


Splurge: I wear my windbreaker nearly year-round, except in the hottest weather, so it's a good, versatile piece.
Accessories
I wear a hat if it's below freezing. Both of mine are from Lululemon and have a slit for the ponytail to come through, and I got both on sale. They're also very soft, which I feel is important so my forehead doesn't get itch from scratchy fabrics.
I also usually wear a neck warmer. Again, mine are from Lululemon and I got them on sale. None are currently available on the website, but they should becoming out in the coming weeks.
As for gloves, I wear mittens over top of my thin gloves. I have the mittens where you can easily uncover the fingers, which helps when I need to get out gels or other things. I don't know what brand they are, but they look like this:
Last year I bought really warm socks that kept my feet warm all winter: Drymax Cold Weather Running Socks. These are the best!
Running Gear for 10-19 Degrees
When the temps dip into the teens, I wear all of the above with just a few additions. When it gets this cold, my big go-to is wind-proof everything. Having shells that block out wind makes a huge difference in comfort.
Tops
I choose tops with a hood so that I can pull it over my hat until I get warmed up and also after my run. A warm head is so important, and a hoodie really helps when you're not actually running. I also usually add a warm tank, so I have three tops: tank, longsleeve lightweight top, midweight warm top.
Jacket
My biggest addition is a lined jacket. I don't like wearing really warm jackets–like a fleece–mainly because it's easier to layer according to the temps with tops. Plus, it's easier to wash a bunch of different tops so that I always have something to wear. A fleece jacket will get sweaty and stinky, and then I wouldn't have anything to wear if I'm always washing it. Instead, I like a wind/water resistant jacket with a thin liner, basically something just above a windbreaker. I have the Spring Forward Jacket from Lululemon that was perfect last winter. It's a spring and not winter jacket, but a lighter jacket works for me so that I can adjust the warmth with layers. Note that Lulu is releasing a new fleece running jacket soon. I would probably only wear a warm jacket on the absolute coldest days or with only a thin base layer on warmer days.
Wind/waterproof Pants
These are pretty much my secret weapon for combating the cold. I bought the Beat the Sleet Pants last year, and when I paired them with the tights I mention above, they kept me very warm in the coldest temperatures. Plus, they're obviously awesome in snow or rain. Note that these are really only cold-weather pants. I tried to wear them in the rain on a warmer spring run, and I was boiling. I highly recommend these pants, but they've already sold out online. They will probably be available in stores soon. If not, look for pants with a waterproof outer.
Accessories
When it gets really cold, I wear my thin gloves with very thick and warm ski gloves over top. This year I want to make hand-warmers (basically rice, in a fabric bag), so that might work nicely with my mittens so I don't have to wear ski gloves, which are pretty cumbersome.
Running Gear for 9 Degrees and Below
When it gets into the single digits, I really only add one thing: a face mask. I thought it would be really uncomfortable, but I really don't notice it. On days where I'm doing speedwork, I wear it only for warm-up and cool-down and stash it in a pocket when I'm running. It definitely helps keep me warm. Plus, it makes you look and feel totally badass! There are a bunch of different ones (I got mine at REI), but I didn't get one that covered my head or neck because I wear a hat and neck warmer.
The face mask I bought with holes by the mouth and nose
What I wear on the coldest days:
hat, neck warmer, lightweight longsleeve base layer, midweight longsleeve top,
windproof lined jacket, warm tights, windproof pants, thin gloves with mittens over top,
face mask
This was on one of the coldest days with wind chill of -20 degrees. I'm wearing a warmer jacket with fleece
instead of my thin, lined jacket, ski gloves over thin gloves, hoodie over my hat,
and sunglasses so I had no skin exposed (this was on a weekend in daylight).
I hope this is helpful if you'll be running outside this winter. Let me know if you have any questions, and happy running!