In early December I bought the Lululemon Runderful Pants the week they were released. With a warm legging base layer and an outer rain-repellent layer, I thought these would be great for winter running. My secret weapon to keeping warm last winter was pairing a Lulu rain shell over warm running tights, and I thought these pants would work as well in winter.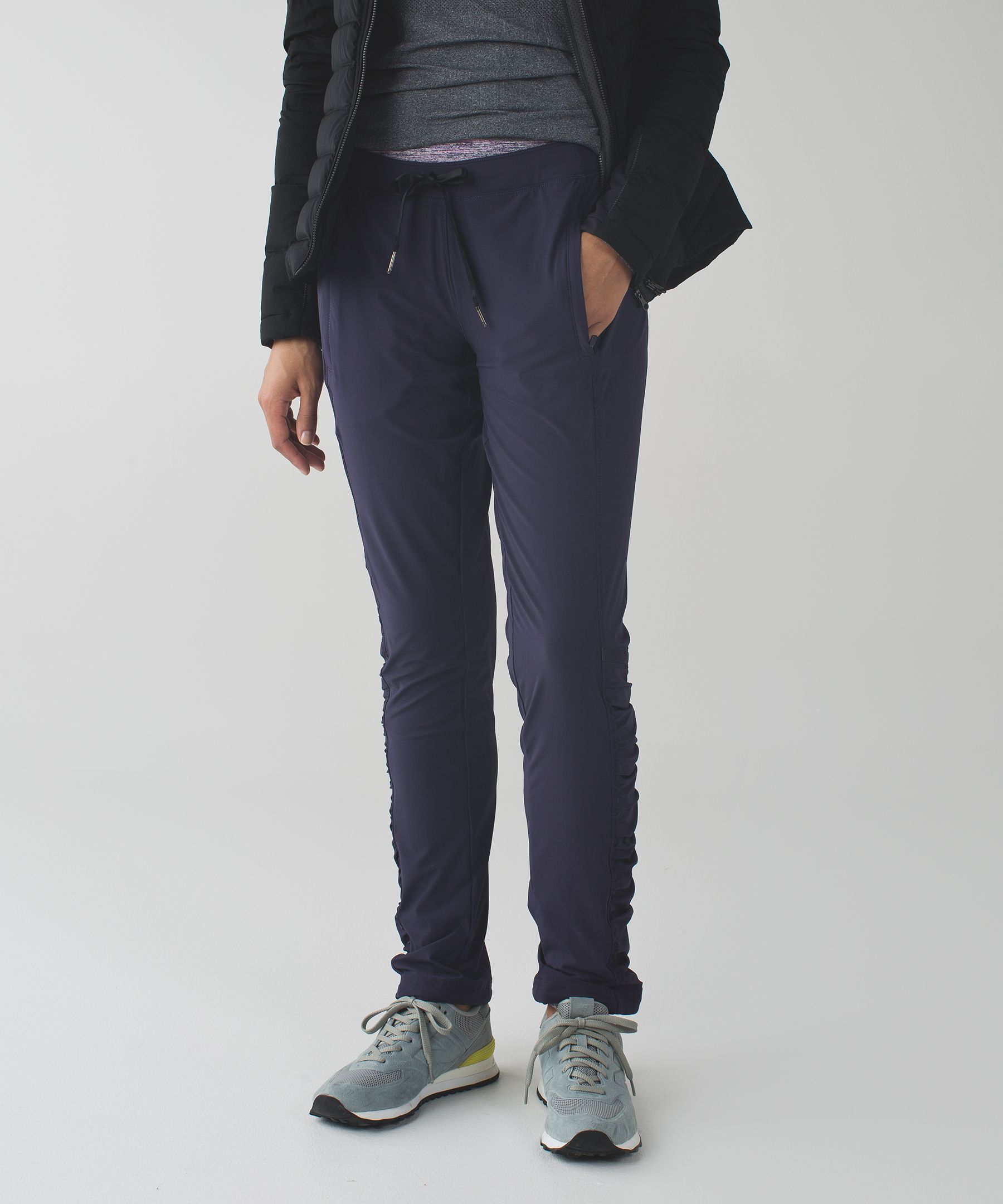 Lululemon Runderful Pants in Black Grape
I ordered them in a size 8, a size up from my Lulu tights size, in Black Grape. When I got them, I quickly tried them on, saw they fit, didn't think they bunched at the crotch like others stated, and liked them. Then I put them away because with it being so warm here in December, I couldn't bear trying on a pair of warm pants. But because the Lulu holiday return date is approaching, I tried them on today and went outside in them to see how they do on a cold, windy day.
They fit well in the thighs and butt, but, of course, the waist is too loose. Just walking around, they started to fall down a bit, and I had to cinch the drawstring very tightly. I really dislike that the drawstring is so big and on the front. I'll definitely need to tie it, and then it creates a little bump in the top I'm wearing. I also dislike the rear in general. A vast, pocketless expanse of fabric doesn't look good on anyone's butt, especially mine.
There were many things I liked about the pants. I love the ruching on the outside of the legs, the subtle reflective details, and the zippered pockets.
The outer fabric is so thin, though, that the pockets created weird bumps whenever you put anything in them. In the photo below, I have a phone in my right pocket and two gels in the left.
While the pants don't bunch up in the crotch, they do wrinkle a lot whenever I move. In the photo below, I'm moving my right leg a bit, and you can see how it wrinkles.
The biggest downside to these is that they're not warm!!!  Inside the house, they were very warm. But outside in 32-degree temps with a feels-like temp of 26 because of the wind, I found them pretty chilly. Of course, I was just walking around a bit, and they would probably be fine once I'm running. But if I just wanted a warm pair of pants to walk around in, these definitely miss the mark.
There was just too much I didn't like about these pants, so I'll be returning them. They're still available in all sizes online, so they will likely be marked down. If they're a good price, I may get them then.
If you're looking for a warm pair of pants just to walk around in, I suggest Athleta's Tech Stretch Metro Tight or Pants. While I don't have them, I do have an older pair of Athleta pants with the same tech stretch fabric. They are very warm and got me through dog walks and being outside in sub-zero temps the past two winters. I'm waiting for them to go on sale to pick up another pair.
UPDATE: I can no longer suggest Athleta after their blatant rip-off of K-Deer, a small, woman-owned company that manufactures in the US. See the Agent Athletica blog for details.
Also, I returned the Runderful Pants today. They are indeed marked down in stores, so the markdown should be hitting the website soon.
PS: Michi and Alala reviews coming this week!