It can be tough to dress for spring running. Morning runs usually start out with much colder temps than they end up at the end of runs, strong winds from still-frigid lakes and rivers can chill the air, and the sun can heat things quickly. My best bets for the finicky weather are pieces that keep me comfortable from cold breezes but are breathable enough that I don't overheat.
Mesh Long Sleeve
My arms are always cold on chilly mornings, but I heat up quickly if the temps are above 50 degrees F. Lightweight longsleeve tops with sleeves loose enough that I can push up and with mesh to let out steam help keep me comfortable. I'd love to try the mesh-paneled Fab Fierce Long Sleeve from Title Nine in collaboration with Oiselle.
Quarter-Zip
Quarter- and half-zips are always nice to let in some airflow when you heat up. I've never tried anything from MPG but I really like their new Ten 1/4 Zip Pullover. It has interesting laser-cut detailing on the back for ventilation, mesh on the side, back, and shoulder, and a zippered pocket, all at a lower price point than some of the pricier brands.
Crops
While I'm not ready to wear skirts or shorts in chilly weather, my legs like a little more ventilation. That's why I love running crops in spring. For short runs where I don't need a lot of pockets, I love my Michi Stardust Crops with mesh panels down the side. (See my review and photos.)
I need a lot of pockets on long runs to satisfy my pack rat tendencies. It's hard to beat the five pockets of many Lululemon running bottoms that have two in the front waistband (for my MP3 player and Salt Stick caps), one zippered one on the back waistband (for my keys), and two on the outer thighs (for gels, lip balm, tissues, and phone). I have a pair of the Pace Rival Crops with the five pockets that I wore for my last half marathon that I really like, even though they are a bit lower rise than I usually wear.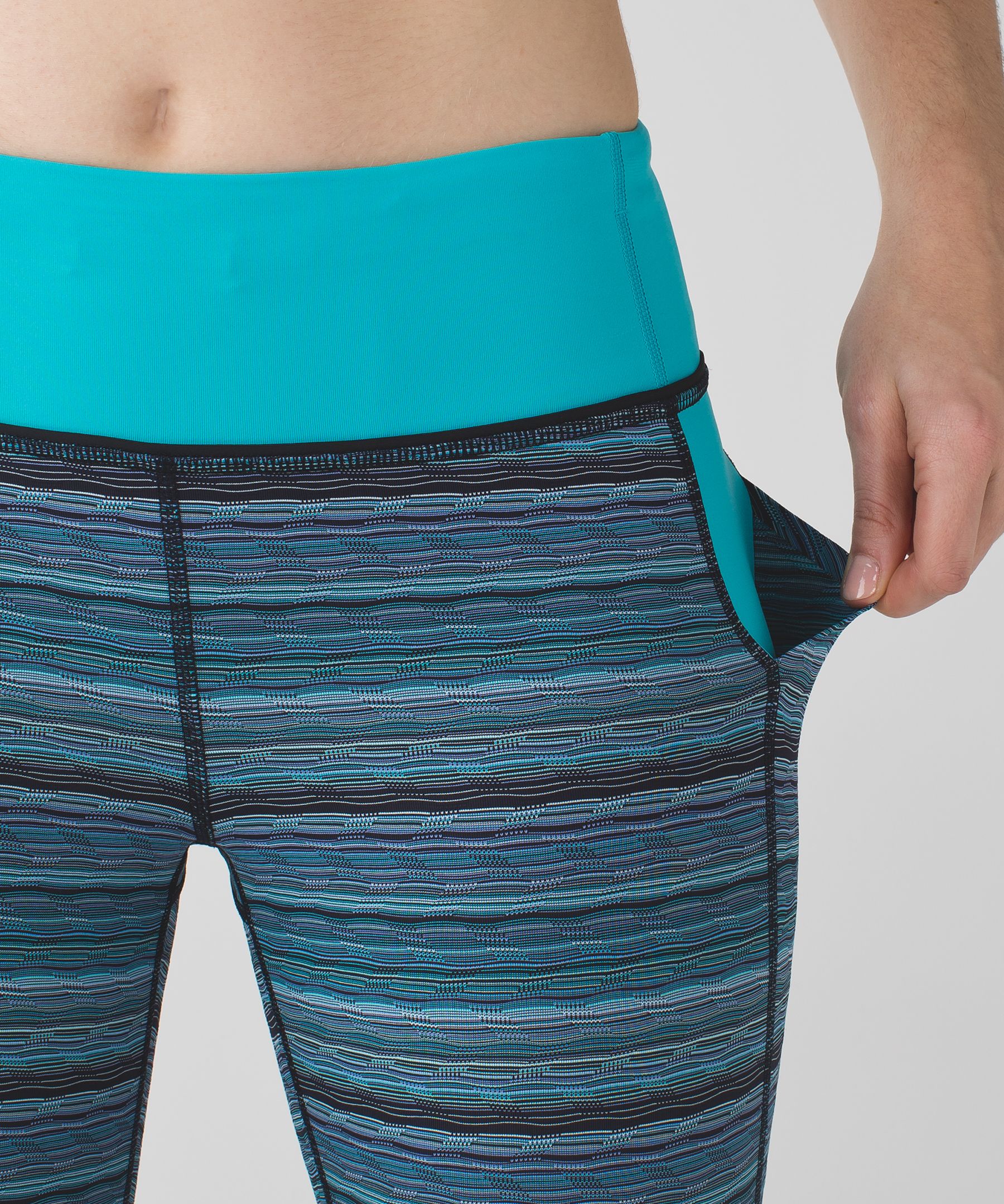 A less expensive option that I love is Athleta's Be Free Knicker with one back zippered pocket and two on the side. I like the knee length, and the fabric in the Dobby version of the knicker is extremely lightweight so can be worn through summer. I love this new Electric Fuschia color just released and ordered it last weekend during Athleta's Friends and Family sale. It's on backorder until next month, so I can't wait to get it.
Windbreaker/Rain Jacket
On the coldest, windiest mornings in spring, I reach for a lightweight jacket. Because I heat up quickly, I only wear a tank or tee underneath. My favorite lightweight jacket is the Lululemon Miss Misty Jacket from last year that has perforation to let off steam, a cinchable hood that zips into the collar, a high collar to keep the wind out, and two zippered pockets with a slit for media cords. It performs much better in the rain than the Brooks LSD jacket that I also have, which has poor rain protection. The Miss Misty has kept me dry for nearly an hour of running in the rain. Unfortunately, Lululemon has not released a replacement this year, which I'm waiting for. I've heard good things about the rain protection of the Patagonia Houdini, but it seems like you get very little features (only one pocket, inelegantly placed on the chest; no ability to zip up the hood) for a high price. So, I'm waiting to see what's released this spring. For a simple windbreaker, I really like these two options.
The Saucony Freedom Jacket has two zippered pockets, reflectivity, and water resistance.
The Title Nine Mantra Jacket is described as a windbreaker only, but I love the fun colors.
Hat
While I wear visors on sunny summer runs, it's cool enough in spring that I won't overheat wearing a hat. Plus, it's essential for runs on rainy days. I love my run hats from Lululemon from two years ago with reflectivity at the brim. Unfortunately, they made their hats much bigger last year so they're too big for me. I'd love to try the Mesh Cap from Oiselle, which can pack down so you can easily carry it in your hand.
I'm linking up with Courtney at Eat Pray Run DC, Mar at Mar On The Run, and Cynthia at You Signed Up For What! for their Friday Five Link Up. And of course I need to give a big shout out to Courtney, who used the Hansons' Half Marathon Method to train for the Shamrock Half Marathon this weekend. It's always fun for me to follow others using the Hansons' method (misery loves company?). Good luck, Courtney!
I'm also linking up with Nicole at Fitful Focus for the Fit & Fashionable Friday Link Up.
Have a great weekend!