Happy Friday! It's my favorite time of the month–time to talk activewear! This was an exciting month with the release of all the new spring collections, and I bought a bunch of new things for spring and summer. I brought out my warm weather activewear from storage and put away my winter gear. Then I took my winter stuff back out when I realized winter wasn't quite over! With snow and temps in the low 30s to sunny, 80-degree days, my activewear wardrobe was very diverse this past month. I got to wear a lot of fun outfits and am excited to start wearing my warm weather stuff again. I was so tired of wearing all my winter layers! Here are the highlights from this past month.
Disclosure: This post contains affiliate links. While clicking on the links doesn't cost you anything, I'll receive a very small payment that will go towards Dashing in Style.
Favorite Running Outfit
My first run in a skirt made me very happy!
Favorite New Running Piece
I haven't worn it yet, but I was excited to buy a second What the Sport Tee in this pretty Heathered Sea Foam color. I'm wearing the black one in the photo above and love to wear it when it's warm but still a little cool at the start and I want a bit more coverage.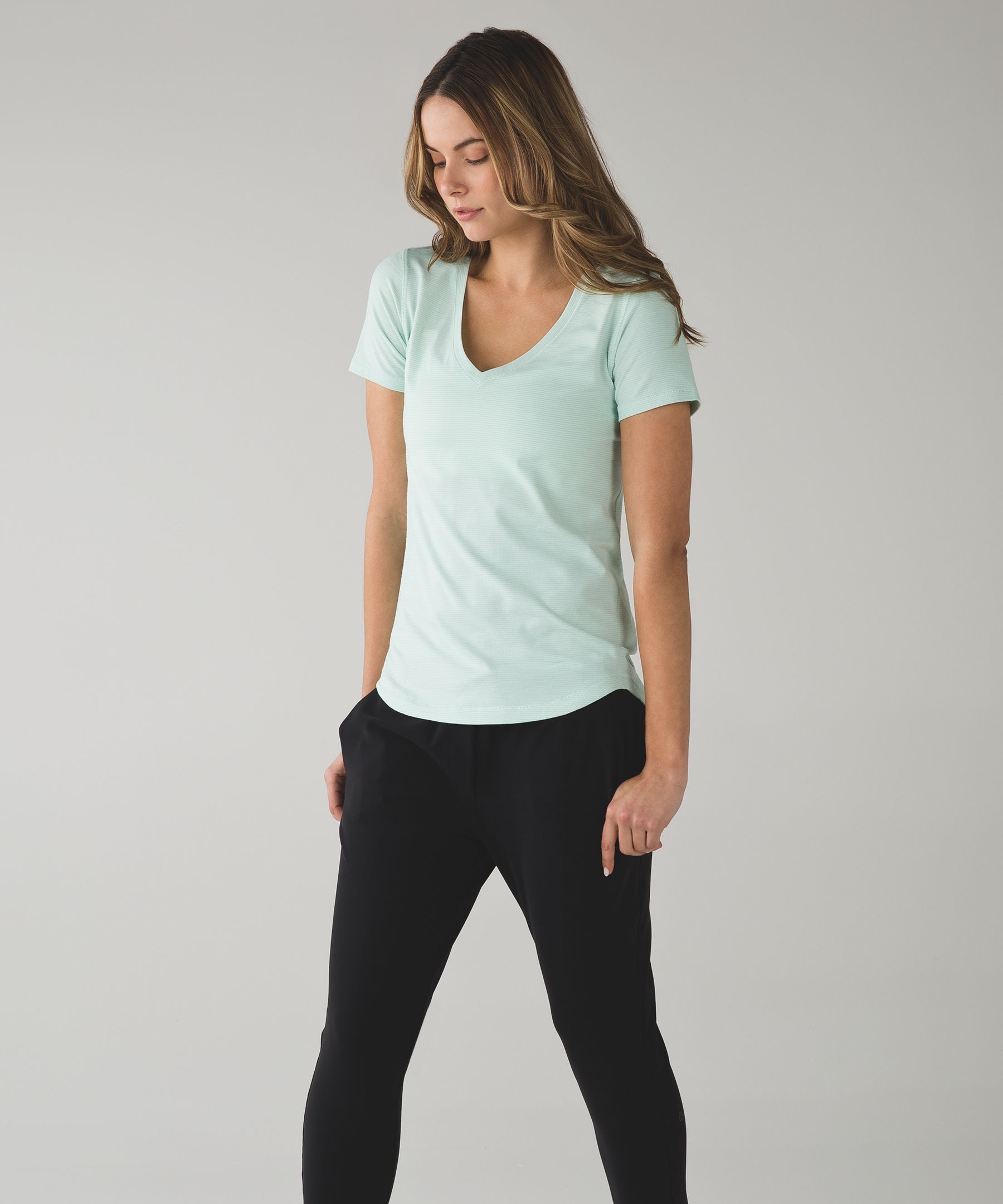 Running Gear Workhorse
I like capris for spring running and wore my old Athleta Relay Capris a lot. This capris–as well as the Be Free Knickers–have a knit fabric, which prevents tops from riding up. While I love my Swiftly tops, they ride up against slick bottoms. They stay put with my Relay Capris. I have two pair of Relays that are three years old. I wish Athleta would release these capris in more colors, but they currently have them in only a few basic colors.
Indoors Workout Favorite Outfit
I bought this Glyder Yogini Tank last fall (review) and am just starting to wear it now. I love it! The fabric is so soft, and I love the loose style. And of course I love the message about adopting pets! I'll be able to wear the tank with a lot and love it paired with my Lululemon Regal Plum In the Flow Crops.
Favorite Way to Wear Activewear Out
I continue to wear my Albion Fit Black Diamond Pants pretty much everywhere (my review). I'll soon have to only wear them in the evening or maybe even retire them for summer because they get really hot in the sun! For a dinner out with my family, I wore it with the Alala Weekender Dress (review), a very old Lululemon Forme Jacket, and Hip to Be Free Purse.
Favorite Dog-Walking Outfit
On a very hot hike, this outfit was fantastic. The open back of the Splits59 Devon Tank (review) kept air flowing and cooling me down. And these Rio Nights Tracker Shorts from Lululemon are one of my favorite prints. Rounding it out was a Lulu Lilac Energy Bra.
Purchases
I think I bought more in April than in the past few months combined!
I bought yet another pair of Tracker Shorts in the Seven Wonders print. It's a versatile print in that I can wear green, purple, blue, or white, so it will go with a lot. I've raved about Trackers previously because they're the only shorts that I feel work for me. Last year I wasn't comfortable wearing them running, but I've already worn them on a run. They don't ride up but they do expose the largest parts of my thighs. I'll be honest that it will take some getting used to, and I probably won't wear them for long runs. But I plan to wear them for short runs when it's really hot, as well as walks, casual activities, and strength training this summer.
I also got a Lilac Sculpt Tank. I wore the two I got last summer a lot and love these for very hot and sweaty runs. The loose fit and open back lets air flow and keep me cool, and I love the high UPF 50 neck to keep my delicate chest area from burning and wrinkling. I absolutely love the lilac color. It will go with a lot, and I usually wear light-colored tops on sunny runs.
Speaking of lilac, I got an Energy Bra in that color. I wear Energy Bras all the time for both running and general wear, so I'll wear it a lot.
Other Lulu purchases were a black Exhale CRB, Deep Zinfandel CRB, Heathered Sea Mist What the Sport Top, White Rack Pack Bra, and Silver Spoon If You're Lucky Tee II. (Whew! Yikes!) Look for those reviews next week.
I bought the new Alala Edge Ankle Tights but will be returning them. I also bought an Alo Yoga Sunny Strappy Bra but will be returning it (same review for both).
I bought a skirt, crop bra top, and bra from Fabletics (review).
And finally, I bought two pair of my running shoes, the Asics GT-2000. A never version just came out (version 4), so I'm trying to buy up all the older versions in my size because they're cheaper. I got them on efootwear for $45 less than the newer version. The colors are different from the ones I've bought previously and aren't my first choice, but I can live with them for the cost savings.
Wish List
Michi Antigravity Bra & Molten Tee in White
I have this bra in black and magenta and love it (review). I'm waiting for a sale (Memorial Day?) to get it in white.
I also really lovethe Molten Top, but the white color hasn't been released outside of the Michi site. I do still have a discount code from when I signed up for Michi's newsletter, but I think I'm going to wait for it to go on sale.
Glyder Venom Bra & Marvel Crop
I love the strappy style of Glyder's new Vixen Bra, and it seems like it might be a little more supportive.
I'm also loving the new Palm Leaf Print in the Marvel Crop. I love botanical prints but am print shy, so I love this more conservative take.
Albion Fit Swing Dress
Albion Fit has come out with a dress version of the swing top I have and love (review here). I have two of these tops and get compliments on them whenever I wear them. I think I need this dress, and I love the saffron color for summer.
Lululemon Align Pants or Crops
Sigh. I can't stop thinking about these ever since I tried them on! My black Wunder Under Pants are now 5 years old and my black Wunder Under Crops are 6. Both have lost compression and attract pet hair like crazy. I'm thinking I might need to retire one or both and replace it with the Align pants or crops.
What are your favorites from this month? What's on your wish list?
I'm linking up with Nicole at Fitful Focus for the Fit & Fashionable Friday Link Up.
Have a great weekend!