My reward for finishing my half marathon training cycle was some new Lululemon pieces! Here's what I got.
Disclosure: This post contains affiliate links. While clicking on the links doesn't cost you anything, I'll receive a very small payment that will go towards Dashing in Style.
Tracker Shorts
Last year these shorts changed my life. After never wearing shorts for my entire adult life because I thought my legs were too big, I was still hesitant to wear shorts even after I reached my lowest weight and was wearing size 4 jeans. Out of curiosity, I tried on a pair of Tracker Shorts at a Lululemon store last spring. They came home with me, but it was a very slow process (which I blogged about here) before I accepted that I don't look as bad as my mind thinks I look in shorts. As difficult as it was, I gradually started wearing them out in public. As my confidence grew, I bought other pairs and started wearing them more and more. I was still really hesitant to wear them running, but this summer I plan to give it another go. I've tried other shorts, including other Lulu shorts, but none compare to these shorts. With a 4-inch inseam, they're not the longest I've tried, but they have enough length to make me feel confident. The leg opening is very roomy without having a lot of extra fabric. When I've run in them, they don't ride up. The fabric is very lightweight, and the inner liner is comfortable. The waistband is wide and comfortable, sits perfectly on my hips, and stay put.
So when Lulu released the shorts in some new prints I love, I had to buy them. I bought two pair. The first is the Paradise Geo Regal Plum Multi print. Most of the color is Regal Plum, a magenta from last year that's one of my favorite colors. The pattern is small and subtle. I like the print much more in person than when I saw it in pictures.
The second is the new Rio Nights Multi. It was love at fist sight with this print. My favorite purple and green colors make up the interesting pattern. I think this might be one of my favorite Lulu prints. It's already sold out in Trackers but is available in other items.
Cool Racer Backs
I love grey and have many pieces in Lulu's Heathered Slate. I never bought the CRB when it came out last year and regretted it. I knew I had to have it when it was released a few weeks ago! As others have noted, the heathered CRBs feel different. They are a lighter weight, a bit slick, and soft. I really like it! I don't run in CRBs in summer because they're too warm, but the heathered might be light enough for running.
I also got one in Pistachio, another one I wanted last year but that sold out before I could get it. I debated about whether to keep it because it's very bright. But I do really like the color. I think it's a really nice spring/summer green. So I'm going to keep it.
Speed Track Short
This 6-inch compression short is a new style for Lulu. There is pretty ruching and pockets on the side. While compression-style shorts haven't worked for me in the past, I wanted to try them. Plus, Hilary took the time to email me about them and gave them a great review. I ordered them in black in size 6, my usual size for Lulu tights. They were awful! I didn't take any pictures because I didn't want any record of me in them. They made my thighs look like fat sausages stuffed into spandex. The band at the bottom was so tight and made my legs pudge out around it. I took them to a store to possibly exchange for a size 8. The size 8 fit exactly the same, only the waist was looser. So I returned them. I wish they'd have worked out but definitely weren't for me.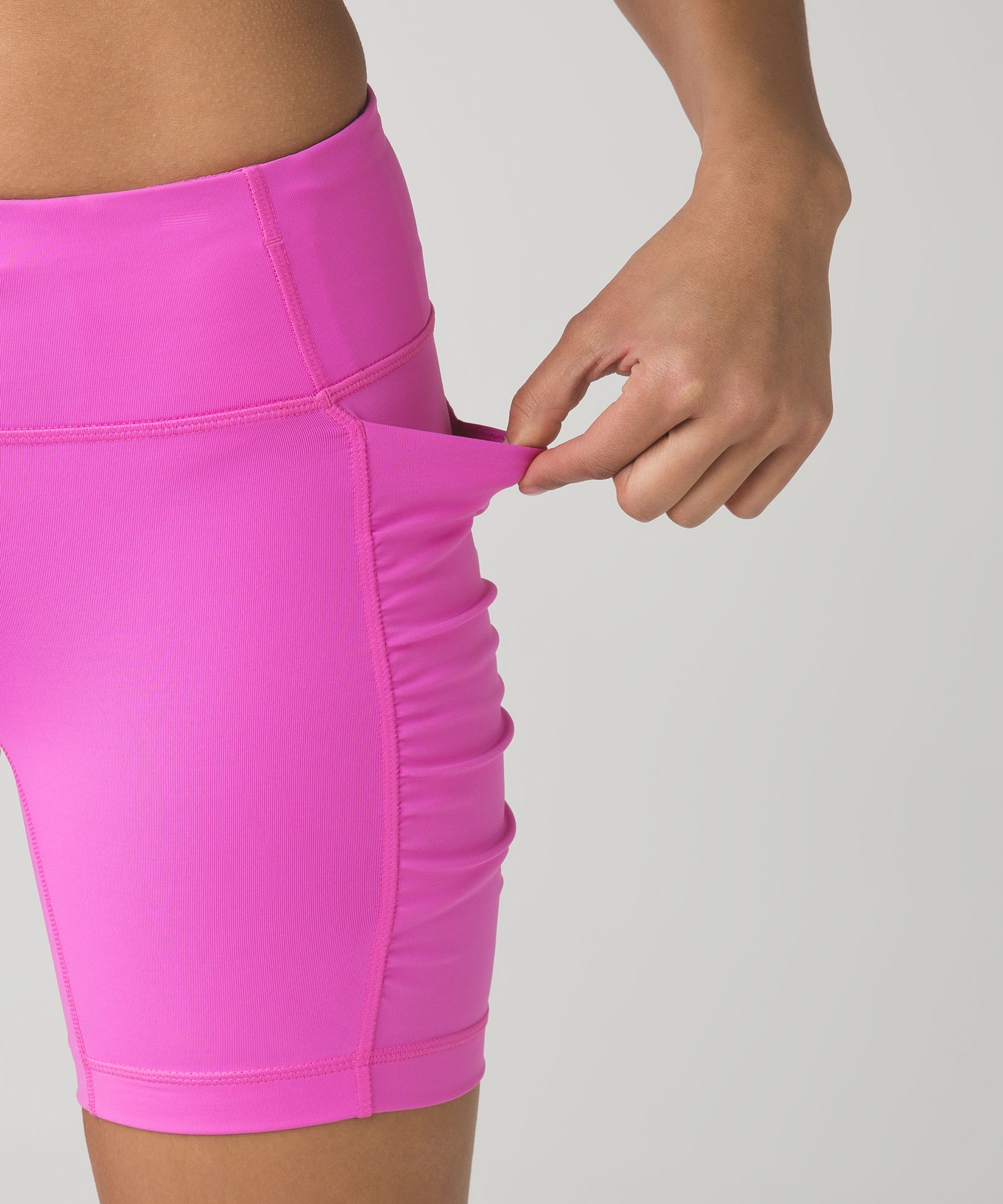 Energy Bra
I wear Energy Bras for running and most other things and have more in more wardrobe than any other type of bra. They give me enough support for running but are comfortable enough to wear on a long hike. And they've never chafed me. While I have a lot of energy bras, I go through them really quickly and am constantly washing them. I haven't bought a new one in a while, and I definitely wanted the Lilac color when it came out. Lilac is such a pretty color! I'll be able to wear it with a lot. Here's a picture of it compared with my Pretty Purple All Sport Bra. Lilac is another light purple but has more saturation and has more of a true purple tone than Pretty Purple.
Of course, now that I'm ready for summer, it turned cold again! It snowed here Sunday and Monday, has been pretty cool this week, and snow is in the forecast again for Saturday. I think snow and cold temps aren't unusual in April (per my running log, it snowed April 15 in 2014), but I think we tend to forget it year-to-year and are surprised when it happens again, especially after a mild winter and warm March. But when it does warm up, I'll be ready!
I'm linking up with Nicole at Fitful Focus for the Fit & Fashionable Friday Link Up. Have a great weekend!