I've been loving so much of the spring activewear from so many brands, and my wish list is huge! But I'm so much more careful about what I buy now ever since cleaning out my activewear closet. I allowed myself a few new things for summer running, and I'll still be on the lookout for more athleisure purchases. But if I can't run in it or wear it to work, it has to be something truly fantastic or unique, plus I have to get rid of something I already have to get something new. (I did actually just give another bag of running clothes to my running friends, so I've been good at continuing to pare down.) Lululemon has a ton of new things I love, and because I can walk to the store on my lunch break, I've gone a few times to try things on. I didn't take pictures because my phone is awful with indoor lighting, but here are my reviews in case anyone else is curious about these items.
Disclosure: This post contains affiliate links. While clicking on the links doesn't cost you anything, I'll receive a very small payment that will go towards Dashing in Style.
Real Quick Singlet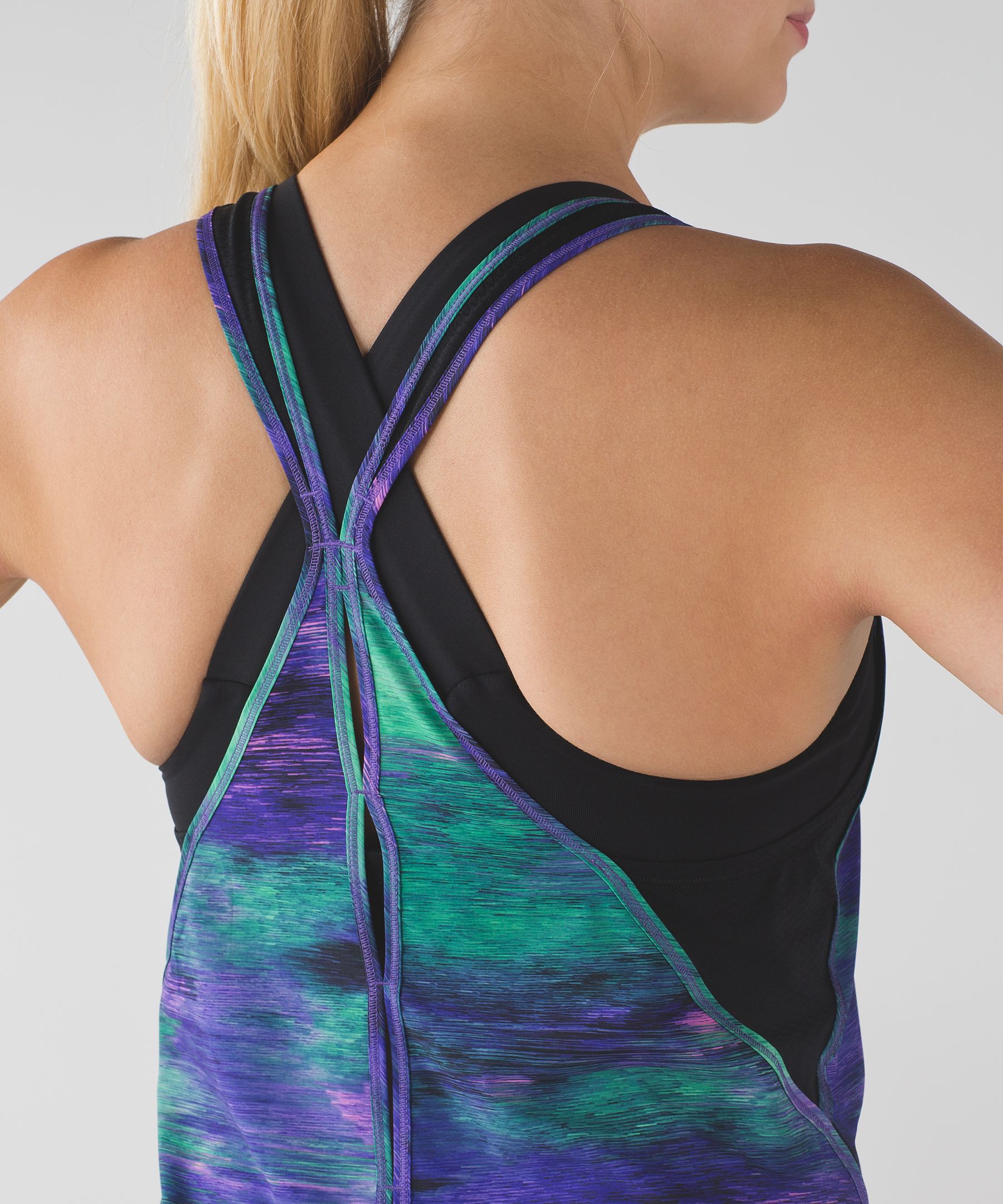 The Real Quick Singlet seemed perfect for summer running with its lightweight fabric, openings in the back, and mesh on the straps and under arms. Plus it's available in the Rio Nights print I love. Some reviews said it fit snug at the hips, so I ordered a size 8 to try since my store didn't have it. It fit poorly on me. It was snug on my hips and baggy in the waist. I think it would work best with those who have more of a straight figure. If you have bigger hips, this likely won't work for you. Bummer because I really liked it otherwise!
Salute the Sun Singlet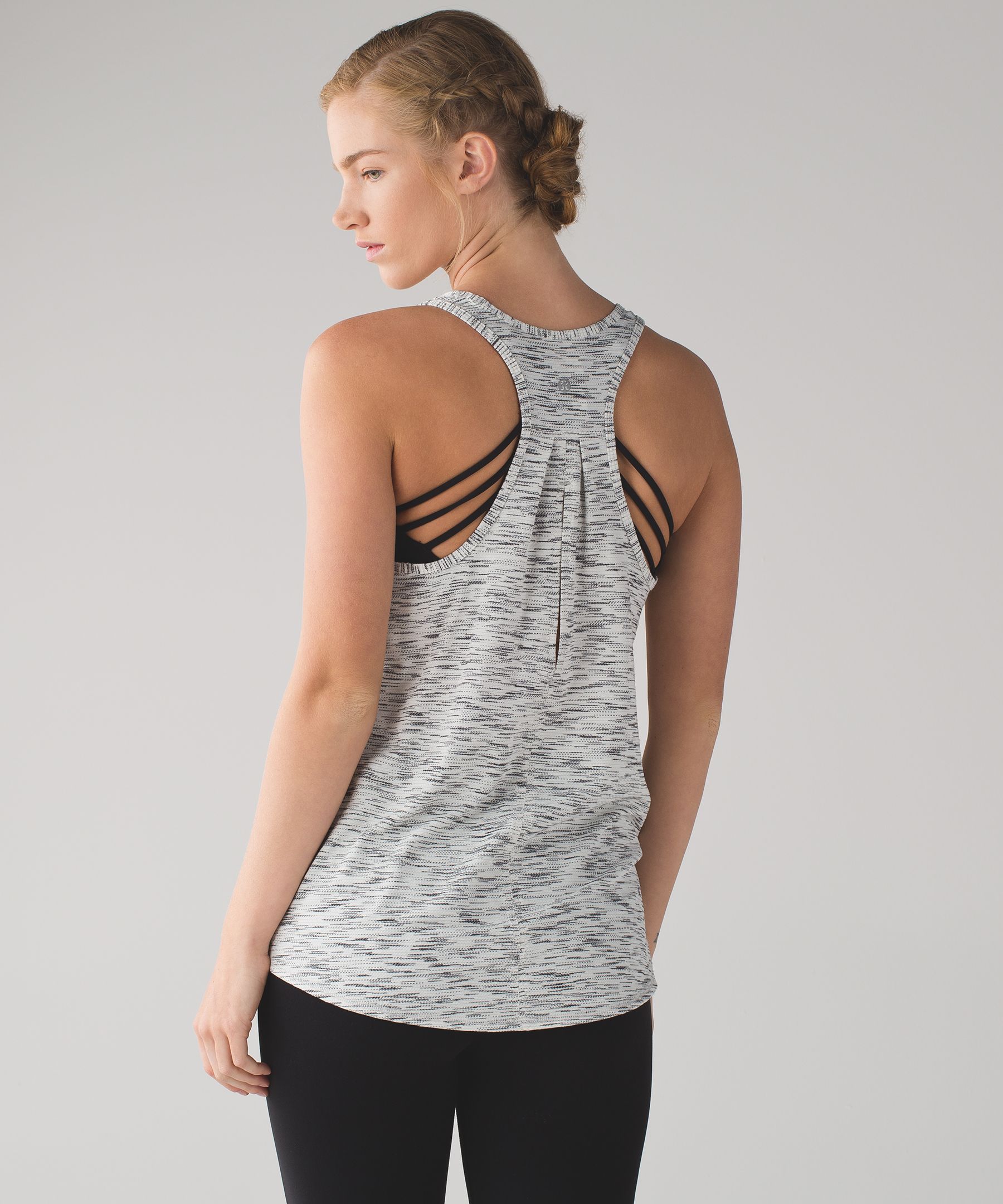 I've been eyeing this tank for weeks, but the reviews kept me from trying it. The majority of people complained that the keyhole opening in back gapes open awkwardly. I tried this on in two sizes–6 (my CRB size) and 8 (what I wear for a looser fit). The size 8 was very loose, but wasn't unflattering. The keyhole in the back was flat. The size 6 was a more slim fit though still loose, but the keyhole in the back gaped open. I think the size 6 was a little more snug on my chest, which pulled the back, causing the keyhole to open. If you're smaller chested, the back might lie flat on you. I thought this was a pretty nice multi-purpose tank that could be dressed up, down, and even worn running. If this gets marked down, I might buy it in an 8 if there's a color I like.
What the Sport Tee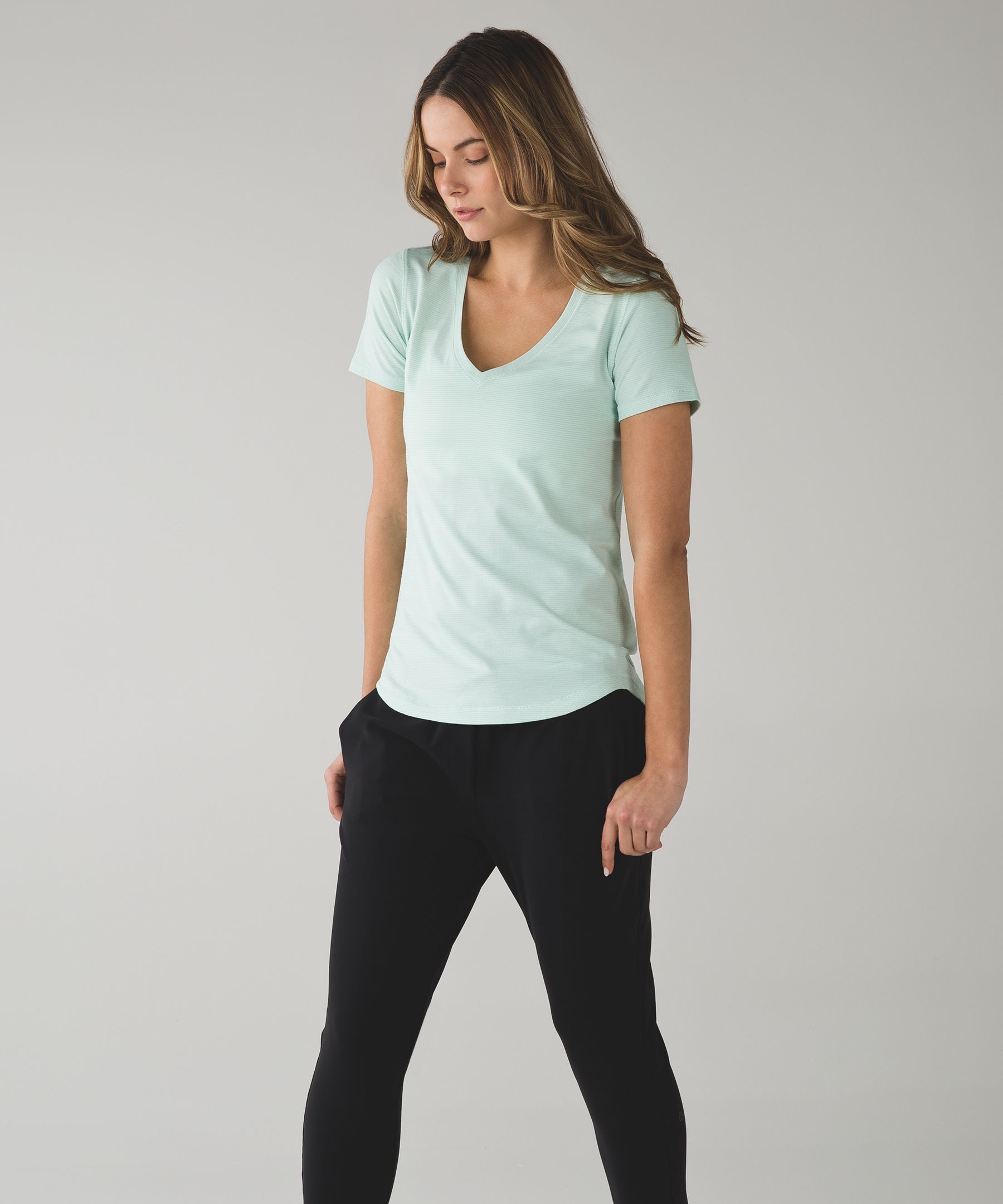 I bought the mesh WTS Tee last year in black. I prefer tanks to tees, but I love this tee so much and have worn it a ton. It's loose, airy, and doesn't ride up. And it can double as a basic tee to wear casually. Last year I also tried the color woven with gold and didn't like that version. It was stiff and scratchy. With the new pretty colors released this year, I gave it another try. I tried on both the Lilac and Sea Mist heathered colors. The fabric is light-as-air and very soft. There is an opening in the back of the neck for your media cord. The fabric is made with Silverescent, Lulu's anti-stink material, so it's more expensive than your basic run tee. Because I've worn my black one so much and like the versatility, I decided to bring home another in the Sea Mist color (I have the Sculpt Tank in Lilac so don't need another Lilac top, although I love that color). My CRB size fits great in this tee–it's loose but not baggy. I tried on my next size up, and it was very baggy and not flattering. If you like tees and want a barely-there fabric for summer, try this one out!
5 Mile Long Sleeve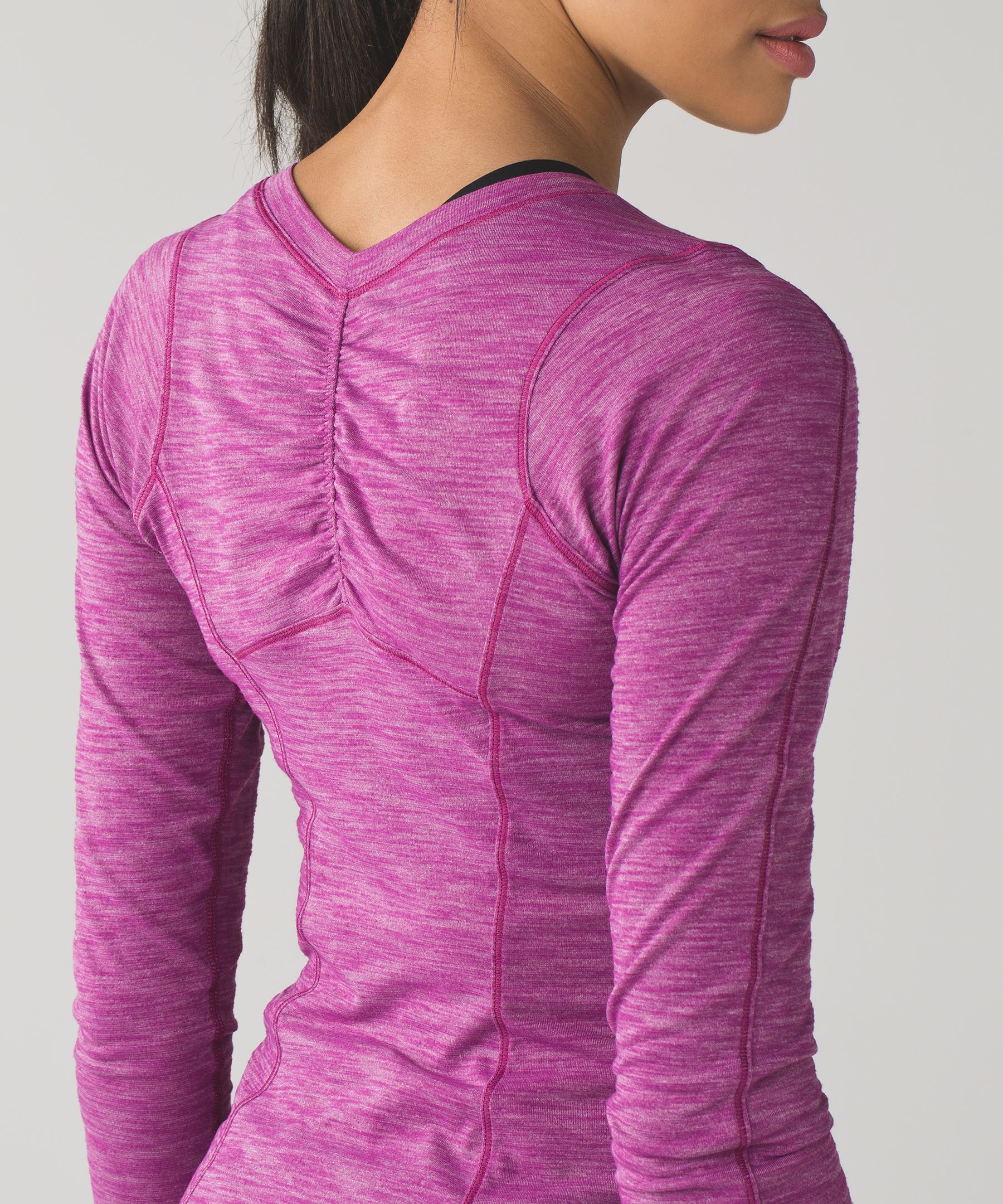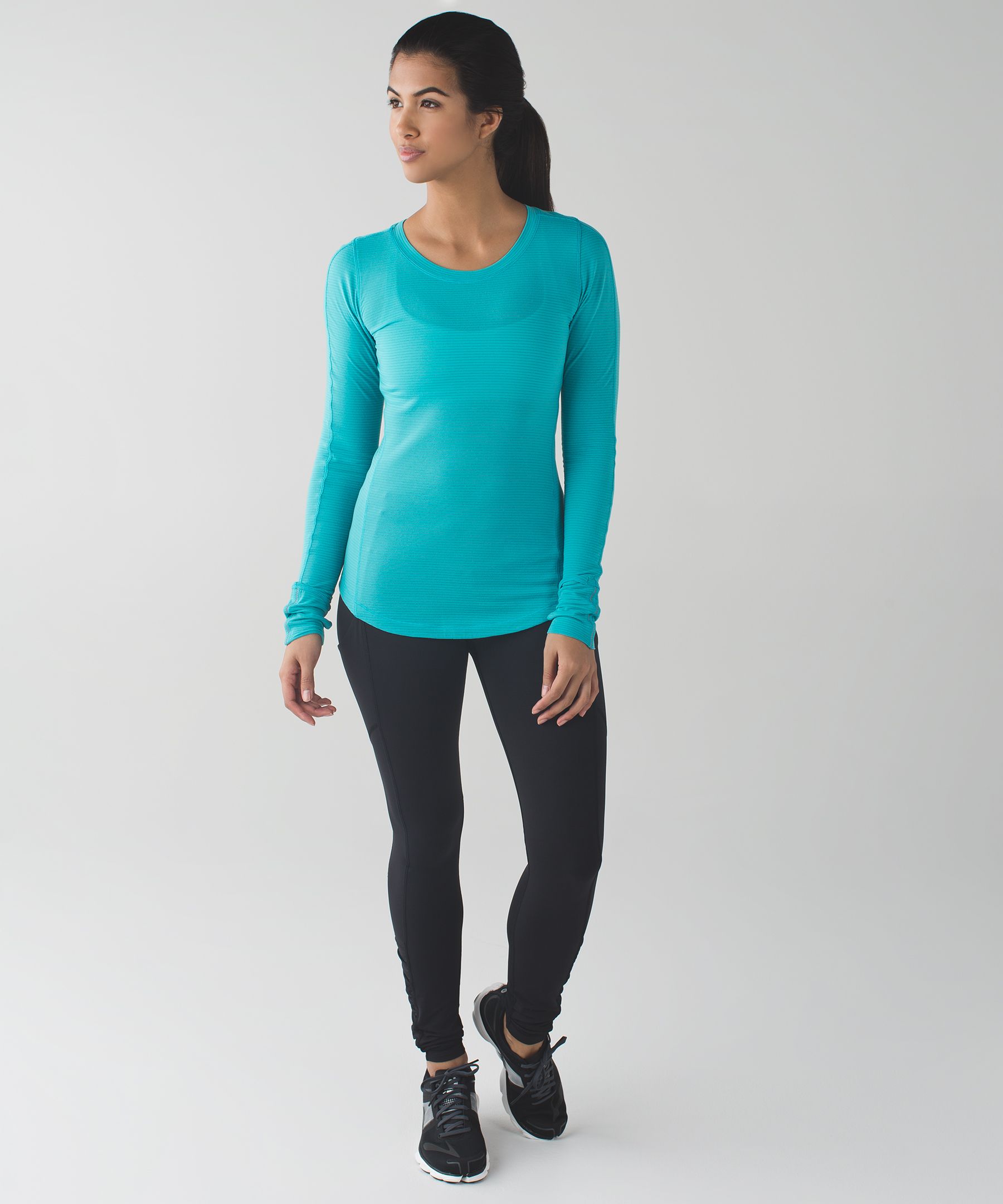 This top is an older release that I never tried. It's an extremely lightweight longsleeve top with an opening on the left wrist for your watch, which is of course awesome! I tried on the Heathered Sea Mist,  a very light color that was  see-through. The back detail is pretty, and it was very flattering on. I tried it in a size 8, and while it wasn't skin tight it was still a slimmer fit. I love lightweight longsleeves for this time of year when morning temps are in the 50s, but I couldn't justify the high price tag on this top given that I can always find Athleta Chi Tops on sale for a steal. I mainly tried on this top expecting it to be marked down soon. If it's a good price and a nice color, I might get one.
Real Quick Crops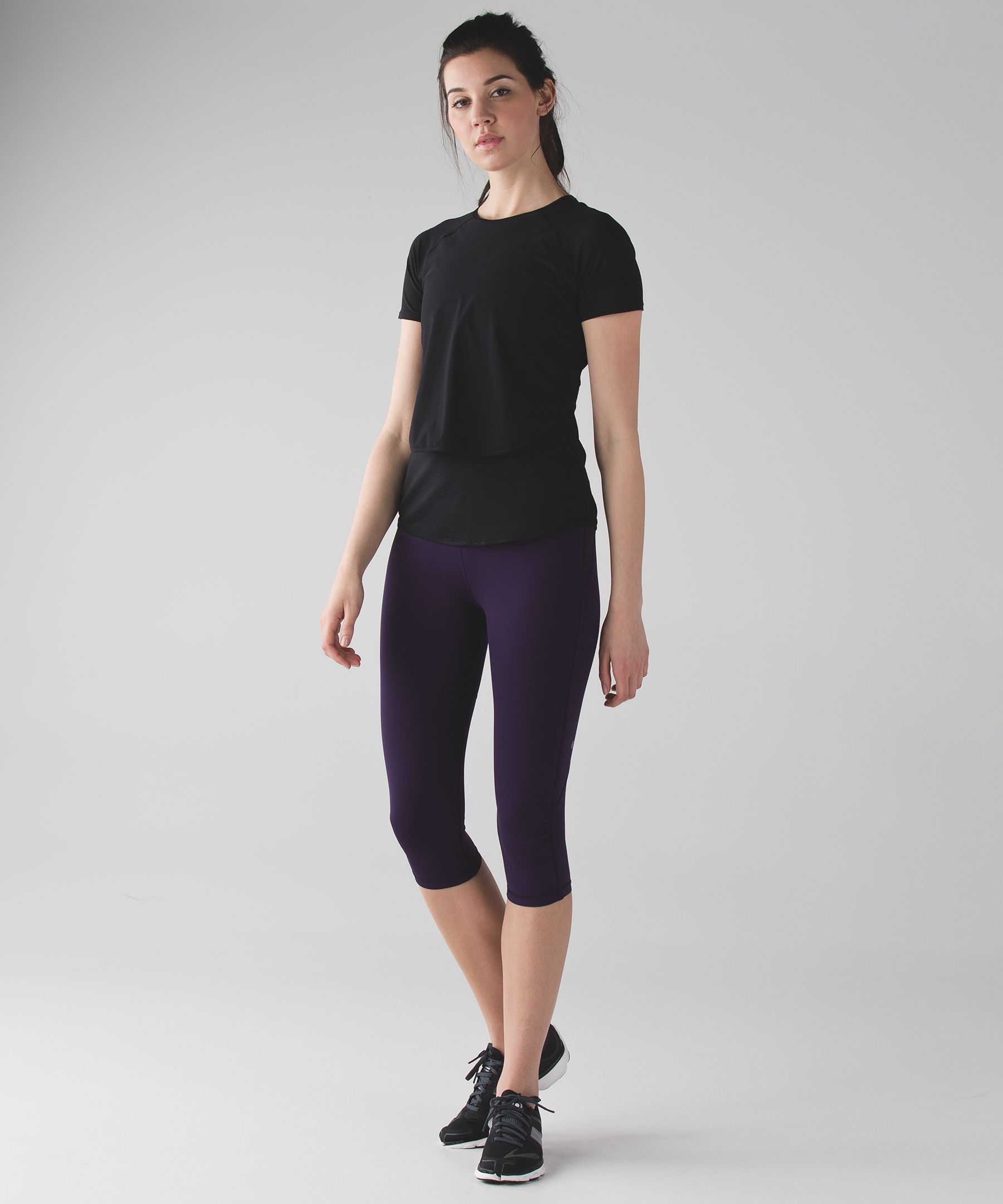 While these crops don't have pockets on the side of the thighs, they do have pockets on the side of the hips. I tried these on in my usual size 6 for run tights in Deep Zinfandel, one of my all-time favorite colors. The fabric was very lightweight and would be great for summer running. The waist was very comfortable, and they were nicely compressive for running. Unfortunately, the bottom was extremely tight and uncomfortable on my calves. I do have bigger calves, but these seemed ridiculously tight. I tried bunching the bottom up so they'd come above my calves, but that looked weird. If you have smaller calves, these probably won't be a problem, but for me they were an easy pass.
Align Pants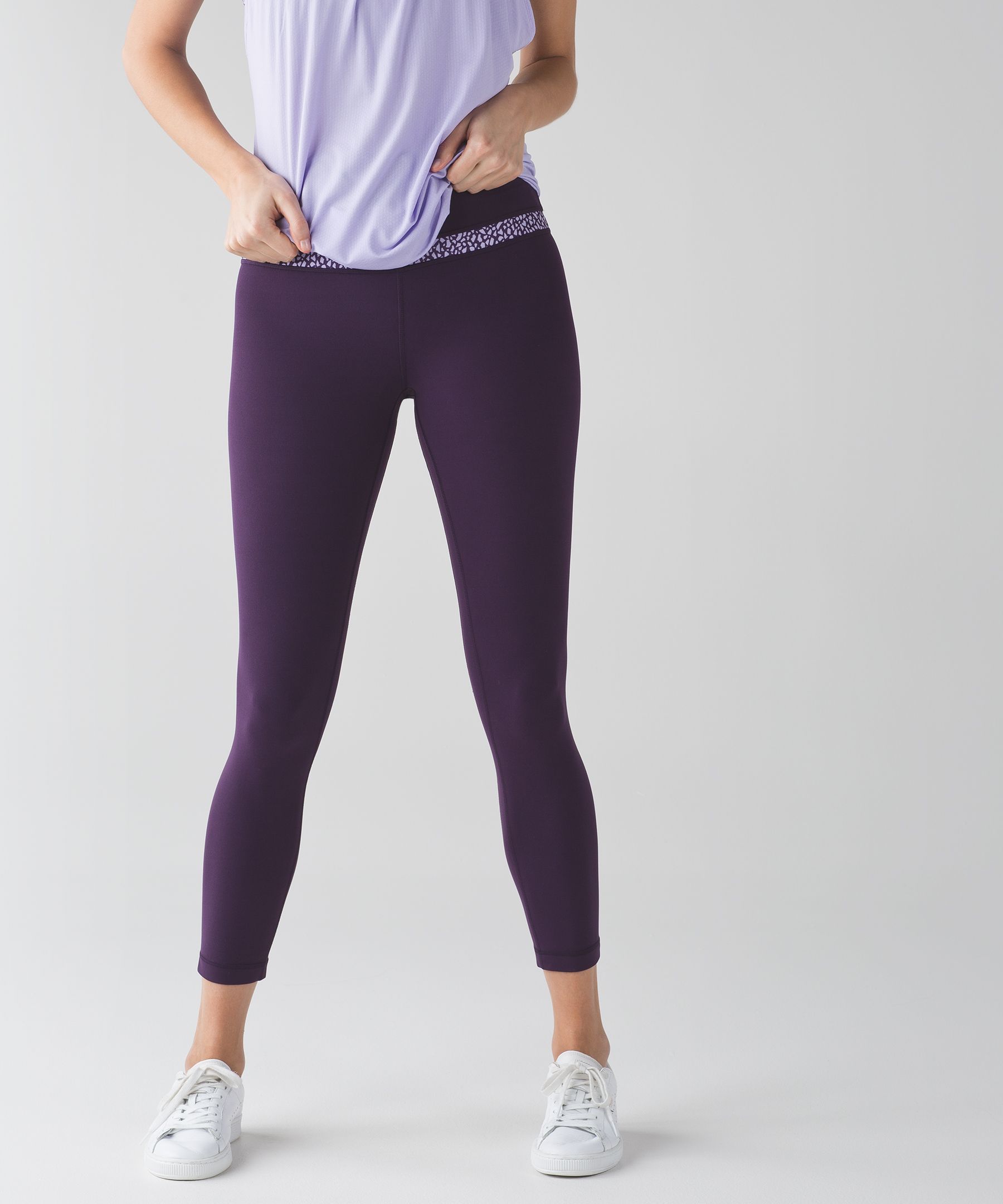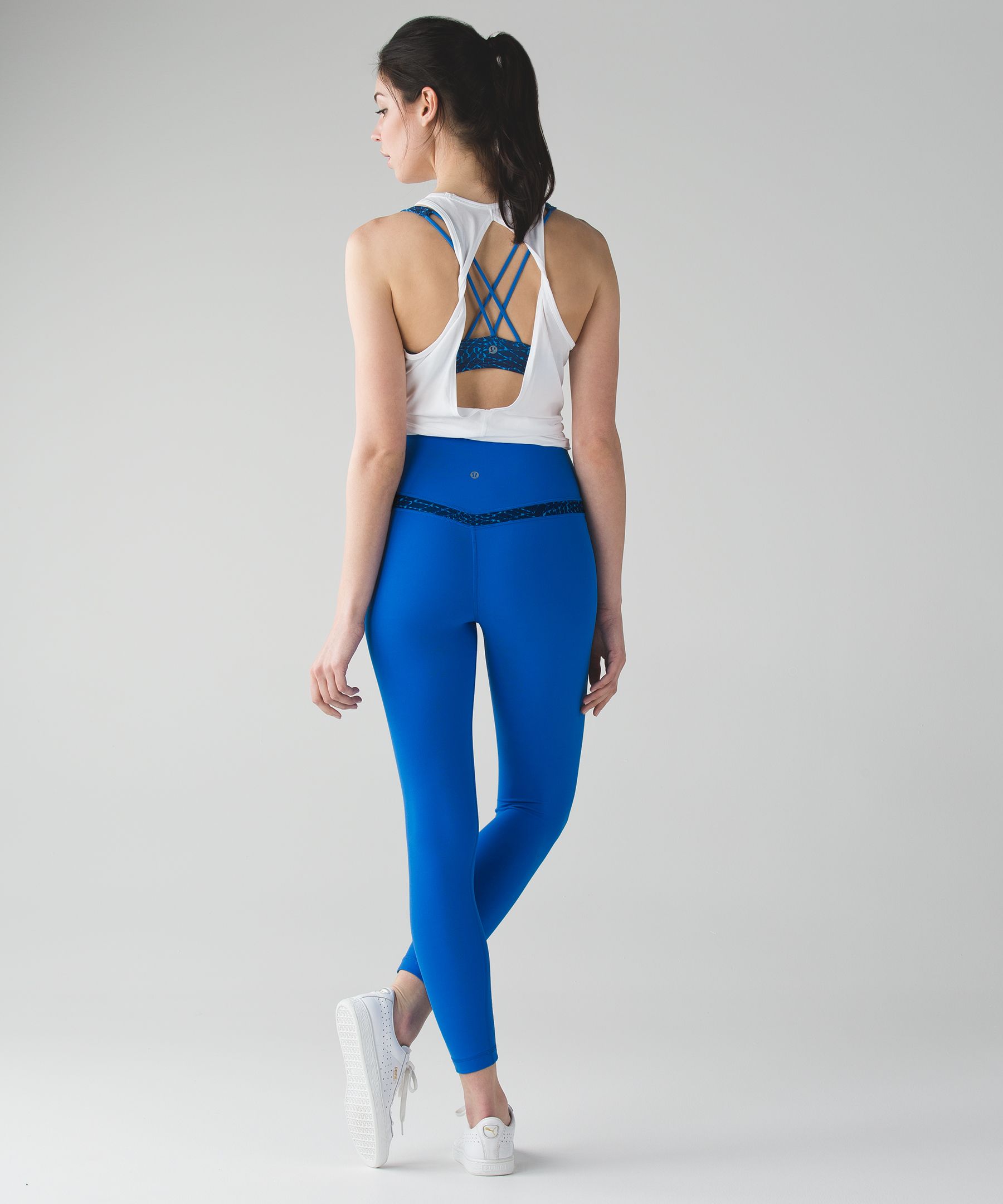 I've heard mixed reviews on Lulu's Align Pants, made with its new Nulu fabric. The online reviews seem split almost evenly between those who love them and haven't had any quality issues and those who have had a lot of issues with quality. Because I don't need non-running tights, I didn't try these on until now. Oh my goodness. These are quite possibly the most amazing tights I've ever tried! Let's start with the fabric. Heavenly! It's very soft but also very lightweight, so it would be great in summer. As for the fit–also heavenly! There is just enough compression to be very flattering and slimming, but somehow they're also really comfortable. The Nulu fabric is supposed to have a "naked" feeling–naked only better–and I can totally see that. Finally, let's talk about the wide, angular seam on the back–totally booty shaping! The seam actually made my flat butt look shapely. Now, these do have a high rise, coming up past my belly button. Yes, it sculpts your waist and prevents muffin top, but in the summer especially I don't love high rise. Also, there is no pocket.
I tried these on in my usual size 6, and the fit was perfect, and they were completely opaque in black. I do not think you should size up in these. These were just released in my beloved Deep Zinfandel color, and many sizes are already sold out. I want these so bad, but I'm holding off since I can't run in them due to the high rise and lack of pockets. Also, the crop version of these was just released, as well as a new version. I'm not entirely sure what version I tried on, but I think it was the original. If you're looking for really nice tights or crops and don't mind a high rise, you might consider these.
And if you're worried about quality, Lululemon has a quality guarantee where they'll repair or replace products with quality issues. I actually just took in a 3-year-old pair of crops that developed a hole and an older CRB that started to have some fraying at the seams. My store is sending it to their local seamstress to fix for free.
&Go Endeavor Dress
One final note–one of the educators at my store had on the new &go Endeavor Dress and was raving about it. It looked really cute on her. She was wearing it with a jean jacket and a simple gold necklace. I wasn't originally drawn to it because of the ventilation flap on the back, which looks a little odd. But I can see how that would be really practical in the summer, and I could easily cover it at work with a cardi. I'm thinking about going back and trying it.
What about you? Buy or try anything recently at Lulu that you love?
I'm linking up with Nicole at Fitful Focus for the Fit & Fashionable Friday Link Up.