Last month I bought a few new Lulu pieces in addition to some old favorites in new patterns and colors. Here's my review of the new pieces.
Disclosure: This post contains affiliate links. While clicking on the links doesn't cost you anything, I'll receive a very small payment that will go towards Dashing in Style.
Exhale Cool Racerback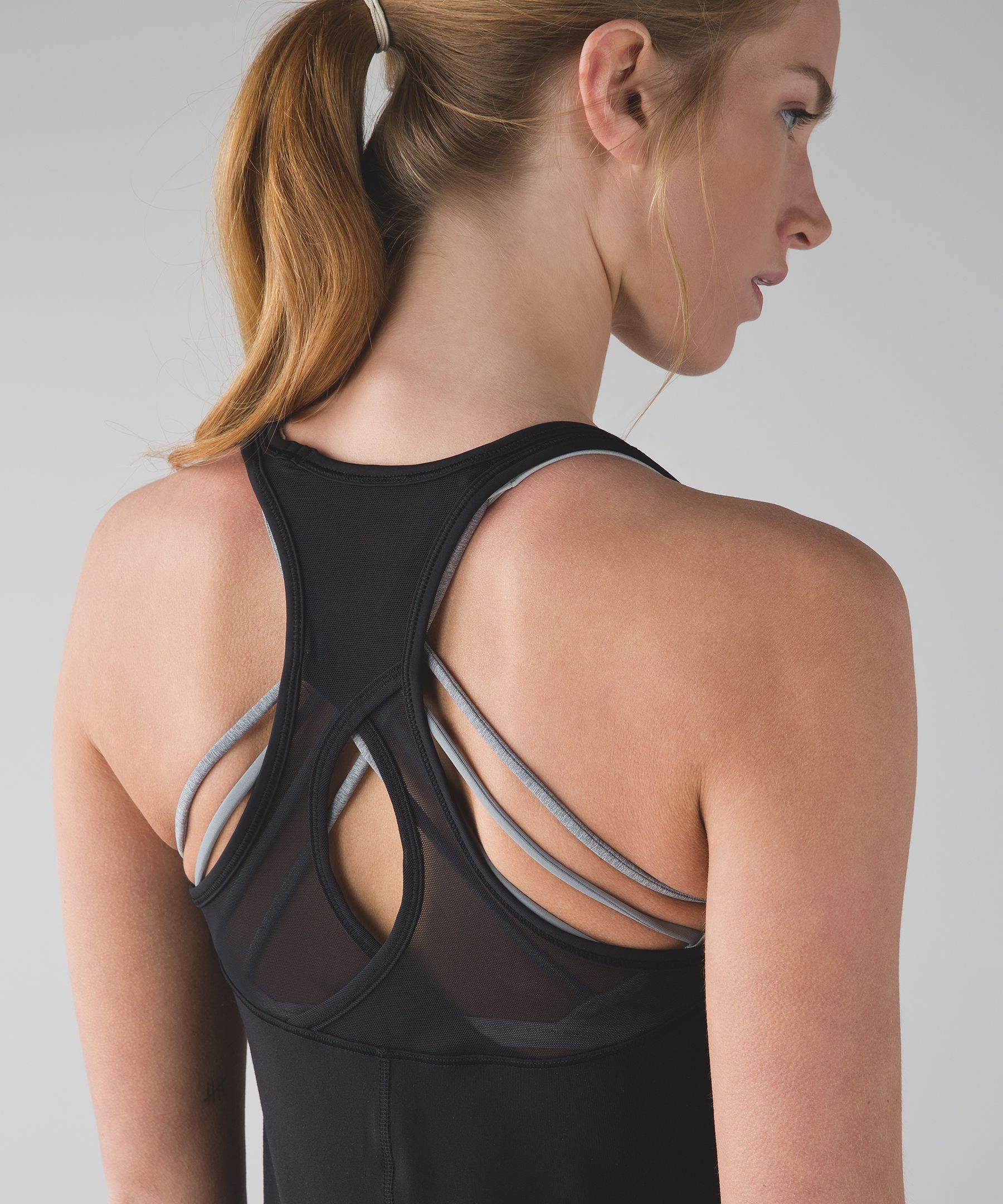 I do not have a plain black CRB. How is that possible?! So when I saw the release of the new Exhale version of the CRB, I immediately ordered it in black. The fit and fabric is identical to a regular CRB. The mesh on the back is a thicker, sturdier mesh. I love the style of the back and was excited about this tank…until I saw the logo. Placed prominently on the bottom left of the tank. Ugh! I wear my CRBs a lot to work, and having a logo showing is just not appropriate. Plus, I hate logos in prominent places! I returned this tank because of the logo placement. Boo!
Rack Pack Bra
In another case of "How is that possible?!" I don't have a white running bra. I have just about every color except for white! Lulu has several styles of bras with pockets that would be good for runs when I need more storage, especially if I'm running in my Tracker Shorts that have only one pocket.
The favorite pocket bra, Run Stuff Your Bra, has a back design I don't like. I just don't like the diamond shape in the back, and how the logo placement seems like a mistake. I have the Run for Days Bra that came out last year and is out now. I like that it's made with stinkproof fabric (the one last year; this year's doesn't have that fabric), and it's very comfortable. However, it's not quite as supportive as the Energy Bra.
So I decided to try the new Rack Pack Bra. I really like it. I'd read it runs small but ordered the same size as I wear in all Lulu bras–an 8. It does fit a little tighter than the Energy Bra, but not too much. It's extremely supportive–probably the most supportive of all my Lulu bras. I also like that it has a bit of a V-neck like the Run for Days Bra. While most of my tanks have a scoop neck, I do have some that would look better with a V-neck bra, so it's nice to have a second. I haven't worn the bra yet, but I think it's going to work really well. Ladies, if you need a lot of support and/or need more places to put gels, keys, etc., you might want to check this one out.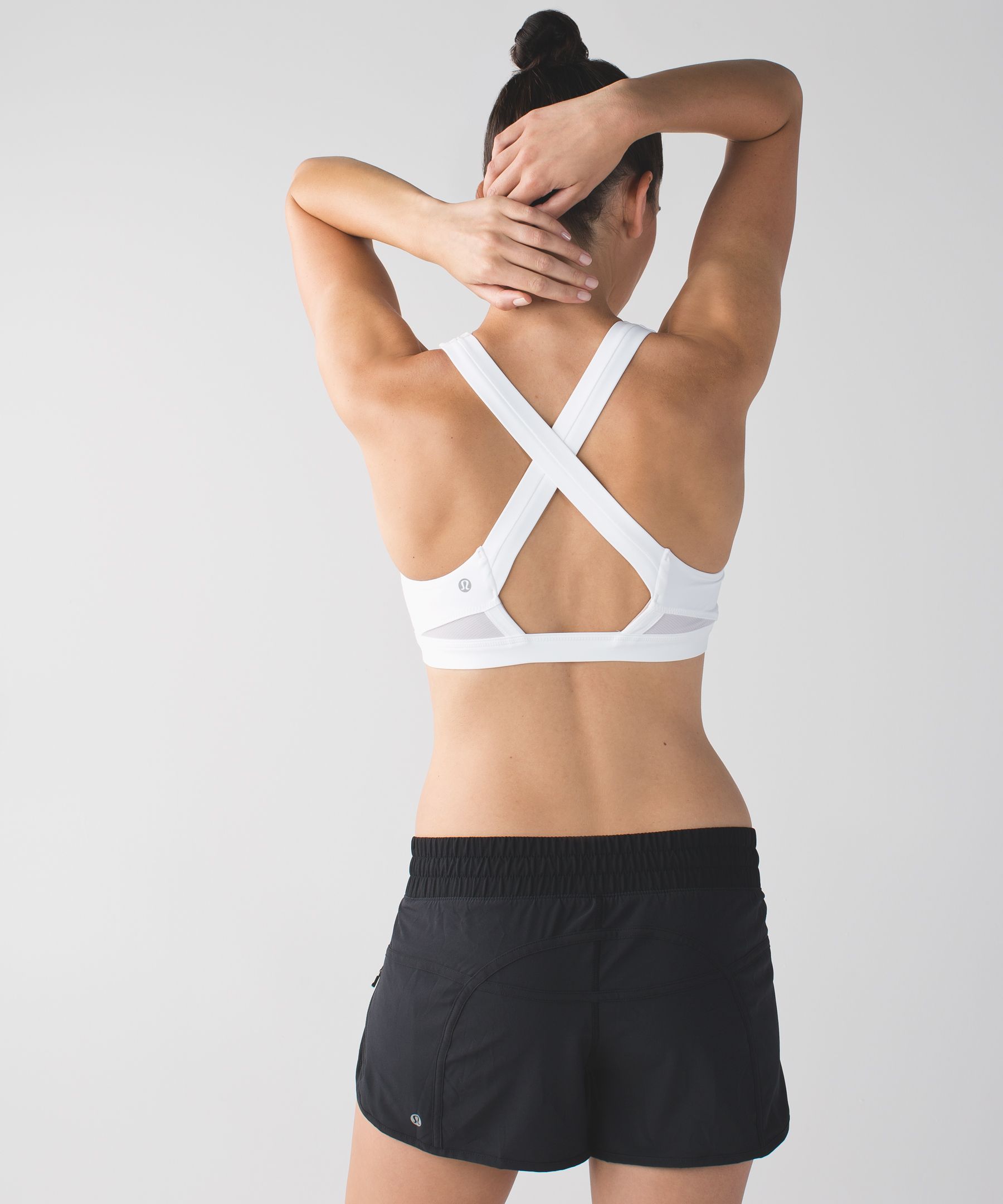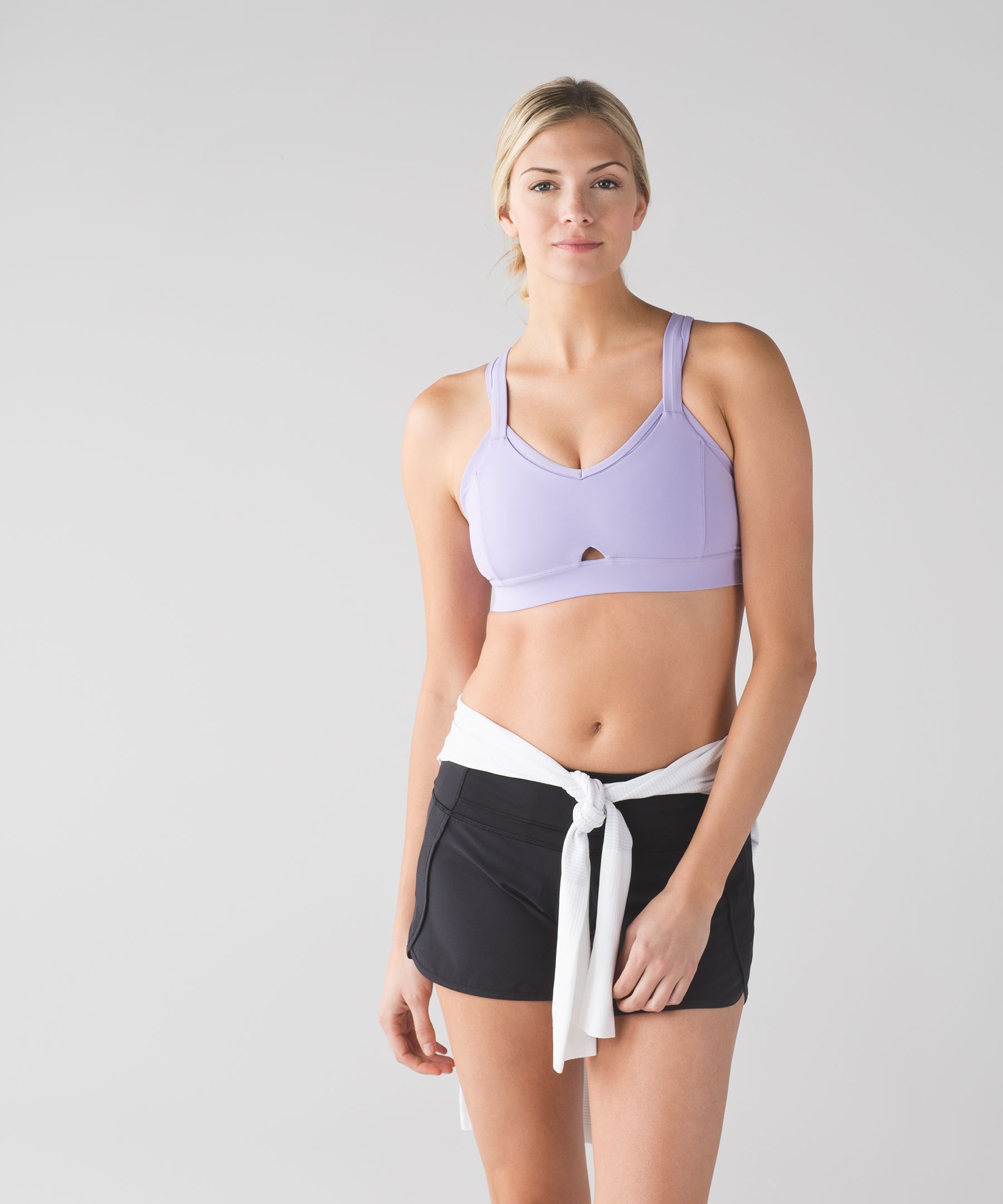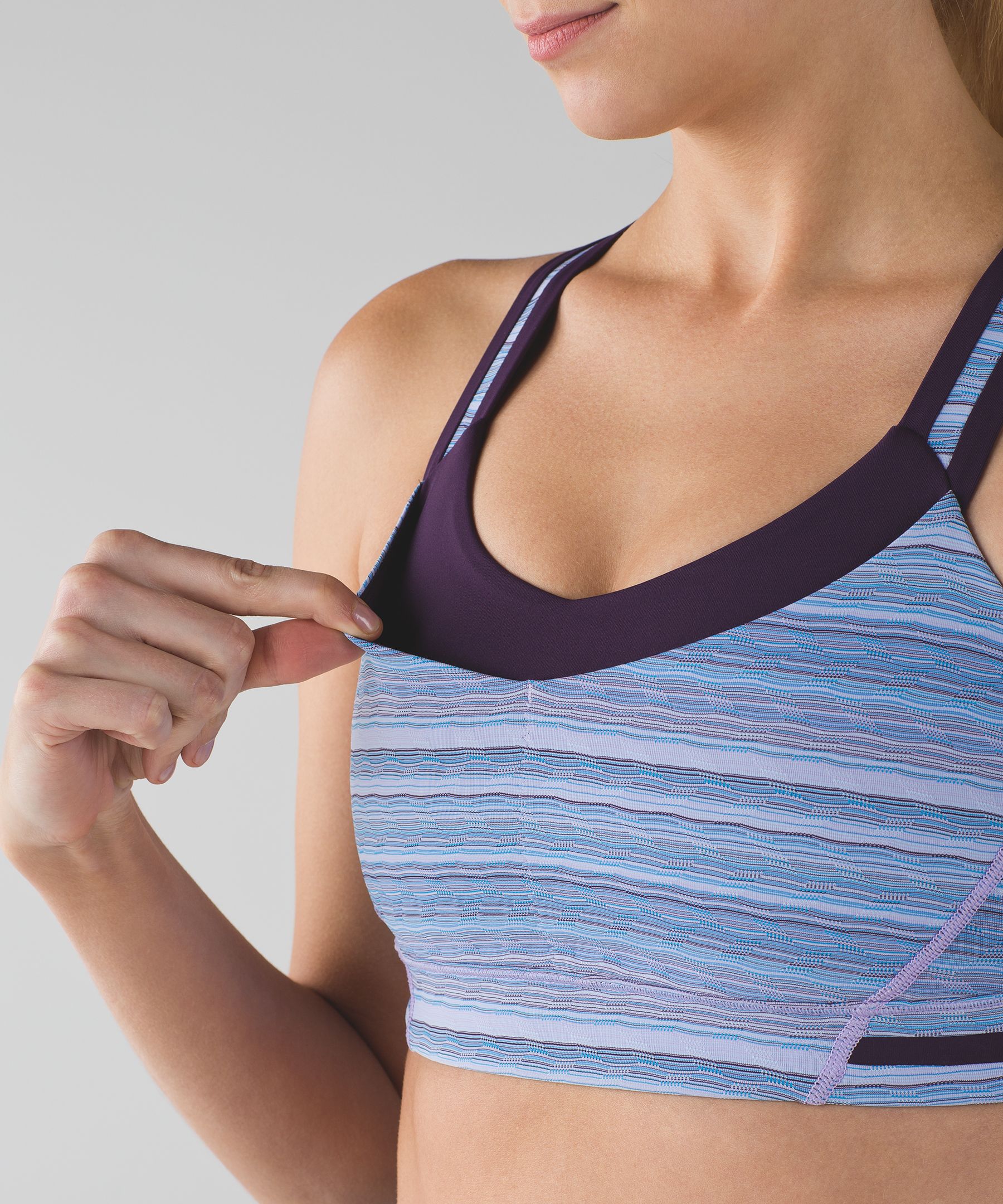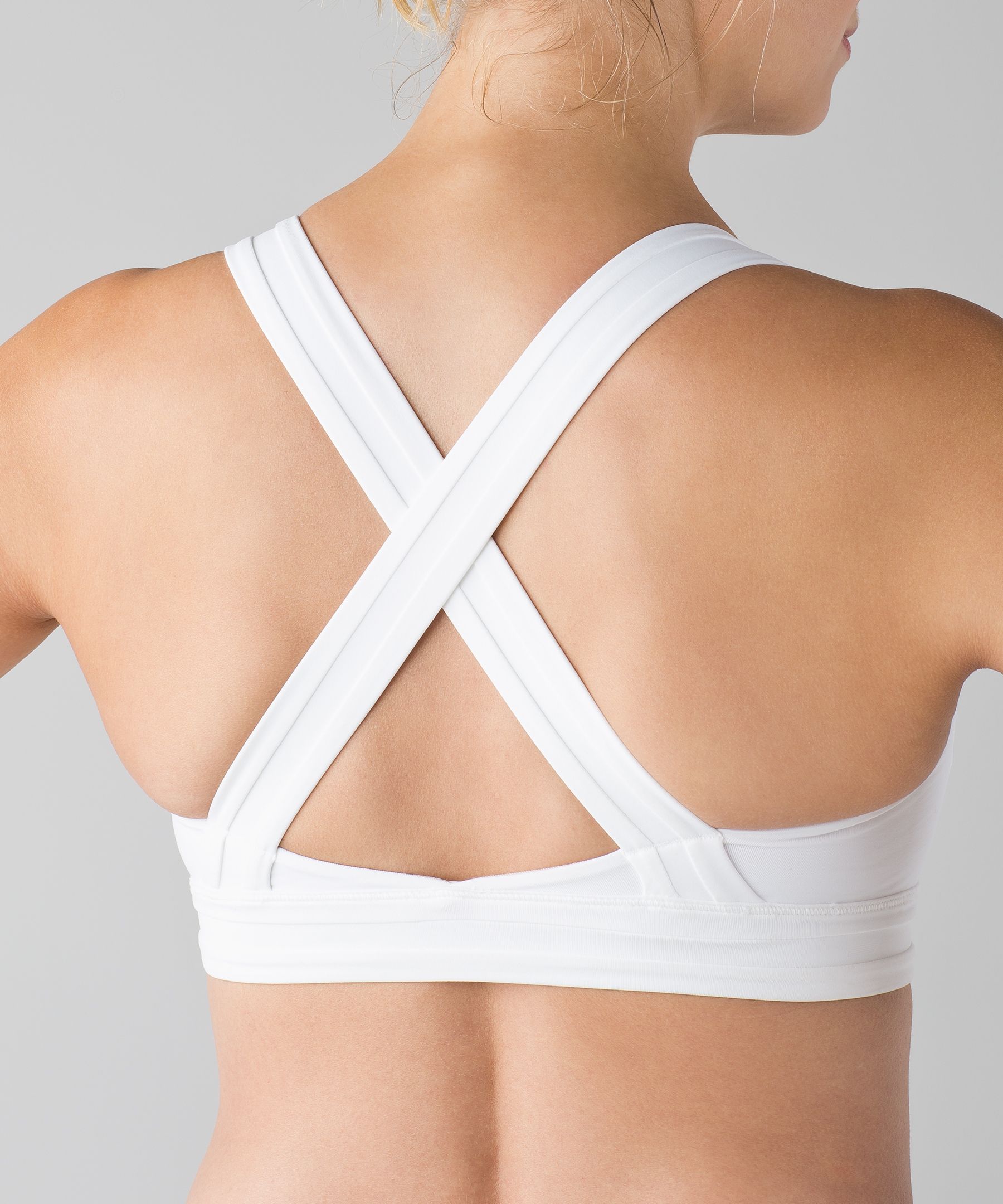 Align Pant
I couldn't stop thinking about these tights after I initially tried them on. After two weeks went by and my urge to have them hadn't relented, I went into the store and bought a pair in black to replace my six-year-old Wunder Under Pants. I bought the original version, not the newer version that doesn't have the double seam that I think is so flattering. I raved about these pants when I first tried them on, but now that I have them I'm even more in love. The day after I got them I wore them to work under a tunic and could not stop petting my legs (in my office when no one was around!). The fabric is heavenly soft. I wore them for two more days after that in the evenings because I couldn't bear to put them in the wash and be without them. They're also extremely flattering and very comfortable. If I could have only one pair of tights, I would have these! They are absolutely my favorite tights. Unfortunately I missed out on the Deep Zinfandel color I wanted, and I don't like any other colors out now. I hope more colors are released in these tights.
If You're Lucky Long Sleeve Top II
When this top was released last year and this year, I scoffed and wondered who would pay so much money for a flimsy top meant to mainly look pretty and not really be functional. I had no plans to buy it and tried it on in the store just out of curiosity.
WARNING: Do NOT try this top on unless you have really strong willpower! I do not have such willpower and immediately melted in bliss over how pretty this top is.
Yes, it's very thin and offers the barest hint of coverage a top could possibly give. Yes, its uses are limited–as a layer when it's hot but you don't want to just wear a tank, I guess. And yes, it is ridiculously expensive for what it is. But it's so damn gorgeous. I just could not resist!
I tried on both a size 6 (my CRB size) and an 8. It's oversized with a relaxed fit except for at the hips, which is tighter. I went with the size 6. The fabric is silky and whisper-thin. I really loved the black top, but I already have a sheer mesh black top (my Alala top) and couldn't justify another black sheer top. So I got it in the light grey Silver Spoon color. I love greys and love Silver Spoon in particular.
I will likely wear this top for casual wear this summer. It will look just as cute dressed up with a skirt as it will with jeans. I could also see wearing it as a lightweight layer over a tank.
While I love it, I felt pretty guilty over the price tag. So I asked my husband if I should keep it. However, because I really wanted to keep it, I tried it on for him without a bra. He enthusiastically agreed I should keep it, ha ha!
This top is unique, sexy, flowy, and just awesome. It was pricey, but I agree with other reviewers that sometimes a unique design is worth the price. I love it so much and can't wait for the weather to warm up so that I can wear it!
A few other Lulu notes:
Returns on everything are now free! It used to be that only bra returns are free, but now everything is. This is great news for those who don't live near a store.
What do you think of Lulu's website redesign? I'm really irritated that you can't switch to different colors of a product once you're on the product page.
The SeaWheeze registration shorts have shipped, and I'm pretty happy I don't like them at all. I didn't get into SeaWheeze this year, and now I know I'm at least not missing out on the registration shorts. The colors are bleak and boring, and I just don't like the design. I hope for those going that the other items in the SeaWheeze collection are better.