For those looking to take advantage of the very rare promotion Lululemon has right now (receive a $25 gift card when you pay by ApplePay through November 29), I wanted to post a quick report from my recent trip to a local store. I wanted to check out a few things and planned to then order online to get the gift card.
The first thing I wanted to get was the Think Fast Hoodie (below). I have two of these from previous years and really love them. The longer length covers my bum, and the hoodie fits tightly to my head. When I got to the store, I was extremely disappointed to feel the extremely thin material. It felt as thin as a Swiftly! No way am I paying so much for such a thin top. If it goes on markdown I might pick one up, but I didn't even try it on.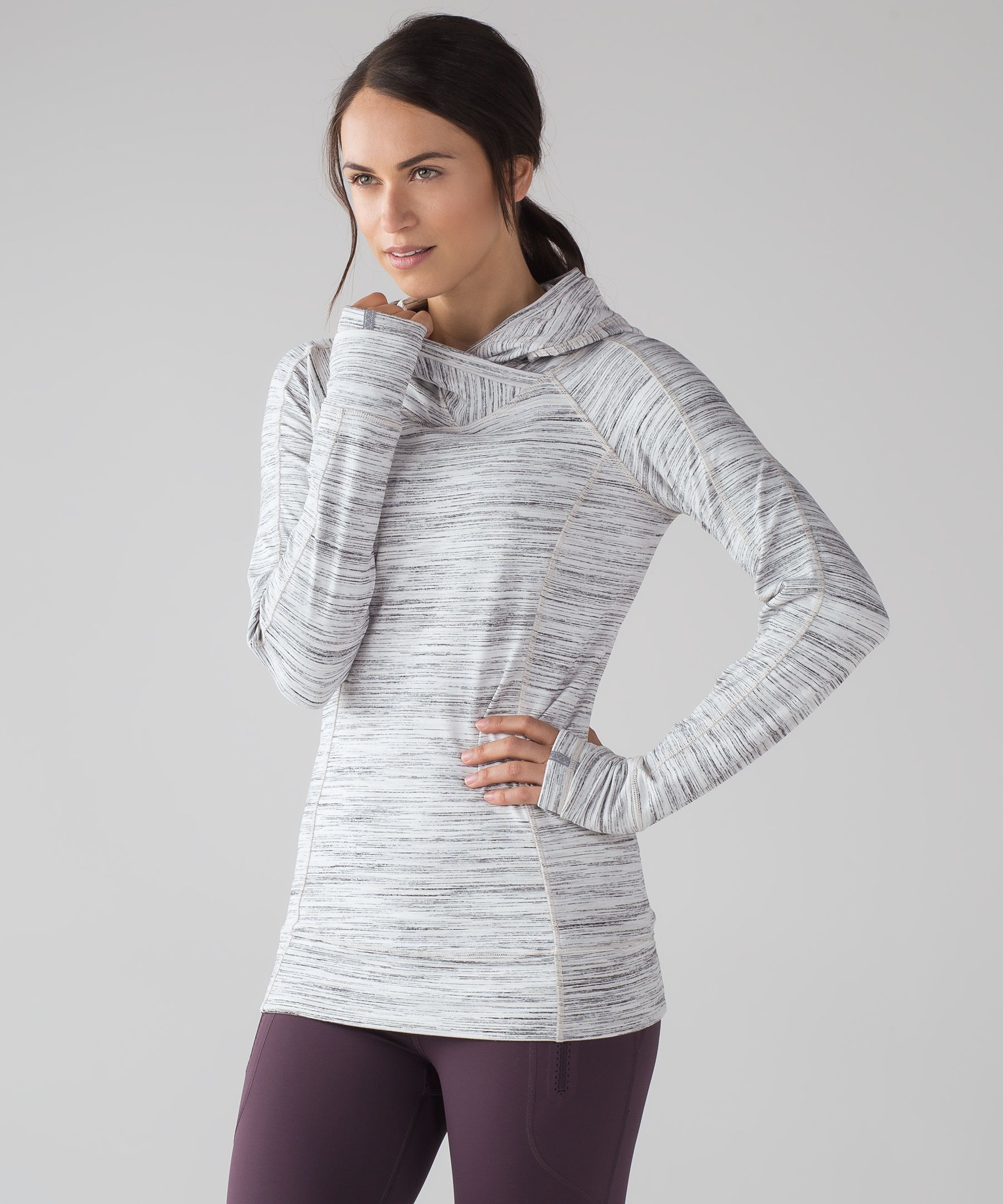 I also wanted to try the Outrun Half Zip (below). The Rulu material was also very thin on this top. I liked the fit though, which is looser. For a tighter fit, size down. There are cuffins and a pocket on the back side. If this goes on markdown, I might get this.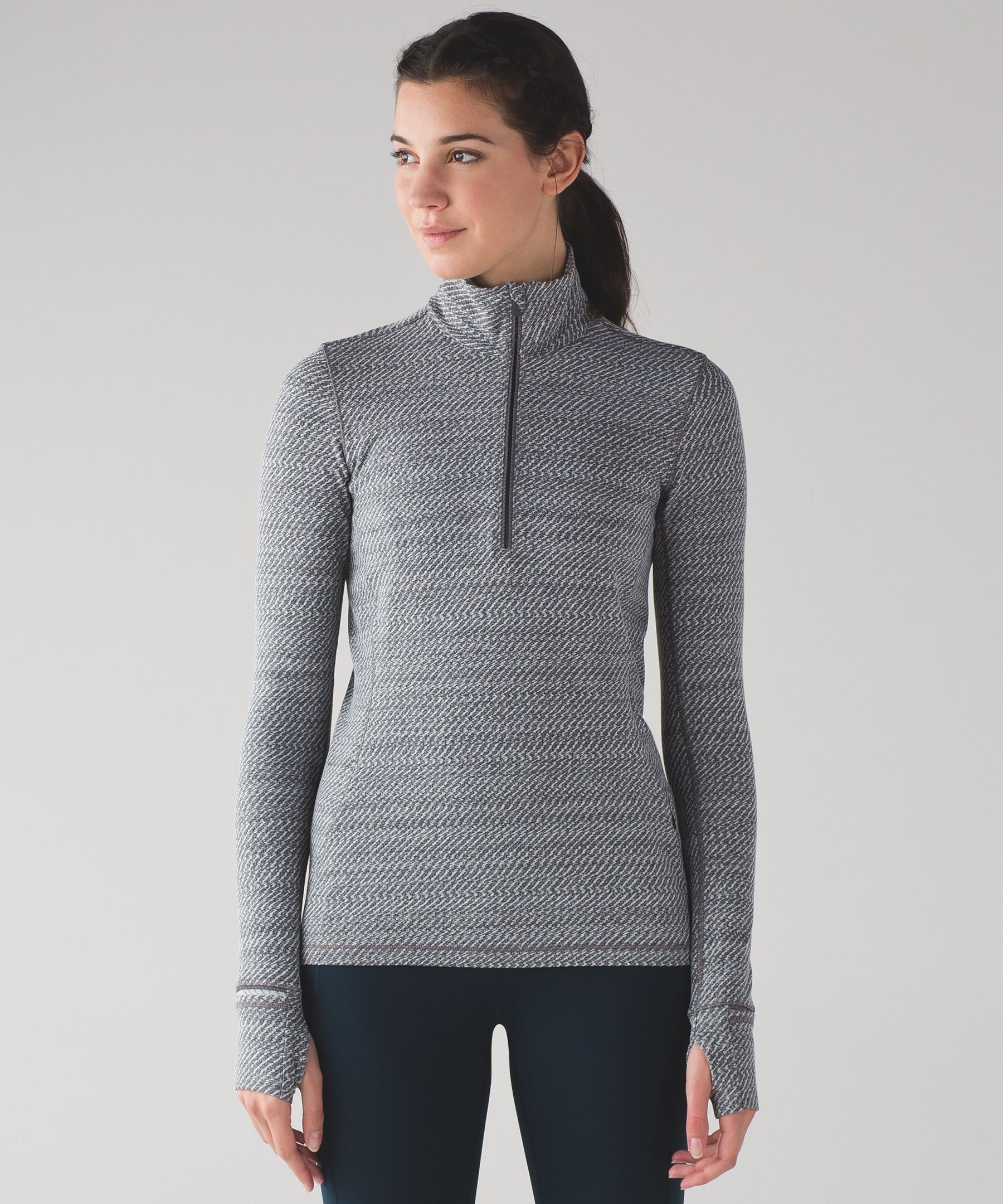 I like it much better than the Rush Hour Half Zip (below), which I ordered when it first came out and returned. I really disliked the fit. There is a fitted band at the bottom, and between that and the looser waist, it's shapeless. The color is pretty though.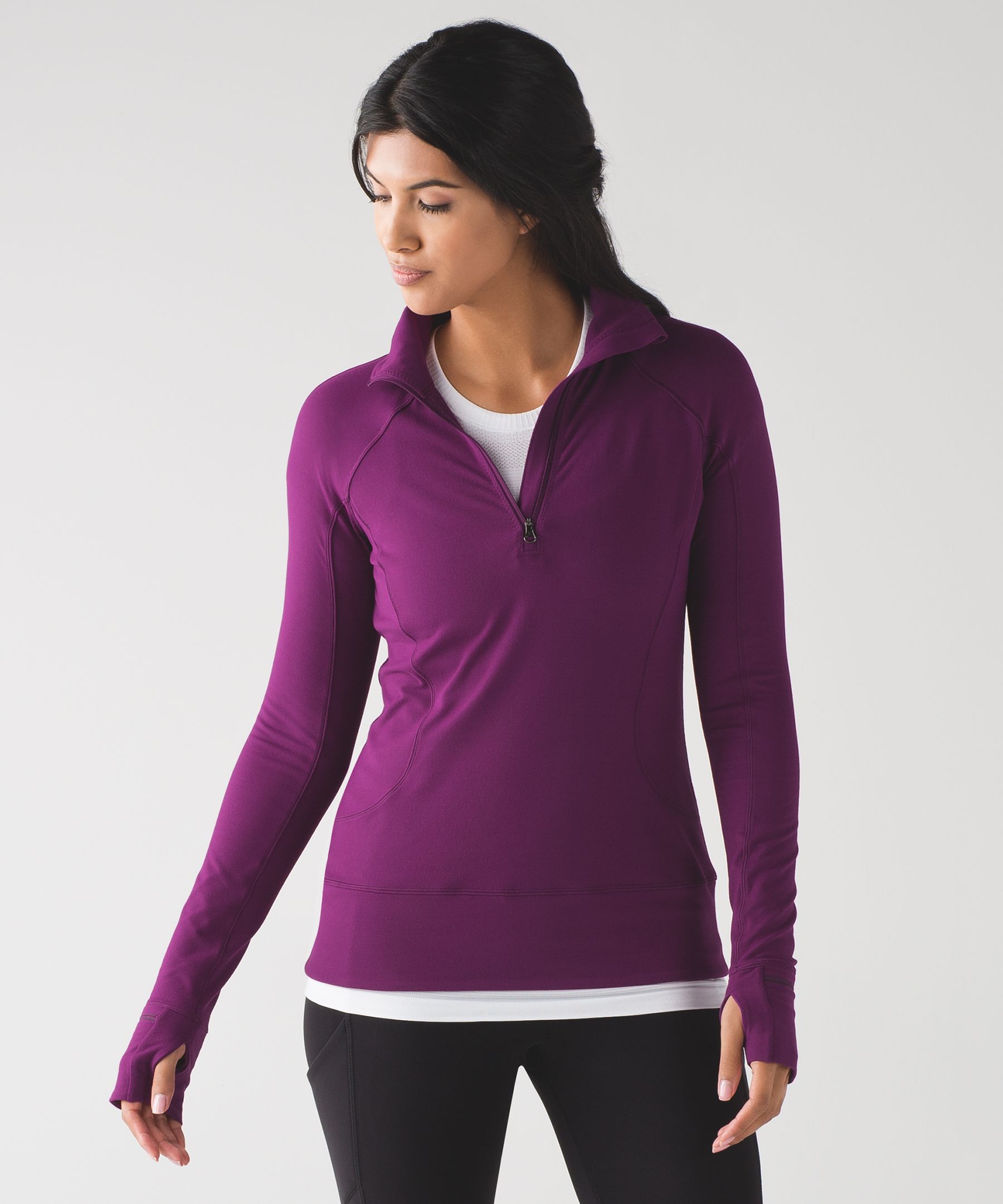 Next, I wanted to check out the jackets. A new jacket is the one thing I actually need this winter. My current running jacket, the Lulu Spring Forward jacket, is going into its third season. It's actually still in really good shape, but I'm tired of wearing it all winter long for a few years now, so it's ready to be retired.
The first jacket I tried was the First Mile jacket (below). It's the warmest running jacket (and most expensive) but was an immediate pass because of the hood that can't be stowed or stashed. Plus, when I opened the vents on the chest, they gaped and looked odd.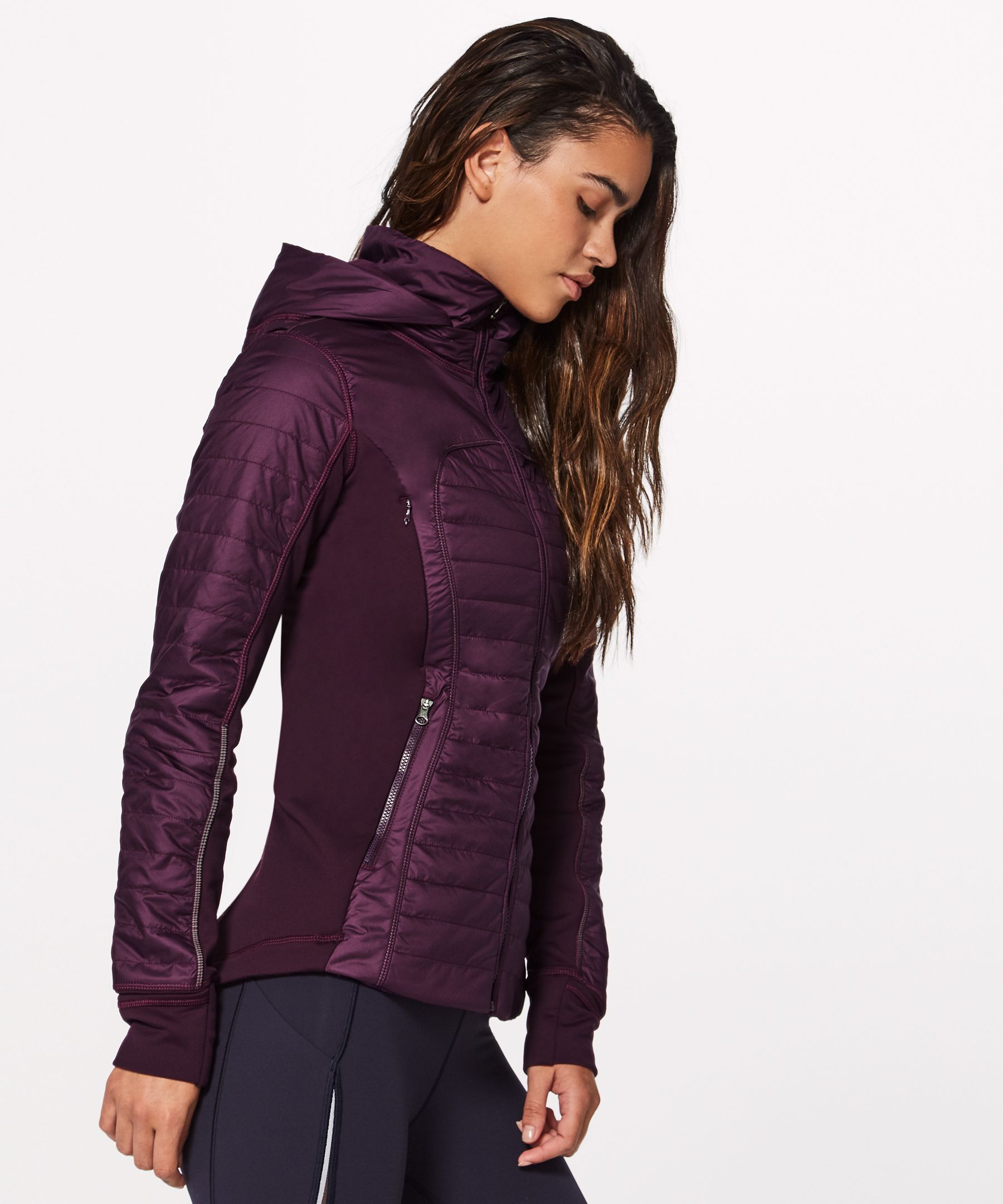 Next I tried the Run for Cold jacket (below). I really loved it. It was very warm with all the bells and whistles–cuffins, reflectivity, and lots of pockets. One thing I wondered about was the back pocket. I wasn't sure how much use I'd get out of it since it's hard to reach. I also would have liked a stowable hood. I usually wear hats but in a storm will often wear the hood to keep my head more dry. But my main concern with it was that it might be too warm for me. I run warm and heat up very quickly in a jacket. My current jacket is lined but not insulated. That works best for me since I can layer more or less warm layers underneath. I've run in sub-zero temps in that jacket with warm layers under, and it's been fine. Still, I liked the Run for Cold jacket so much that I figured I'd get it and just plan to wear very light layers under.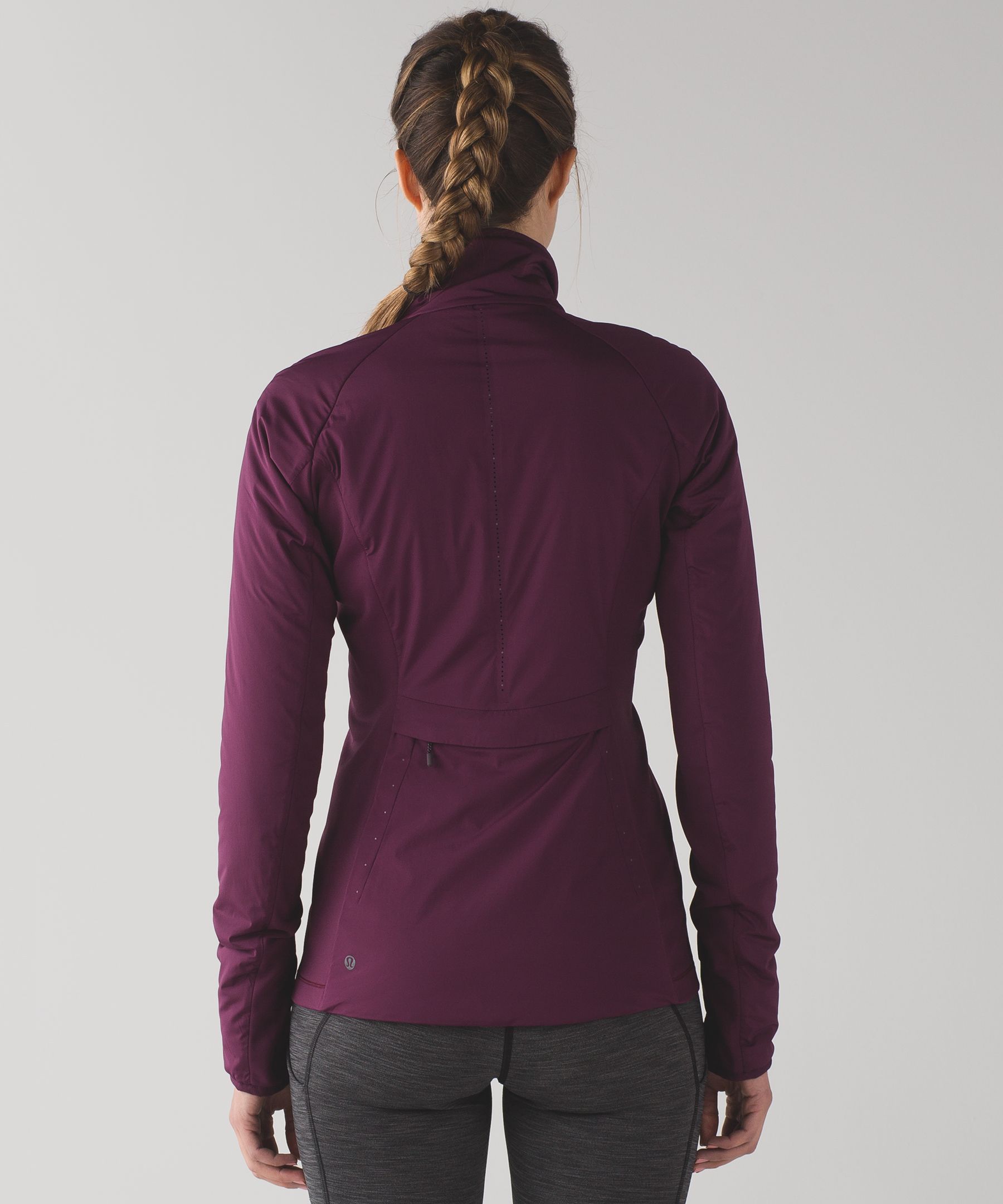 And then I walked out of the fitting room and found on the sale rack before me the Rush Hour jacket! It was marked down from $148 to $99 and available in white in pretty much all sizes. While I love the purples of this season, I knew I wanted my next jacket in white because I primarily run in the dark mornings. The Rush Hour Jacket is promoted as being for transitional weather, not for winter. The fabric is water-repellant Glyde, which is a great windstopper, with panels of light Rulu on the sides and under the arms. It's also lined with light Rulu. I felt like this jacket was better for me because I get really warm in jackets. Plus, I was excited to get it on markdown! It's a slim fit, so I sized up so it would still be a bit roomy with heavier layers underneath.
I wore the Rush Hour Jacket on this morning's run. It was 27 degrees, so I wore a longsleeve Swiftly underneath. The jacket was plenty warm on my short, easy run. If anything, it was a bit too warm, and I had to partially unzip it mid-run. This jacket will be really great for colder weather. For weather close to 30 degrees, I probably won't wear it or wear just a tank underneath. I'm happy I didn't get the Run for Cold jacket. I think it would have been way too warm for me. But if you run cold, it's a really great jacket! I couldn't get a picture this morning because it was dark out so just took these, but they don't really do it justice.
The Rush Hour Jacket isn't available online at all, which is odd, but check your local store if you have one. For Pittsburghers, I got it at the Ross Park Mall store.
Happy Black Friday shopping!